Dimitry Elias Léger is living out his dream, a world away from where he was born (Port-Au-Prince) and a few subways stops from where he spent his teen years (Brooklyn, baby). Now that he lives in France, he can reflect with some distance upon how it feels to return to be toasted in the place where he first made his bones in the media.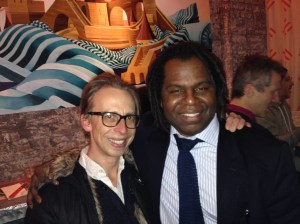 Last night at Seoul Chicken, the Lower East Side was alive with people who care about Haiti, Dimitry, good writing, or just really tasty wings with sriracha and honey, with kimchi fries and miso aioli. Braving the cold in support of Mr. Léger's debut novel, God Loves Haiti, the packed room together lifted a glass.
Media was well represented. There was Selwyn Seyfu Hinds, the editor of The Source who gave Dimitry his first big break. Rick Kirkland, who lured Dimitry to Fortune in a genre mash-up that blew the minds of everyone at Time Inc. N'gai Croal, late of Newsweek, now CEO of Hit detection, the video game consultancy (whatever that means). Observer alums who've made good elsewhere but met Dimitry when they were here, Carl Swanson and Jay Stowe, dropped by, as did Ebony's Miles Marshall Lewis, Justin Fox from Bloomberg View and John Simons from IBT.
Then there were the book industry people. Tracy Sherwood Fumi, on hand from the book's publisher Amistad/HarperCollins, glowed as the crowd discussed where they'd seen/read about/heard about the book. The author's agent, Robert Guinsler from Sterling Lord Literistic, made the scene. But perhaps the most important guest—from the point of view of getting books off the shelf and into readers' hands, anyway—was Miwa Messer, the Director of the "Discover Great New Writers" series at an adorable little indie called Barnes & Noble, Inc.
Ms. Messer is over the moon about this thing, telling the Observer, "Our selection committee reads for God Loves Haiti were beyond fantastic and we're absolutely delighted to have Dmitry's novel on the Spring 2015 Discover Great New Writers list, the first list of our 25th Anniversary year. Titles chosen for the program are prominently displayed in stores across the country – from Augusta, Maine to Miami, Anchorage to Kauai, and all points in between, and also receive promotional support across all of our platforms, in consumer emails and in the Barnes & Noble Review." She also mentioned something about $35,000 in prize money going to a bunch of new writers but she had me at "Kauai."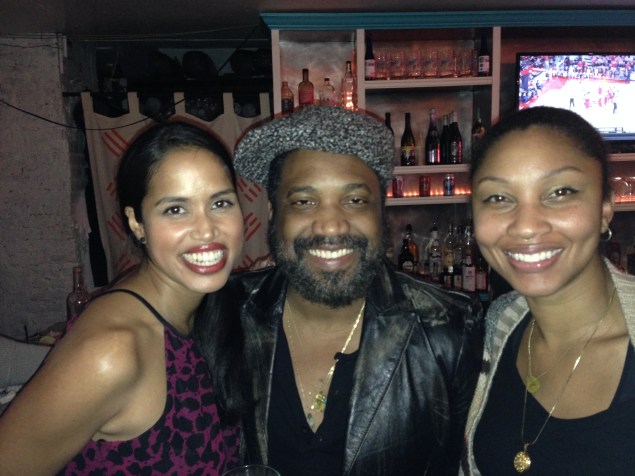 Mr. Léger was similarly moved by this geographic reach.
"Ondaatje, man. I read that backward and forward," he told Ms. Messer. "English Patient, backward and forward. Anchorage, Alaska?"
Then there was the public interest sector. Raymond Joseph, Haitian ambassador to the U.S. was there. New East Village residents Bastian and Sunita Joergensen from Unicef joined, too; Dimitry worked with the fabulous Mrs. Joergensen on a UN relief mission to Haiti after the earthquake that further devastated a country that had already faced the hemisphere's most intense poverty.
Then there were just plain friends. The jewelry designer Elsa Mehary, for one. Tamara P. Carter and Nadira Hira showed up, as did Pierre Cormon, who flew in from Geneva. Some guy who helps ship used laptops to Dimitry in a very fishy-sounding tariff avoidance scheme.
As for the book itself, the Observer loved it up big time in a rave review earlier this week. But you don't have to take our word for it. Esquire praised the book's "stunning voice" while the New York Times
notes that it "chronicles with great compassion the catastrophic 2010 earthquake." Even Cosmopolitan and More magazine found space to recommend it, as did NPR's noted mover of book units "Weekend Edition," on which Mr. Léger appeared before this party.
In this case, the New York Observer is not an Unbiased Observer. Mr. Léger is one of my very dearest friends and I am godfather to his son. But that only added to the conviviality of a very warm launch on a very cold night.