DJ Premier points to five sheets of paper covered with Gang Starr lyrics on a wall between his mixing board and beat machines, recalling a night when Nas told him, "Man, if you ever move from here, you gotta tear it down piece by piece."
After nearly 25 years, the iconic D&D Studios on the fourth floor of 320 West 37th Street is shutting its doors. The recording den, where Rakim, KRS-One, Jay Z, Nas and Gang Starr made some of hip-hop's most canonized songs, will come to a close in 2015 due to new building ownership.
Premier, who bought D&D from its founders, Douglas Grama and David Lotwin, in 2003 and renamed it HeadQCourterz after his late friend Kenneth "HeadQCourterz" Walker, sees it as the end of a major chapter in New York hip-hop and the start of a new phase in his career.
The veteran beatmaker first set up shop at D&D in 1991 to record Gang Starr's third album, Daily Operation, with his close friend and music partner, Guru. Since then, hundreds of established and emerging artists, from Biggie Smalls and Big L to Foxy Brown and Christina Aguilera, have used the vocal booth in Premier's room.
"Showbiz of D.I.T.C. brought me here for the first time," Premier, 48, tells the Observer on a Friday night in the studio. "He was doing a remix with Lord Finesse for Return Of The Funky Man and he wanted me to do scratches on it. I got a copy of the final mix and played it in my car and that's when I knew this is where we needed to do Daily Operation.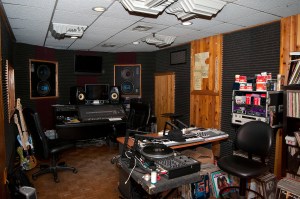 "This is a chapter that will never go away," he adds with his signature head nod. "It's a huge chunk of history."
By January 7, Premier says he will finish taking down the soundproofing and in-wall speakers and move his equipment, furniture and hundreds of vinyl records to Kaufman Astoria Studios in Long Island City, Queens. The wall with lyrics jotted on yellow notepad paper will become a table in the new studio, he says.
The move from Hell's Kitchen is a bittersweet one for the Grammy award-winning DJ and producer. Jay Z once told Premier, after a night of filming at D&D, not to change anything. The studio holds countless memories of Keith Edward Elam, better known as Guru, who died from cancer in 2010. And down the block sits a local deli that Premier has been buying coffee and snacks from since the early '90s, when the neighborhood had fewer streetlights and fewer pedestrians. The deli, like D&D, has undergone management and name changes, but never closed.
"I've been in Manhattan for so long, it's going to be weird," says Premier. "But they welcomed me with open arms at Kaufman. The privacy part will be better, since you have to go through real gates to get there. Here people just ring the bell and pop up all the time. I definitely won't miss that."
This month, Premier and Detroit's Royce Da 5'9" released PRhyme, one of the last albums recorded at D&D. Currently in the works is a documentary about the studio's legacy and Premier's countless hours producing, mixing and beat juggling in the B Room. In the meantime, the Houston native, who moved to Brooklyn in the late '80s, gave us the lowdown on classic recording sessions, fistfights and overall crazy nights during the D&D heyday.
New York Observer: What's the overall feeling for you right now?
DJ Premier: The main part of it is that a big chunk of my career was done here. To find out that that's ending under the circumstances of a new landlord and lease agreement makes it a little harder. The worst part is that I signed two years on my lease, but there's a demolition clause, which allows them to terminate the lease if they decide to tear down the building. I've gone through several owners and every time it came to a new one, they would always say, "How ya doin'? We're the new owners, keep paying the rent." In the past, we had owners who would offer to help out if we needed to renovate the space and we would say, "Hey, if you ever have problems, we've been here and we've been through it all."
What was the neighborhood like when you first set up shop at D&D?
A lot of people were scared to come here back then. Rappers were scared to come here. You had heroin, crack and no streetlights on this block. There's a deli down the block on Ninth Avenue that to this day we still call crack deli. But it's an entirely different world here now.
What was it like inside the studio in the early and mid '90s?
Back then, Black Moon and the rest of Boot Camp Clik had a big chapter in the A Room at D&D. That was a standard picture here. Jay Z too. He would book my room, the A Room and the D Room, which was a newly built studio space in the back that they later tore down. He would have them all blocked so that he could knock out three or four songs at a time. I remember when Jay and Biggie recorded "Brooklyn's Finest" for Reasonable Doubt in here. I didn't do that beat, but they needed a place to rock.
Who would you hang out with outside of the studio back then?
Guru and I had a house in Clinton Hill, Brooklyn, for a while and we used to have wild parties there when we weren't in the studio. It was like a fraternity house. Every time you'd go in there was noise, music, girls, drinks and food everywhere. RZA and GZA from Wu-Tang used to come by, Easy Mo Bee used to come by, Special Ed used to come by. The list goes on. I remember Cypress Hill came by the house the day they were shooting the video for "How I Could Just Kill a Man," cause they needed a place to lamp for a minute. They came over and we smoked our asses off until they left to go meet Ice Cube for the video. A lot of Friday nights, Guru and I would go kick it with Biggie, since he was just three blocks down from us.
Earlier this year, you told Hip-Hop Wired that while you were doing a track for the movie White Men Can't Jump, you and Guru got into a fistfight here and then started recording right after. Was it serious?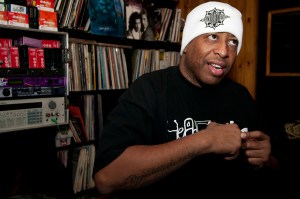 He had a couple of bandages and bruises after that. I still have his teeth marks right there [points to his fist]. That's where he bit me and they never went away. Now I'm proud to have those teeth marks. I'm not a tough guy, but I'll throw down just like the rest of them if I have to.
That takes some legitimate chemistry to be able to do that and then record. Were fistfights a common thing between you and Guru?
We'd fight all the time and then immediately afterwards be like, "I love you." I have no complex about saying that. We'd hug like long-lost brothers and then his line was always, "Yo, let's go out tonight." He loved to drink and chase women. That was his thing apart from making money and recording music. Through all the fights though, we'd always motivate each other and it fueled the music. Look at how many albums we made. And we had been fighting since No More Mr. Nice Guy.
Who was the instigator in most cases?
Guru. I'm not a shit starter, that was all him. He drank a lot and I got used to it. We had lived together from 1989 to 1993, so it almost became routine. He's still my brother though, forever and always. We lived the rock and roll lifestyle, head to toe, but our success kept growing. Over those years, our sales didn't go down and our records didn't get worse.
On a completely different note from Gang Starr, you co-produced Christina Aguilera's fifth album, Back To Basics, which came out in 2006. Did she come here to record some of those songs?
She started here. Then the rest of it was done at Record Plant and from there we went to Chalice, which Kanye West put us on to. We booked a room at Chalice and ended up falling in love with that room. Christina was worried at first that the sound would change, but that never fazed me. We were using the same equipment and as a DJ, I already know how to texture things.
Nas once told you that if you ever leave this place, you have to take the studio with you piece by piece. Is that the plan?
Nas was just here on Monday and he said the same thing again. For starters, I'm taking the original door to this room that people used to knock on all the time when I first moved from the A Room to the B Room in the '90s. That area there, [points to the wooden wall covered with Gang Starr lyrics], I'm going to cut that out and make it into a table. Those are the lyrics from the last songs that Guru and I did. When D&D went out of business in 2003 and I reopened it almost a year later, those were still on the wall. Doug and Dave, who are D and D, said they want to save some pieces of this place too. Once the demolition starts, it'll still be open for us to come onto the floor, so we're going to come video that.
You and Nas are working on a collaborative album that's been rumored to come out for a while. When do you think it finally will?
Whenever he's ready. We were supposed to do it years ago, but it didn't happen. I know he has another album under his contract with Def Jam, so he has to knock that out. As soon as he calls me about that, I'm ready.
Earlier this month, you put out an album with Detroit's Royce Da 5'9" under the group name PRhyme. What are your plans for that project and future PRhyme releases?
The album's doing really good. We're shooting a video for every song on it and Royce and I are hitting the road in February. We're also getting ready to release the deluxe version with three to five new cuts on it. I can't name all of the artists on it, but we've got MF Doom on one. We're putting that out on 45-inch box set and digital.
You're moving your studio space to Queens come January. Should fans expect any changes in your sound or changes in your music endeavors after the move?
I'll still be working on hip-hop projects and also expanding on that. They do a lot of television and film at Kaufman. They do Orange Is The New Black, they did Goodfellas and all of The Cosby Show episodes, so I'll be able to get into film scoring and that whole world, which I want to do. I've done some scoring in the past, but I want to get into it on a bigger level—a Danny Elfman level.
What are you listening to right now?
J. Cole, D'Angelo's new album, Ghostface's new album, Prince's new album, Foo Fighters' Sonic Highways, AC/DC's Rock Or Bust. That's about it right now.
What are your three favorite years in hip-hop?
'98, '86 and '84, which is the year I graduated high school.
How many interviews have you done over the past 20-something years?
Man, I can't even count. As many records as I've put out. Thousands of records, thousands of interviews. It goes with the territory.
As Premier locks up for the night, a man in a suit is waiting outside of the studio with his son.
"Prem, will you take a quick photo with my son?" the man asks. "He's a big fan."
The DJ, already late for his two-hour show on Sirius, doesn't give it a second's thought. These are the moments he's grown accustomed to.