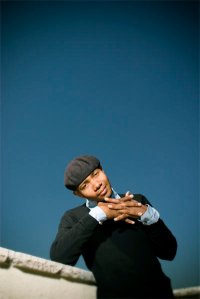 Paul D. Miller, aka DJ Spooky, who is credited with giving deejays cred as serious artists, is coming off of his year as the Artist in Residence at The Metropolitan Museum of Art and came to midtown recently to do some "surgical, tactical" pitching of new projects. He was a star speaker (along with keynoter Ira Glass) at the Association of Performing Arts Presenters conference at the Hilton.
APAP, as it's known, is the yearly national gathering of over 3,500 representative of arts and performance centers around the country who come to schmooze and see auditions for acts they might bring to their towns. The seminars have names like "Marketing to Millennials" but the attendees also want to know the location of the open bar.
The Hilton was filled with a cavalcade of brightly costumed performers preparing to "showcase" their skills last week. About 1,000 showcase performances occur during APAP, starting at 9 a.m. on each of the conference's five days, in meeting rooms at the Hilton and the Sheraton and going past midnight at venues all around town. (The trends this year included "social experiences," Middle-Eastern acts and improv groups, but note: ventriloquists are "out.")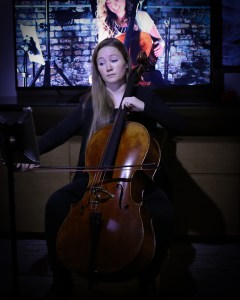 Spooky, sitting down with us at a table in the middle of a long beige-colored hallway, seemed like the calm at the center of an artistic hurricane. He was there with his booking agent, Rika Iino, who founded Sozo Artists last year and has an interesting roster of classical, world music and dance artists available for bookings at the conference.
He talked about his new project, a cool-sounding multimedia work called Peace Symphony: 8 Stories, for three or six musicians with video images behind them.  He described it as a "electro-acoustic musical portrait."  Spooky interviewed eight "Hibakusha," or atomic bomb survivors as part of the piece.
"It's the 70th anniversary of the end of World War II," he told us amid the hubbub. "I'm really intrigued by the fragments of the Cold War and the advances happening then…  all these paradoxes of the Nuclear Age that set the stage for the Information Age," and for the tools and trends of electronic music and its cultural revolution, too.
It'll cost an arts group approximately $7,000 to $12,000 to bring the piece to their venue.
Meanwhile, the ever-enterprising Spooky just published his newest book at MIT Press with collaborator Svitlana Matvivenko called, The Imaginary App, a collection of essays on both the cultural and nervous system impact of all our nifty handheld applications. Spooky's app, DJ Mixer, has had over 30 million downloads since the first version was introduced in 2010.
He's also written a new, electronic alternative score for the spooky 1920 silent movie The Cabinet of Dr. Caligari  which Roger Ebert called "the first true horror film" and, get this, is remixing Wagner's Ring Cycle for Bayreuth in 2015.  "I consider Wagner the first multimedia composer," he said. As the Observer finished up with Spooky, it was as if, right in the middle of Mardi Gras, New Orleans' Bourbon Street suddenly dumped out into the third floor of the Hilton.There was a Gene Simmons look-alike from a KISS tribute band in huge Frankenstein boots and whiteface flicking his tongue, a few guys in plaid kilts from a band called Tartan Terror that do Celtic music, and a bunch of cute young buccaneers from an "interactive, improvised pirate musical." DJ Spooky looked like, among these nervous early-career artists, a Gulliver amid the Lilliputians.