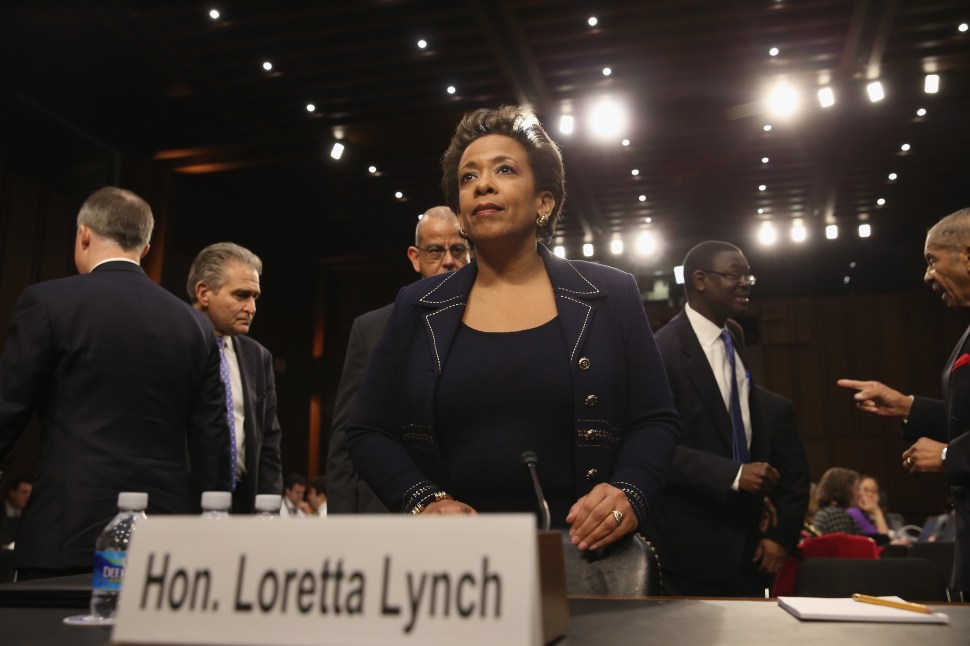 WASHINGTON—Loretta Lynch was impressive in many ways yesterday. She was calm under fire. She has a lovely demeanor and manner. She said she will work with the Congress and be independent of the President. She is articulate and savvy. She was well-prepared and knowledgeable. She is well regarded by many, widely heralded for her character, from a caring family, and she seems to be many good things. She has outstanding credentials and she is a very experienced prosecutor.
But she was inscrutable. She could play poker with the champs in Vegas and walk away with the pot. She made the standard promises of independence, protecting the Constitution and enforcing the Rule of Law. She said she would seek justice and not convictions. That all sounds good.
However, the big questions are either unanswered or leave serious concerns—not of her qualifications, but of her willingness to bring transparency and pure law enforcement to the Department of Justice. Does she see the problems and will she act on them, or has she fallen into the political quicksand that seems to swallow the truth in Washington?
From the carefully crafted and circuitous answers she gave to most of the questions, she does not seem to recognize the extraordinary abuses occurring in the Department of Justice—over which she will have virtually unfettered control.
Many Senators, and today's multiple witnesses, are raising compelling issues that should be of concern to all Americans. At stake are some of our most fundamental liberties—freedom of speech, freedom of the press, freedom from harassment by any agency of the government because of your political beliefs—the very foundations of our free society.
Americans want truth from their government officials. We are starved for honesty and integrity in government, for genuine leadership, and we want integrity restored to the Department of Justice which should lead the world in adherence to the Rule of Law. The IRS, EPA, SEC, FBI, ATF, FERC, and DOJ should not be weapons of political terror, yet that is exactly what they have become. There is uncontroverted evidence that American citizens are being targeted, prosecuted and persecuted for their political beliefs and speech.
Yet, Ms. Lynch in all her eloquence, rarely gave a straight answer to any question. The words "yes" and "no" were painfully absent from her vocabulary. While her appearance was open, warm and professional, her answers were heavily scripted, repetitive, and rehearsed. While virtually all may agree that she is an accomplished, rare and extraordinary individual, how hamstrung is she by the President she has agreed to serve? Were her answers constrained by her White House prep-team? Or did she not really want to answer them?
I can't help but think how refreshing it would have been to hear her just spit out the truth, in straightforward answers, whether a single Senator agreed or not. She did that on one issue—she does not favor the legalization of marijuana. On everything else, it was the "party line" of the President or paltry political pablum.
Testimony today, from award-winning journalist and author Sharyl Attkisson, revealed a horror story of harassment and abuse of social media orchestrated by the administration to slander and discredit reporters and valid press reports of the Fast and Furious criminal enterprise. She was stalked, hacked and kept under surveillance.
And don't forget Mr. Holder's own contempt of Congress and targeting of the Associated Press and reporter James Rosen. AP President Gary Pruitt has spoken at length about the extraordinary chilling effect on freedom of the press from these tactics. Reporters phone records were seized, and their sources immediately dried up.
Ms. Lynch's first obligation is to protect the Constitution—"against all enemies, foreign and domestic." That includes protecting the First Amendment against the actions of the Department of Justice itself, its agencies, and the White House. Will she do that?
"Would she trust John Mitchell to investigate Richard Nixon?" asked Texas Senator Cruz. No one on her prep team had thought of that question in advance, and Ms. Lynch couldn't answer it. Everyone else could.
Despite the report of the special prosecutor in the Ted Stevens atrocity and that of the independent Project on Government Oversight, identifying hundreds of violations by prosecutors from documents within the Department itself, she believes only good lawyers work there.
Has she been blinded, is she so entrenched in the Department already that she's in denial, or is she just touting the party line for the hearing? She certainly "knows when to hold them" and she walked away from her hearings with a big smile.
My hat is off to the senators who see the need to eliminate the politicization of the Department of Justice, and especially to Senator Orrin Hatch from Utah. In his first ten minutes of questions for her, he held up a copy of my book, LICENSED TO LIE: Exposing Corruption in the Department of Justice, which tells the stories of egregious misconduct within the Department of Justice under the last two Presidents in some of the most high-profile litigation of the last decade. Senator Hatch called it "a powerful book." And he ended his remarks with: "If even half of this is true, and I believe that it is, you've got a lot of work to do to clean up the Department."
[youtube https://www.youtube.com/watch?v=54uoOH_qh7U&w=420&h=315]
Read the book for yourself and look at the documents at www.LicensedtoLie.com. Even though it reads like a legal thriller, Licensed to Lie is true, and she does have a lot of work to do. If she is confirmed, an entire country is counting on her to do it. If she can just "be Loretta Lynch," and not Mr. Obama's game piece, she has the ability to be one of the best attorneys general in our history. Loretta Lynch could restore the faith of Americans in fairness, justice, and the rule of law—if she knows when to fold 'em—and walk away from the White House.
Sidney Powell worked in the Department of Justice for 10 years and was lead counsel in more than 500 federal appeals. She served nine U.S. Attorneys from both political parties and is the author of Licensed to Lie: Exposing Corruption in the Department of Justice.