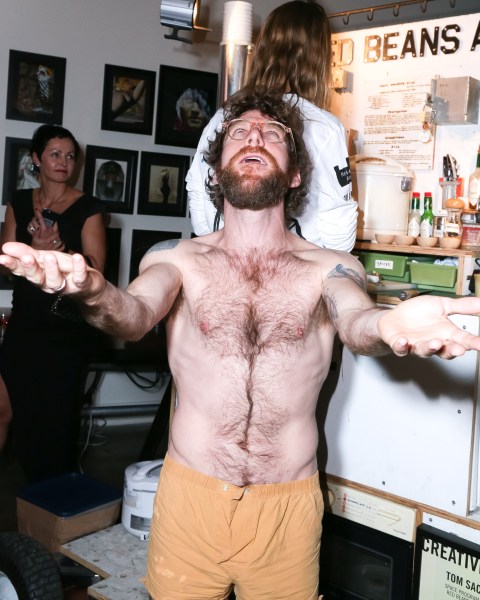 Dustin Yellin, where have your pants gone! They seem to have disappeared once again. This is starting to get a little out of hand. It wasn't so long ago that you were mooning pajama-clad party people at the Creative Time Gala. And then there was that incident at the ArtList Christmas Carnival, when you stripped everything off and sat on Santa's lap.
And now, there you are again, just totally naked, this time on a playing card.
The card, which is the five of hearts, is part of "Z Behl: Joker's Solitaire," which opens at Lower East Side gallery Kai Matsumiya this Thursday. Ms. Behl got 52 men to pose fully exposed for the blown-up deck, and at the opening, she's going to use them to play solitaire. It sounds great! But now we can get even more excited because Dustin Yellin is one of those naked men. And we have the picture, courtesy a friend shared it on a Dustin Yellin-themed email chain that's been going on for a few days.
Now, I know what you're thinking: let's quit it with all this silly words and get down to business! We want naked pictures! Well, we don't usually post smut on this family website, but this is in the name of art, and in the name of Dustin Yellin, which is the same thing, because Dustin Yellin makes art when he's not getting naked at parties. So! Without further ado, here is Dustin Yellin, on one of Z Behl's playing cards.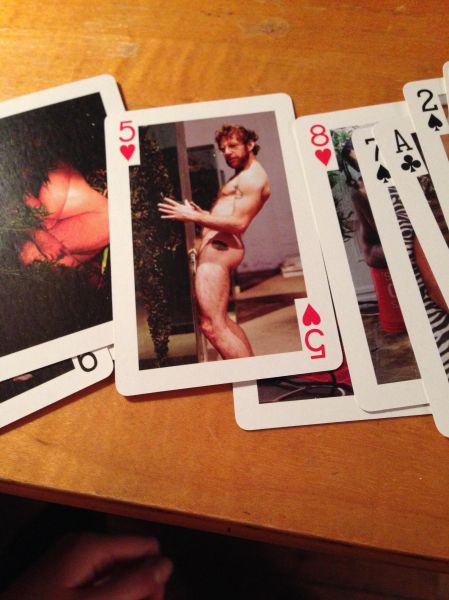 As it happens, there is a Dustin Yellin-related event tonight, because today is a day that ends with the letter "Y," and I am going to be attending. It's the private viewing for Mr. Yellin's massive installation The Triptych (2012). Expect a different kind of "private viewing" about 15 minutes in.