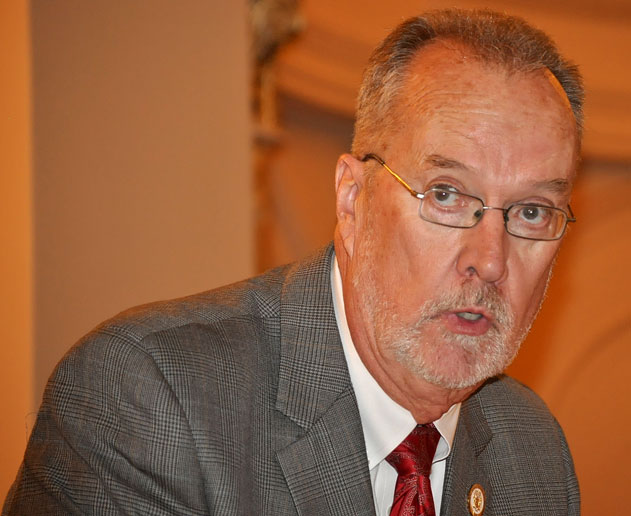 TRENTON — Yes, the state's new emergency management plan for Atlantic City makes state Senator Jim Whelan (D-2) nervous, too.
Echoing comments by Senate President Steve Sweeney (D-3) earlier today, Whelan again questioned the decision by Gov. Chris Christie to install an emergency management team to oversea a financially-strapped Atlantic City this afternoon.
"It does make you nervous when the two people brought in are bankruptcy experts," Whelan told PolitickerNJ in the hall of the statehouse today. "When that's their claim to fame, if you will."
Whelan was referring to Kevin Lavin and Kevyn Orr, appointed by Christie to serve as emergency manager and special counsel, respectively, of Atlantic City earlier this month. The move was announced at the state's third economic summit in the city, and comes as the once-prosperous tourist town continues to struggle financially and economically from an ongoing decline in its casino industry.
But it's the resumes more than the appointments themselves that has forced some to question the decision. Before his most recent appointment, Orr served as the emergency manager for Detroit, which just emerged from bankruptcy and which many have already used as a worst-case-scenario example for Atlantic City. And Lavin is a corporate finance consultant at FTI Consulting, where he more typically advises financially-troubled companies.
While many kept quite at the summit where Christie announced the appointments, refusing to offer their opinions amid a lack of details, Sweeney finally exploded over the executive decision today, blasting Christie at a New Jersey Conference of Mayor's meeting this morning for "trying to force a bankruptcy" on the city.
Sweeney — and Whelan and others — fears that the appointments are actually a signaling of that bankruptcy plan.
"The real problem is when the administration hires two bankruptcy experts to come into a city to assist the city. What do you think they're going to assist them with?" Sweeney said at the meeting, as reported by NJ.com.
Whelan, for his part, said officials should be wary of solutions to the city's economic problems that rely too heavily on downsizing.
The former A.C. mayor's initial reaction to the emergency management decision at the state's summit this month was one of surprise.
"I've said this a lot: The problem in Atlantic City is the decline in services. I mean the city, over the years, going back decades till the 90s, when I was mayor, the city since then going forward has seen reductions in force. The city at the time had 400 cops, now you have 300 cops. How far are you going to go?
"I was mayor, we closed three fire stations. At some point, you have to have firemen, you have to have cops," he added.
Whelan said the city's Republican mayor, Don Guardian, has already outlined $40 million in cuts over the next several years between the school board and the city government — but he cautioned that not all of the city's problems will be solved that way.
"So the idea that we can cut out way to a solution here — absolutely a round of cuts is essential, you can't afford the level of government that you have, so you have to make some cuts, you have to get some give-backs from the unions — but it can't all be just on the back of cuts."
Christie's decision could also come with unintended consequences. After downgrading the city's credit rating twice in recent weeks, Moody's Investor Service this week said opting for the emergency route could hurt other economically-challenged cities in the state as well, as it means the state might be less willing to bail them out in an emergency.