Remember Ello? Doesn't matter—the founders still don't care if you love them or hate them, they're just racing to finish up their site. The budding, invite-only social network was in beta testing when their traffic went ballistic, opening them up to harsh criticism for not having a finished product.
Finally, they're putting the finishing touches on the social network before they close it out, starting with last week's addition of the ability to throw video and audio from YouTube, Vimeo, Soundcloud, Dailymotion and other services into Ello posts. All along, they've had to prove to their detractors in the media saying they'd never run ads against their users' data.
As it turns out, there will be ads on Ello, in a matter of speaking. The problem started with wanting to let people post YouTube videos on their feeds…
Ello's Great Video Ad Dilemma
If you want people to stick around and post on a social network, they have to be able to actually share media with friends—or "noise," as is sometimes the case on Ello. But just letting people post what they want can be a slippery slope for ads to slip their way in through embeds.
---

"Considering that Ello went viral a few weeks out the door and exploded, and we've been growing a product with a giant user-base slowing down development, we're still moving wicked fucking fast," Ello founder Todd Berger said. 

---
See, Ello's whole shtick—besides looking really clean and having an erudite community—is that they're a social media platform with no ads. But YouTube videos are like advertisement-filled trojan horses, and embedded video ads don't stop rolling just because you have an anti-ad manifesto. So Ello faced a conundrum wherein they couldn't let users post what they wanted without compromising their no-ads policy.
They polled their users and discovered something you wouldn't expect of an early Ello adopter: most users didn't care. Many Ello users just wanted to be able to post video and audio, even if it meant the occasional ad.
"It was bifurcated," Ello founder Paul Budnitz told the Obsever. "There were people who wanted to host Vimeo and Soundcloud, and some who didn't want it at all."
So they found a compromise: if you're so obnoxiously advertising-averse that you need to protect from even the opportunity to accidentally see an ad, you can go to your settings and turn off embedded media—the same way you can toggle off NSFW material.
Haters
Mr. Budnitz told us that last week alone, Ello signed up another quarter-million users. Still, Ello hasn't generated much media interest since September, aside from their $5.5 million fundraising round, when they registered as a public benefit corporation and bound themselves legally to never running ads or selling user data.
Nevertheless, tech reporters who need a daily punching bag occasionally roll out a thinkpiece on why Ello is doomed to fail (or already has). Usually, this has to do with thinking that Ello's ideals are too bleary-eyed, that freemium doesn't work, or that they're just going to sell out eventually.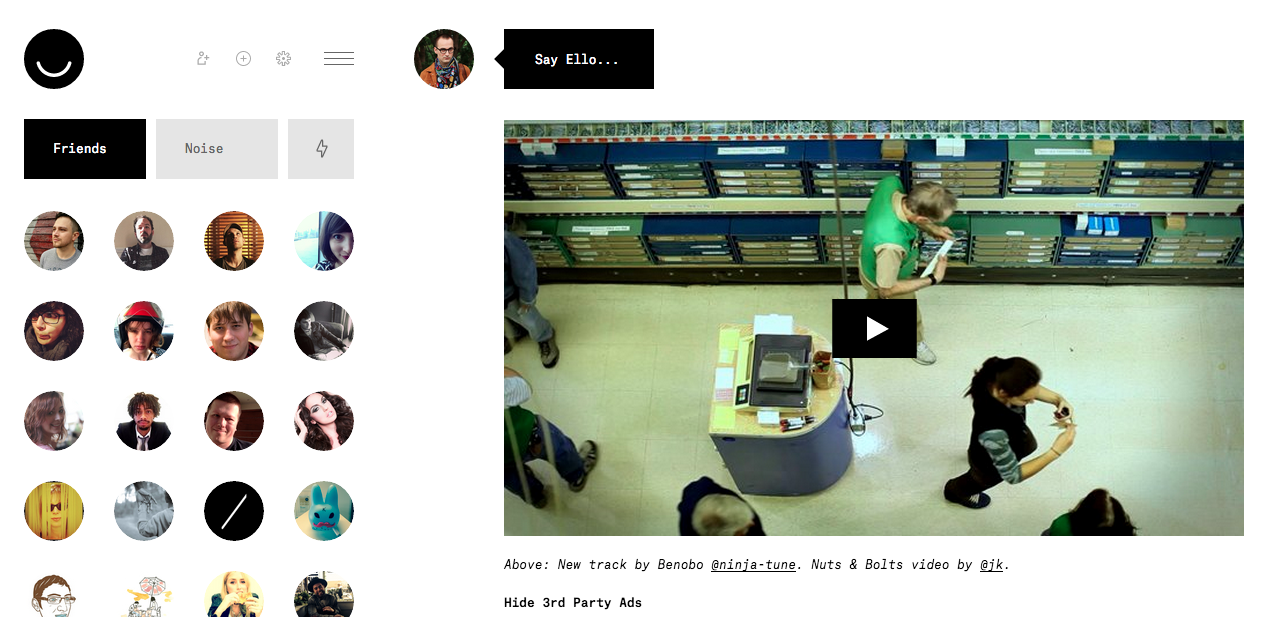 The most recent among them is Techcrunch's latest Ello story, which calls Ello's investors "gullible." It comes as no surprise that Techcrunch's resident Facebook reporter would write a pean to Facebook's awesome power, critical mass and unrelenting capital—Mark Zuckerberg himself has been said to lose his cool when Ello comes up in conversation. Ello Founder Todd Berger chalks this up to a kind of cultural Stockholm Syndrome.
"It's like a casino," Mr. Berger said. "You know that, on average, everyone's losing, so you're always depressed. You know you're being fucked with, but you keep going, so it creates this black hole. And certain journalists have this weird bitterness like they're afraid of something new."
What's Next
Ello keeps a big, public checklist of what's in the development pipeline—all of the rest of the items that will make Ello a grown-up social network: private messaging, comments that include pictures or videos and a bookmarking system. Since their popularity explosion in September, they've been racing to keep up with demand from their users even as they struggle with building a finished product.
"Considering that Ello went viral a few weeks out the door and exploded, and we've been growing a product with a giant user-base slowing down development, we're still moving wicked fucking fast," Mr. Berger said.
Next up is reposting/reblogging, which is "99 percent done" and Mr. Budnitz hopes is coming in the next couple of weeks. But the big release—a mobile app that's already has a successful prototype—is coming in May, likely along with an official move out of their beta testing phase.
As for the negative press, Mr. Budnitz isn't really phased—before he ran Ello, he'd never heard of half of the sites that now cover the company obsessively—but other members of the dev team occasionally get riled up.
"We're trying to throw a party," Mr. Berger told us back at the peak of Ello's hype cycle. "If you want to leave, get the fuck out! Go hate some other thing."