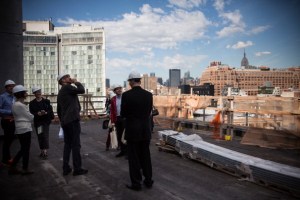 As the new year begins, six New York City museums are in various stages of major expansion. This isn't automatically good news, as some recent museum retrofits or new builds have proven above-the-budget pricey and not entirely successful, at least when it comes to pleasing architecture critics, the public, or both.
Nonetheless, museum directors always like to brag that their institutions are getting bigger, taller, and more powerful. So, here, a cheat sheet to what's coming, and when:
The Whitney Museum of American Art debuts its new Renzo Piano-built headquarters on Gansevoort Street May 1 (That's only 119 days away, according to its oddly insistent online clock that ticks away the seconds.) It opens with an Inaugural installation that "will be the largest and most comprehensive display to date of the Whitney's unparalleled permanent collection of 20th and 21st century American art," the institution promises, and even to a jaded art-worlder, that sounds exciting.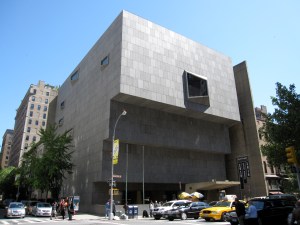 Perks and innovations will include a free-of-charge first floor and stunning views, from its open-air terraces, of the Hudson, the Statue of Liberty, the Empire State building and the Standard Hotel, home to a famously exhibitionist clientele.
Not incidentally, Danny Meyer's Untitled restaurant will move downtown with the museum, and Gramercy Tavern toque Michael Anthony is helming the new eatery, a "get" for the institution.
The Metropolitan Museum of Art will soon begin retrofitting the Whitney's Marcel Breuer building, and it's 85,000 square feet of space, for the likely display of modern and contemporary art in 2016. Still on the table, according to people close to the matter, is how separate and self-determined the satellite museum will be, and whether it will have its own admission charge. Whatever they decide, the installation could be only temporary, as the Whitney, so far, is only leasing the building to the Met.
The Museum of Modern Art bought the American Folk Art Museum's building next door at 45 West 53rd Street for $31 million and will launch yet another redesign (implicitly, but finally, admitting the problems with the 2005 $800-million-dollar renovation). A proposed redesign adds huge glass walls and a (much-needed) new entrance. By also expanding into three floors of an adjacent residential tower, it will add 30% more space, or about 40,000 square feet of new galleries. Completion is at least a couple of years away.
The American Folk Art Museum, which exited its site adjacent to the Museum of Modern Art in 2011, has been exhibiting at 2 Lincoln Square (Columbus Avenue at 66th Street). The move wasn't initially seen as ideal for the beloved institution, which has something of a cult in New York, but in fiscal year 2015, attendance was at 115,000 visitors, up 30% from the previous year. It's building a library and storage annex in Long Island City, likely to open this year, that includes a gallery space.

The Tenement Museum, at 97 Orchard Street, has announced plans to add exhibitions and events that focus on post-World War II immigration by Chinese, Puerto Rican and Jewish immigrants. These permanent additions will be housed at 103 Orchard Street, and will continue the museum's practice of recreating the homes of specific immigrants. Construction will begin later this year.
The Frick Collection has said it would like to expand its Fifth Avenue campus by about 25%, carving up some of its existing garden, in part to add space for educational programs, conservation facilities and to solve problems of art transportation and crowd management. (Annual attendance is at 320,000 visitors.) Community opposition, so far, has been strong, despite the promise of a new amenity: a roof garden overlooking Central Park.