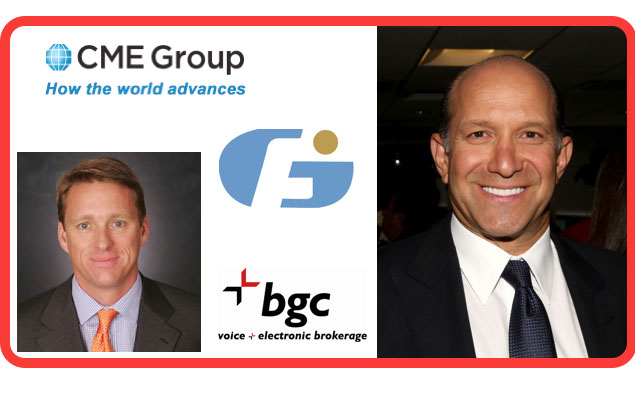 Anyone who's read Barbarians at the Gate (or seen the underrated HBO movie version) knows that the most exciting thing that can happen in business is a bidding war for control of a company. And as with that book's subject, RJR Nabisco, it's double exciting when it's an insider team vs an outsider team.
A truly "barbaric" drama has emerged on Wall Street pitting GFI Group, whose insiders control 38% of the stock and want to consummate a deal with CME, vs its competitor BGC, which acquired 13.5% of GFI's stock and is hoping to scuttle the CME deal by offering more money per share in a tender offer.
I have been closely following the action, reporting on it for the Observer here, here and here and now some sort of conclusion to this battle of finance heavyweights will occur Thursday at midnight. Will CME, with its offer of $5.85 in cash and stock and the support of the company's insiders (and according to my last story, the unanimous support of key rainmakers) carry the day? Or will BGC, led by tenacious competitor Howard Lutnick, with its $6.10 all-cash offer emerge victorious?
At first blush, that sounds like a no-brainer. Who wouldn't want 25 cents more, especially in cash? Indeed, the influential proxy advisory service ISS has recommended that shareholders of GFI Group Inc. (NYSE: GFIG) vote against the merger agreement with CME Group Inc. (NASDAQ: CME) at Friday's special meeting. But sometimes a "no brainer" requires a little more brains to unravel.
GFI shareholders who vote against the $5.85 are essentially saying that they prefer the BGC (NASDAQ: BGCP) deal. But from the very beginning of this saga, the Observer has pointed to serious issues that might prevent a BGC deal from ever taking place. What's more, if shareholders scuttle the $5.85 CME deal in favor of a $6.10 BGC deal that itself falls apart for any of the reasons enumerated below, they might be thinking they can always just take the $5.85 from CME. But there is very strong evidence to suggest that particular deal won't be on the table if BGC cannot or will not complete the transaction.
BGC has been emphatic that it can and will close the deal if it gets tendered 45% of the shares. One by one they've addressed the doubts raised by GFI about BGC's ability to close and even the sincerity of their intentions to do so. They've solved the regulatory issue that the Observer wrote about when they acquired more than 10% of a company without notifying the FCA (let alone receiving permission, which is required). Inexplicably, the FCA looked the other way and then the commissioners who did so all resigned. So that's no longer a hurdle.
Then there were the Restricted Stock Units that were at the heart of the Observer's scoop about a steak dinner in which GFI's biggest performers unanimously pledged not to work for BGC should the latter emerge successful in this bidding war. BGC put out a statement several days later specifically addressing the issue, with a headline that read "[BGC] Reaffirms Commitment to Honor Previously Existing GFI Compensation Arrangements."
In a shocking jolt of candor, BGC's official spokesperson Hannah Sloane actually admitted to the Observer that her firm's tactics were being influenced by our reporting, telling me in an email, "I think it's fair to assume it's in reaction to your story <smiley face>". I call this "shocking" not only because of its acknowledgement that a newspaper's reporting is shaping the strategy of a high-nine-figure deal, but also because this nasty fight has been marked by both sides unwilling to speak on the record about anything, often including the official spokespersons. All contested M&A battles feature a certain fear of speaking to the press – the SEC takes that seriously. But this one, presumably on account of the bad blood between the two camps, has been particularly rancorous, making Ms. Sloane's truth bomb all the more striking, even with the emoticon.

So that addresses the regulatory risk and the RSU situation, if not to the level CME partisans would like to see, then at least to the satisfaction of ISS, which is influential on shareholders like Fidelity, which owns 7 million shares. There's also the question of how BGC will meet its condition to get 2/3 of the board if its trigger is hit at 45% of the shares tendered. Why would the founder and CEO, who favor the CME deal, turn over control of their board to someone who owns less than half the company? BGC has offered a somewhat convoluted explanation of how that would come to pass involving two stepping down from the five-person board and being replaced by six people, thereby making 9 total with six favoring BGC. So let's give BGC the benefit of the doubt – and there are a lot of doubts – on all of these.
There's still one giant risk that has not even been raised, and it's perhaps a greater threat to any eventual BGC deal than any of those yet named.
According to a highly placed source who is intimately familiar with BGC's inner workings, the biggest red flag is BGC's continuing failure to sign a Non-Disclosure Agreement that would allow it to look under GFI's hood. BGC's refusal to do so after months of deal back-and-forth is so troubling that it has caused many deal watchers to suspect this deal isn't going to be consummated even if the CME deal does fail.
It's not really trade secrets at issue here – it's people. GFI doesn't want BGC knowing which brokers produce the most revenue for what compensation. And BGC refuses to sign a standard NDA. This lack of a standard protocol is even more startling in light of a recent development. Tullett Prebon, another company in the same broker-dealer space as GFI and BGC, had already been awarded $33.3 million from BGC by an arbitrator last July – right around the time GFI and CME got engaged. But last week, BGC agreed to fork over an additional $100 million to settle all outstanding litigation by Tullett over "alleged poaching of its staff by BGC."
And all this is in addition to another poaching incident in which former Tullett broker Anthony Verrier went to BGC and was then found to be luring his former Tullett colleagues in a move that got Mr. Verrier banned by the FCA. So GFI's insistence on an iron clad no-solicitation, no-poach, no-hire agreement before it opens its kimono cannot have come as a surprise to BGC.
But it's not just the possibility of poaching at stake here – it's BGC's ability to actually buy the company.
The source put it this way: "If the CME deal fails on Friday, there's no guarantee that anyone is going to get even $5.85, let alone $6.10, because the guy has done zero due diligence. How can he possibly spend $774 million, that's $6.10 times 127 million outstanding shares of GFI. He would have to pay $774-million, plus inherit about $95-million of RSU liability, and he would inherit $240-million of GFI debt. That adds up to about $1.1 billion. He does not have that kind of cash. If he actually did put that kind of cash out there his dividend would be at risk, and if his dividend was at risk his stock price is going to collapse because it's a dividend-based stock."
Asked to elaborate on that point, the source went into detail. The source basically suggested that no public company could possibly go out there with a market cap like BGC's – $1.82 billion on Tuesday– and assume $1.1 billion of liabilities without performing due diligence. Especially when it's already been stated, in the Observer and elsewhere, that key people at GFI might not stay if BGC prevails. Between the RSU liability—which is higher now than it was when Mr. Lutnick was first pressed to issue explicit guarantees, since the stock price is higher—and the added pressure of $133 million to settle the Tullett suits, it's a stretch to imagine paying $6.10 for a company BGC hasn't properly vetted.
The source put it succinctly. "I know Howard Lutnick. There's no f***ing way the guy is taking on $1.1 billion without doing any due diligence."
If that's true, GFI shareholders could face a nightmare scenario in which neither deal is consummated. Let's say they reject the $5.85 CME deal on Thursday in hopes of closing with BGC at $6.10. Then BGC says, great, we just need to perform our due diligence, and off we go … but wait, we don't like the looks of this guy's pay package and that guy wants to quit, and Fenics doesn't want to work with us … sorry, fellas, this isn't going to work after all.
That's not some idle scenario. Those who read my "GFI brokers threaten to quit en masse" story might recall the tale of Phoenix Partners Group. Facing a post financial meltdown cash crunch, CEO Nick Stephan was in talks with BGC to come to the rescue. As we reported, "BGC was like we'll definitely buy you, but then took 3-4 months schlepping out due diligence that should have taken a week or two. Then, once Phoenix was really desperate for cash, BGC said, 'Now that our due diligence is completed, we can't give you the price you originally wanted. We can only give you this way lower number.'"
In other words, shareholders worried that BGC might get cold feet on the price after performing due diligence are not acting out of some hypothetical concern—they've already seen that occur. According to GFI spokesperson Christopher D'Antuono, CME signed a standard no hire-no solicit NDA when it began the process of acquiring GFI. "In every M&A transaction we ever looked at, and I've been here 10 years, we've always, always signed an NDA whether we were the buyer or the seller. With 'no poach-no hire-no solicit' provisions. CME signed one, every other bidder who looked at these assets all signed them." Interestingly, part of the settlement agreement BGC signed with Tullett included a clause that "prevents either party hiring desk heads and senior management from the other for one year from the date of the agreement." In other words, a no-poach agreement—essentially the exact document BGC itself is unwilling to sign with GFI.
Hannah Sloane at BGC noted to the Observer in an email this morning that BGC addressed the due diligence argument directly in a press release of its own. BGC's position is that the NDA that GFI wants it to share (there are a lot of acronyms in this story!) are not "ordinary" and that GFI management instead is self-interested in "insisting that BGC sign long-term, no-poach agreements that only serve to benefit GFI management in their attempt to purchase the wholesale brokerage business at a discounted rate."
She also pointed out to the Observer that BGC is cool going forward even without an NDA. "We are comfortable proceeding without further due diligence because of our detailed knowledge of the financial brokerage business, so long as GFI management does not take any interim steps to materially damage the business."
Finally, one institutional shareholder to whom the Observer spoke brought up yet another BGC problem that has so far gone unmentioned in the press–that of being too successful. Under the rules of a tender offer, BGC isn't allowed to offer $6.10 to just the first 45% who show up and then say "No thank you, we've had enough." They are obligated to pay 100% of the shares that are tendered. The premise of BGC's offer, repeated over and over in Mr. Lutnick's letters, is of a "fully financed, all-cash tender." But that financing was first arranged for BGC's offer at $5.25. Even if they allowed some squish to accommodate the raise to the current $6.10, that had to have been premised on somewhere around 45% being tendered.
What if 50% or even 55% accept BGC's tender offer? The difference between buying 45% of the shares at $5.25 and 55% of the shares at $6.10 is about $126 million. Both ISS and GFI's own Special Committee concluded that they'd recommend BGC in part because they were "fully financed." But did they account for the possibility of a greater than expected tender? No one can say. For its part, BGC's spokesperson told the Observer this morning, "On the fully-financed question, we state it's fully-financed in our raising to $6.10 per share release. We would not state this if it was not the case."
As usual, none of the principals at these companies would speak to the Observer on the record for a story so close to their big showdown, although their spokespersons both stepped up to the plate. This time, even CME declined to speak, and their in-house communications person dismissed as "a rumor" something both her principal and I know to be a fact, which is a pretty big sin in the PR business. It is an irony of life under the watchful eye of the SEC that these cocky finance guys who have earned hundreds of millions of dollars are afraid to pick up a phonecall from someone being paid about $500 for writing this story.
Regardless of how this plays out, it will be a shame for GFI shareholders if they reject the newly rich CME deal in favor of an even richer BGC deal only to wind up having neither. If BGC does somehow wriggle out of its "no condition" offer, the likelihood that CME comes back into the picture at anywhere close to $5.85 is slim. Why would they? Not only would they no longer be competing against a richer offer, but there's also a year of deal fatigue – shareholders would be lucky to get the original $4.55.
With less than 48 hours remaining till d-day, the market is sending a fascinating message. Having traded right at $6.10 since BGC set that price, on Tuesday GFIG fell, closing at $5.89. That could be a sign that the market no longer thinks $6.10 is realistic. Or it could be that the Dow lost almost 300 points. Or it could be this absurd weather. As of this morning at 10:30, it lost a few more cents, even as the Dow has recovered.
Before pro-CME forces get too carried away by this long list of BGC problems, they ought to consider something elemental. Howard Lutnick didn't get to be Howard Lutnick by losing battles. He is a formidable competitor. And even if shareholders go with CME on Friday, he wins, having bought 17 million shares that have now risen a great deal.
This is a fellow who likes to win. And he just might do so here. But GFI shareholders have to beware of a situation where the CME can't close (because the vote fails), and BGC won't close (because due diligence reveals something less unworkable at $6.10). After that, they're left holding a stock that was trading for $3.11 six months ago when there was no deal on the table.
Disclosure: I do not hold any positions in any of the companies mentioned in this story and have not done so for at least five years.
CORRECTION: An earlier version of this story incorrectly stated that the "special meeting" will be held on Thursday. It will be Friday. The Observer regrets the error.