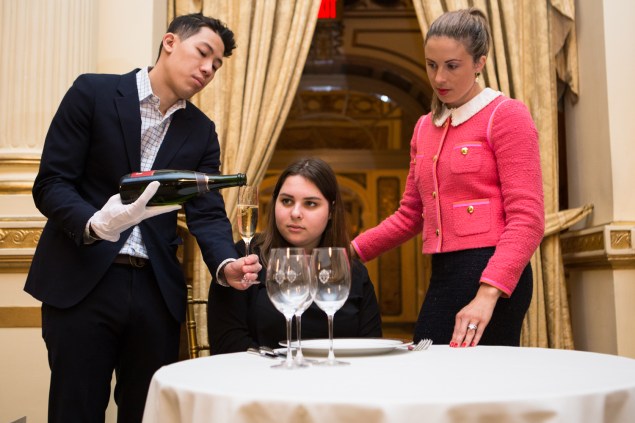 Dining with an etiquette instructor does not make for the most relaxed repast. Mrs. Myka Meier delivered roughly 89 rules of deportment over the course of a 90-minute meal last week, instructing me in everything from how to fold my napkin, to how to butter my bread roll. Versed in British, European and American social protocols, Mrs. Meier preferred to teach the former, which she considered to be: "More elegant, more structured and with more social codes. If you can master that, you can go anywhere," she insisted.
 Not that learning etiquette should be reserved for members of a certain class. "Following good etiquette actually stems from a desire to be considerate to others, it's not about being a snob. All it takes is an education and a willingness to learn," she said. After all, look at the Duchess of Cambridge, the picture of impeccable personal deportment, and a Cinderella princess Mrs. Meier credits with igniting a renewed interest in the art of proper etiquette.
 "She was an average girl who happened to marry into the British Royal family. I can only imagine the hours of training she must have endured to become what she has," she marveled. If you're interested in finding out exactly what this might have entailed, she even teaches a four-hour course, The Duchess Effect, dedicated to Ms. Middleton's social prowess—from what she calls "the Duchess slant" (her signature way of sitting with knees and ankles firmly clamped together), to the way she "glides" down a staircase.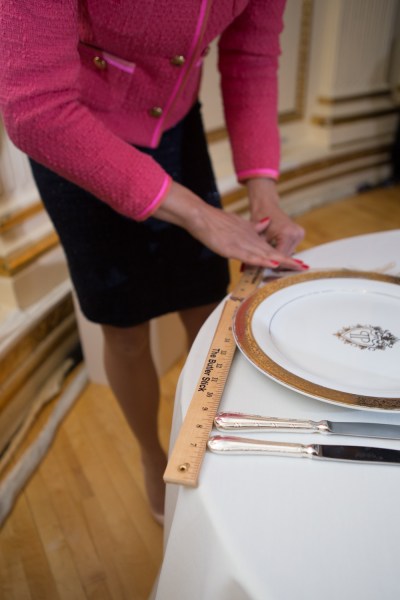 Unsurprisingly, Mrs. Meier was immaculate herself. A sort of Mary Poppins-meets-Legally Blonde, she arrived with a large pink vanity case containing all the accouterments for correct table setting—white gloves, to prevent smears on glasses, and a "butler's stick" for measuring the distance between forks—and appeared groomed and glowing, with glossy blonde locks swept up in an elegant ponytail. Her manner was sunny and upbeat, and she had spent her morning instructing somebody's nanny: "To prevent situations where you have the children saying, 'My mommy wouldn't do it like that.' "
Upwardly mobile or society-conscious parents unsure of all the invisible rules of etiquette pay for training to prepare their children for school interviews and visits. "I'm already receiving booking inquiries for summer for children over the break. Parents typically insist on one to one, bespoke etiquette training—which runs from $375 plus tax for two hours for children 5-11, and $550 plus tax for one class for young adults 12-17." A weekend course for a teenager sees parents spending over $2,000 per child 
 Having founded her company, Beaumont Etiquette, in 2014, the business is thriving in London and New York. Mrs Meier's clients range from individuals in their 20s and early 30s, to corporations who hope her training will make them better represented by their staff in both business and social settings. "I just had to sign an NDA about a new client from a big law firm. They want to know things like, 'Is it still correct to pull the chair out for the lady to the right?' " As for the level of instruction, while Mrs. Meier's aim overall is to make the world of etiquette as non-intimidating as possible: "I can be as gentle or as 'constructive' as they like."
Mrs. Meier began her own training as a child in Sarasota, Fla., where she said she loved "the romance" of her regular cotillion classes.  Her father owns a yacht consultancy business and went to a strict British school in Barbados: "And I was always being corrected at the table as a kid." Subsequently working in PR in London, where she moved after meeting her Swiss banker husband, she continued her education by taking etiquette courses whenever she had spare vacation time, including a two-week stay at IVP (the Institut Villa Pierrefeu) in Switzerland: "What I would call the best and last real finishing school in the world."
Her skills were tested when she found herself being asked to serve Prince Charles himself a gin & tonic at an event for her PR client, Mont Blanc. The drink, which the Prince's aides had delivered at the event pre-bagged in a Ziploc container, was to be served on a silver tray. "It was so heavy, my arms were shaking, and I wasn't able to curtsy as I knew was expected. Slightly extreme, but an example of one time I had to bend the rules."
As for the curtsey itself: "It's not the 'swan dive' most Americans think, it's actually a very subtle dip. And I will teach you because you never know, Ruby. You never know!"
For the majority of people, perfecting a curtsey might seem antiquated and irrelevant—but perhaps that's precisely why Mrs. Meier's teachings are of interest. "It's so rare that you encounter proper manners these days, it leaves a real impression," she said. With the goal of equipping her students to feel comfortable in any social setting, she also credited the merging of cultures globally, particularly East with West, as another driving force behind her company's success.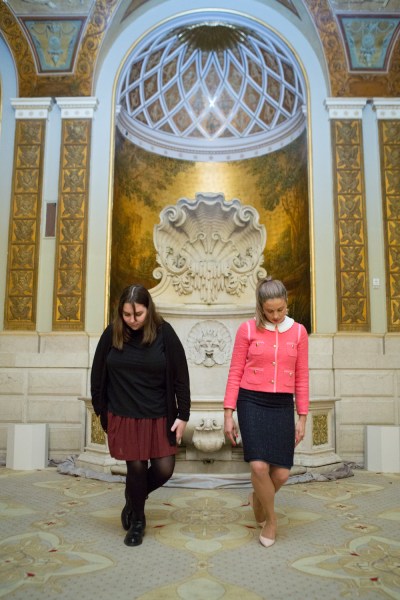 One of her first jobs was in London, teaching British etiquette to a group of "very high net worth" Chinese women. "It was set up by a company that specializes in teaching the rules of Western society. I'm not qualified to teach Chinese etiquette myself, but I refer business all the time," she said. As a rule of thumb, "you should follow the etiquette of the country you're visiting," she continued, citing the panic she encountered among New Yorkers when the Duke and Duchess of Cambridge visited the city in December. "But they weren't expecting anyone to curtsey—it was a handshake, because that's what we do here. I've seen a significant rise in bookings since their visit, with some clients booking three months out for The Duchess Effect course alone."
With plans to launch her own multi-day finishing school in the summer, Mrs. Meier currently teaches out of her studio in Columbus Circle, or at clients' homes and offices.
"I was just asked on an upcoming booking if I would be more comfortable with air or ground travel to a Long Island private home. I'm not a helicopter fan—I chose ground."
She also organizes "etiquette parties" for groups, and tailors classes to cover everything from business and networking etiquette, including email etiquette, to dining and dating—surely a popular subject in a city notorious for it's intimidating singles scene. Social Etiquette is her most popular New York class.
"The person who does the asking out should also plan the date and expect to pay for everything, although it's polite for the invitee to offer," she said. During a meal, it should never be announced that you're leaving the table to visit the bathroom—"a simple 'excuse me' is enough"—while pacing yourself to finish eating at the same time as your date is also correct manners, even if it means your food going cold because they've been doing all the talking.
 As for the most common faux pas she encounters among her American clients? "Asking what somebody does for a living, and talking about money. It's vulgar and comes across as extremely opportunistic." Sound like someone you know, New York? Instead, she recommends keeping a list of 10 open-ended conversation starters in your back pocket. It could be your fast track to becoming the most charming person in the room. ν
 beaumontetiquette.com