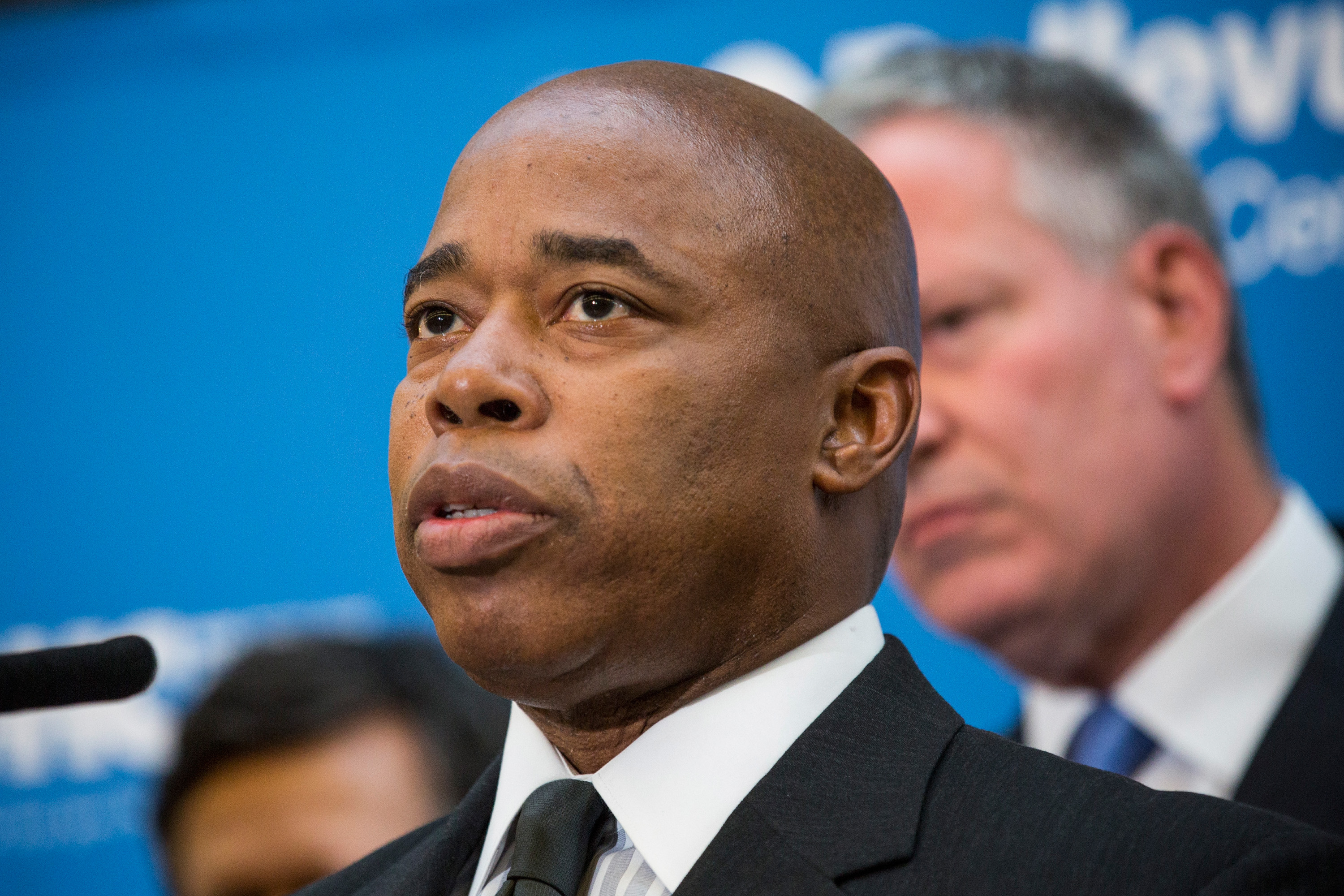 Brooklyn Borough President Eric Adams, a former police officer, offered a fierce defense of Mayor Bill de Blasio's policing policies and his invocation of his son Dante today at a Martin Luther King Day event in Brooklyn.
"It is not his job for public safety for parts of this city—he is the chief executive to protect the entire city," Mr. Adams told an enthusiastic crowd at the Brooklyn Academy of Music. "Unions should always fight for their members, but they should never get it twisted. When it's time to determine what policies are going to impact the people of the City of New York, I did not elect the PBA. I elected the mayor."
Mr. Adams was referring to the Patrolmen's Benevolent Association, a union that once represented him when he was a beat cop. The borough president, who served in the NYPD for 22 years and helped found the group 100 Blacks in Law Enforcement Who Care, has been critical of the union and of cops who have turned their back on Mr. de Blasio at recent funerals for police officers.
Officers, particularly union leaders, have seized on remarks Mr. de Blasio made about telling his biracial son Dante to take "special care" with police officers as evidence the mayor does not support cops. But Mr. Adams said it's a conversation he has had with his own son.
"No matter how difficult it was for some people to absorb, his testimony about his son, that's a conversation I had with my own son. Remember, de Blasio didn't adopt Dante, that's his seed," an energetic Mr. Adams shouted to the crowd as they erupted in applause. "When you look across the table at someone that you must assure his safety, and you realize that the department is not doing that, you better speak up!"
It has been a difficult month for Mr. de Blasio's relationship with the police, long strained and made considerably worse with the mayor's early support for anti-police brutality protesters and then the assassination of two officers, Wenjian Liu and Rafael Ramos. In recent weeks the back-and-forth between City Hall and police unions has quieted a bit, with the mayor speaking out more harshly against anti-police rhetoric from protesters and a poll showing most New Yorkers disagreed with the cops turning their backs on Mr. de Blasio and had little favor for PBA President Patrick Lynch.
Mr. Adams recalled his own dark times, and said in those moments is when people truly shine.
"I remember studying to become a lieutenant  and someone shot out my car windows, and how I felt just as though it was a challenging period, and I was broken. It was my moment to shine," Mr. Adams said.
The city has seen the same thing from Mr. de Blasio, the borough president said.
"He set out an agenda at the beginning of his term, and he and I used to speak and talk and communicate, he never wavered, never second-guessed," Mr. Adams said.