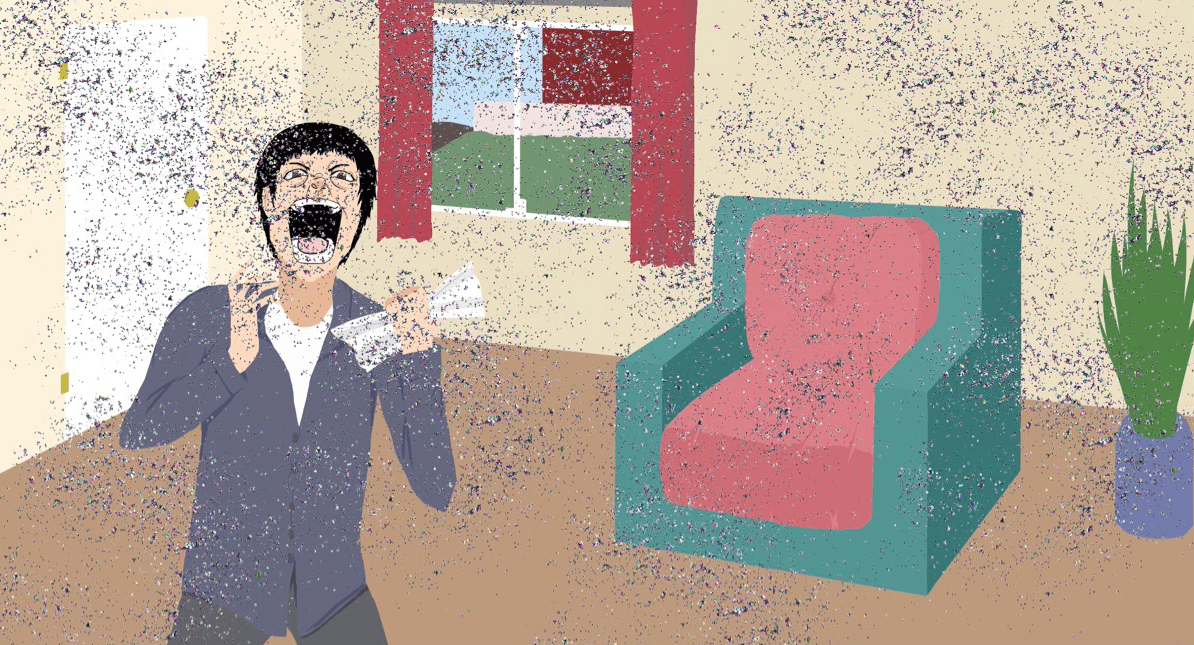 Update, 2/25: In an interesting twist of fate, the person who bought ShipYourEnemiesGlitter for $85,000 has actually turned it into a legitimate glitter-shipping company. Read more about it here.
Last week, the web was both outraged and in love with a controversial new startup called ShipYourEnemiesGlitter.com. The premise was both inspired and insane—for $9.99 you could ship a benign glitter bomb to any friend or enemy anywhere in the world. Time.com covered it, and so did Fast Company, the Telegraph, Huffington Post, TechCrunch (note: the Observer declined to cover it because it seemed suspicious). Then after claiming six figures worth of orders and more than a million pageviews, the founder begged users to stop inundating him with requests and put the whole thing up for auction, where it netted $85,000.
So what the hell was all that? Well, over the weekend, I got a rather unexpected email from Mathew Carpenter, the founder himself. It turns out that he had read my book Trust Me, I'm Lying and some of my Betabeat columns on trading up the chain and media sourcing. This partially inspired his unusual experiment to test his marketing skills, have some fun and see how the media really works. By accident, he revealed two very clear things to us all: how great the demand for weird, funny startups actually is and how desperate and derivative the online media is these days. In fact, he told many reporters exactly what he was doing but they chose not to print it—for fear it would ruin their story or make them look bad.
In what is now the Observer's second big exclusive on a media stunt that fooled nearly everyone in media,  I was able to ask Mathew some questions about what happened, what he saw and what he learned and how this stunt came to be. I hope his answers provide some insight for readers on how the news works these days—but more importantly I hope it chastises increasingly lazy reporters. Oh and I hope everyone gives Mathew some credit, because this whole thing was absolutely brilliant from top to bottom.
What made you decide to do it and why did you think you could pull this off?
I run a lot of websites that earn recurring income with very little work. My New Year's resolution was to work on more side projects to keep me occupied whilst improving my marketing & development skills. I read your book about 8 months ago and experimented with a few different ideas before hitting a success with this website.
It sounds like you traded this up the chain, as I call it, going from one media outlet to the other until it became a major story. Which outlets/platform did you target first and how to it go from there? Who delivered the most punch/traffic?
Lately I've found that the media (here in Australia particularly) has become extremely lazy with sourcing. 90% get their stories from aggregation websites which is what I initially targeted. I knew that if the story blew up on websites such as Reddit & Product Hunt that it would be a success. The media attributed the success to being the most upvoted Product of the Day on Product Hunt, however in terms of referral traffic Product Hunt came in 21st.
Was there any outlet who asked you tough questions or you felt really wanted to see if there was substance to this story? Who was the worst in terms of rubber stamping and just repeating whatever they saw elsewhere?
The publication that put in the most effort, in my opinion, was Fast Company, who wrote about the website in the most detail and asked the best questions. There were a few outlets that a) didn't bother asking questions and just referenced already published articles and b) didn't wait for me to reply to their answers and just went live anyway. I'm looking at you, News Corp.
A couple of the reporters picked up on your SEO background. You have to tell us, what do you think being linked to and mentioned on essentially every media outlet is going to do for your rankings in search engines?
For Ship Your Enemies Glitter it's going to mean that no competitor is going to outrank the website for whatever keywords the new owner wants to rank for. It was tempting not to 301 the entire site to my main business website but that would have cost me the $100,000, haha. I was name-dropping my other websites hoping for some link juice to them but they were either not mentioned, not linked to, or non-followed links.
Obviously you were pretty cynical about the media from the beginning, and had explored some of this before, but what did experiencing this make you think? What would you advise people learn from this, either for their own media habits or someone launching a product that they want to get attention for?
I mean, it really reinforced to me how little fact checking and verification goes into a story. For example, many outlets reported I was a student at a local University which isn't true and I have no idea how they came to that conclusion. It also showed to me the sort of manipulation that some journalists put into a story. Another example was that there was one who asked for proof of the millions of visitors the website received. I provided screenshots of Google Analytics which is about the most accurate traffic tracking software out there however they refused to accept it and published that I couldn't provide third party proof of the numbers.
Finally, what's next for you?
The great thing about this project, no matter how messy my place has gotten from the glitter is that I've met a lot of really smart & creative people from it so hopefully I get to work with them on something cool moving forward.
He's also put together this list of 15 books that you've probably never heard of that will alter your worldview, help you excel at your career and teach you how to live a better life.