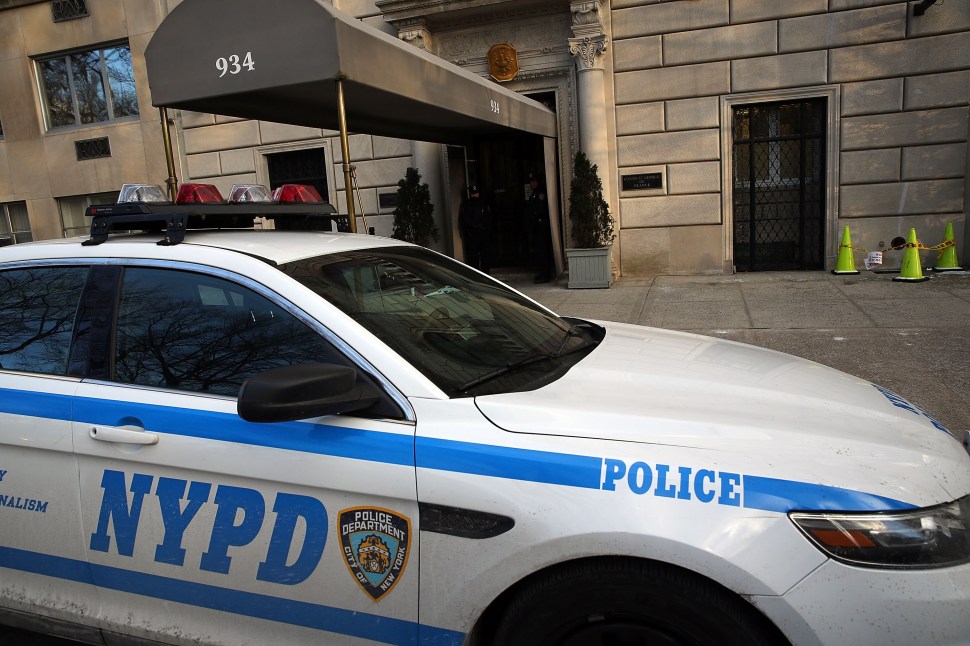 On Monday, rumors of a "police slowdown" turned from myth to stark reality when the New York Times reported that criminal summonses had fallen more than 90 percent from 4,077 in the same week last year to 347 this year. "Parking and traffic tickets also dropped by more than 90 percent," the paper noted.
But to anyone who lives in the city, it was never a question—one can feel the low morale of a department that believes it has been unfairly blamed for strained race relations nationwide. Mayor Bill de Blasio, in particular, faces strong pushback by a department that has literally turned its back on him, with representatives saying they feel unprotected and under-appreciated by a mayor who said that he warned his own son to be wary of the police and kept employed a staffer whose loved ones repeatedly expressed intense disapproval of law enforcement.
As of today, it's a stalemate. The police aren't writing tickets (and it didn't help that two more of New York's Finest were shot when they heroically responded to a robbery call even as their shift was ending). And the mayor can't seem to turn the page or issue the apology the department is loudly demanding.

Now the Observer has learned that at least some elements of the rank-and-file are looking for a way forward. Sources tell the Observer that a team of NYPD sergeants, led by Sergeants Benevolent Association President Edward Mullins, held a lengthy meeting Tuesday in Washington, D.C., with Alveda King (the niece of the late civil rights icon Dr. Martin Luther King, Jr.), E.W. Jackson, Sr., and other national African-American leaders. They discussed improving police-community relations on a national level. Sources tell us that Mr. Mullins also met with elected officials from other parts of the country while in Washington, D.C., in a bid for broader political support for the NYPD at a time when, according to the source, "They feel local elected officials are against the NYPD."
Mr. Mullins declined to comment about this meeting, but told the Observer, "There is no slowdown. We are dealing with broken morale. The mayor of this city turned his back on the NYPD. Weeks later and the city is leaderless. Support of the NYPD should not be political."
Mr. Mullins is not one to mince words, obviously. But that "no slowdown" part is not so clear. It's not just the sharp drop-off in arrests and summonses. It's not just the long faces on the police around Times Square who are protecting the very people protesting them. There's also evidence that evolved from anecdotal to adrenal over the past week or so on the message boards over at Thee Rant, where a thread called " YOU C#CK SUCKING QUEENS MARINES..THANKS FOR STABBING THE REST OF US IN THE BACK!" has revealed the inner workings of the NYPD.
The thread was started by "BrutalObserver" and he takes to task cops who are "back to writing [summonses] without even feeling the heat of any sort of supervisory action."
BrutalObserver continues:
The least they could have done was wait for tomorrow's meeting where Bratton is sure to threaten the membership. It's as if they have preemptively surrendered. What's worse is the union delegates at these select precincts have brokered side deals with their C.Os in order to avoid losing what ever sweet gigs they have in house. This is why I have always advocated that no precinct delegate should be in a specialized unit. Once more caution is being thrown to the wind and traded for summons revenue by our very own delegates. … A BIG FVCK YOU TO THE COWARDS AT THESE COMMANDS WHO BELIEVE UNITY IS SECONDARY TO THEIR PERSONAL STRIFES!
To the surprise of no one who's spent a lot of time around the police, the website is funny as hell, peppered with colorful copspeak and lots of over-the-top rhetoric.
The first response to this challenge reveals some inter-borough agitation as a pseudonymous Cosmo Kramer responds, "You sound surprised.. When Queens and Staten Island bring their summons envelopes to the boro it probably looks like Henry Hill's wedding in Goodfellas." (Officers in Eastern Queens and Staten Island are regarded as having plum positions because of the short commute to where many live on Long Island or Staten Island, so the presumption is that they're less willing to slow down and risk being transferred farther from home.)
Some commenters dismiss BrutalObserver as a "troll," and others say they've spoken to other "Queens Marines" and "They are NOT back to normal." But the peer pressure remains intense as police call each other out for insufficient slowing down. The 109th Precinct comes in for particular fire: "From what I'm told,The 109 summons guy is a D*ck, who would write his own mother. He has had problems in the past writing retired MOS for Bullsh*it stuff. I do agree that the precinct delegates should be from PATROL only and not some in house unit, where they make their own tours up and have whatever days off they want." ZuluSurvivor chimes in "Brutal, you can add the 106th to that list. Ex-partner confirmed the Queens betrayal at his command. He told me the delegates also had a pow wow with the commanding officer and when they emerged they addressed the 4X12's by telling them to ramp up activity by half and by next week back to normal. This is utterly amazing to me."
It goes on and on, even invading other threads, like a particularly amusing—albeit disrespectful—thread called "Picture Of Big Bird DeBlasshole Getting Married" that begins with an un uncaptioned wedding photo of the mayor and is quickly followed by comments that question the First Lady's sincerity of feeling for her husband. As jokesters pour it on, one commenter with the subtle handle Impeach DeBlasio remarks about the First Lady's dress, "It's more of an ecru than a white."
Jokes aside, the issue of safety in New York City—including the safety of the police, who have recently been assassinated, shot, rammed and sabotaged— is not a laughing matter. On the same board, a commenter called retiredin05 makes a sarcastic but very valid point about how, at the end of the day, the police are not robots—they are human beings who will respond as anyone would to a workplace they consider hostile. "Hey press, we know you follow this site, ever think the cops are following the actions of the mayor who they all respect, He has decided to give discretion to the protesters so maybe they are giving discretion to all the motorist, we do have to stand by our mayor and follow his example."
With rhetoric at a fever pitch and no solution having emerged even from the emergency summit convened by Commissioner Bratton, things might get worse before they get better.