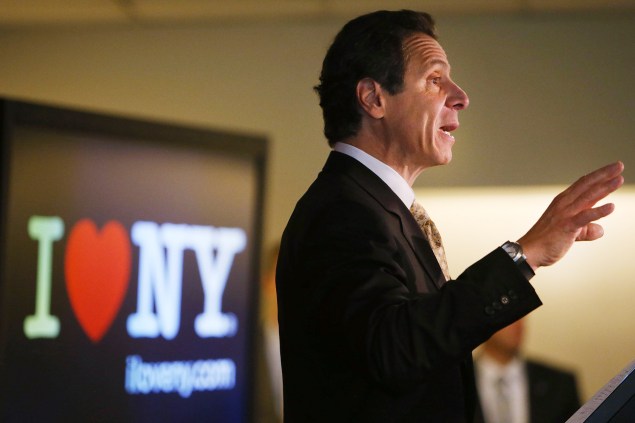 Responding to the ongoing controversies over the non-indictment of a police officer in the death of Eric Garner, Gov. Andrew Cuomo laid out a seven-point plan to change the way cops and communities interact and to reform legal proceedings involving police-related fatalities.
Mr. Cuomo, speaking today during his State of the State address, asserted his proposals would help heal the deep wounds formed in the months after Officer Daniel Pantaleo applied a lethal chokehold to Garner, a black man, and after Staten Island District Attorney Daniel Donovan did not convince a grand jury to indict Mr. Pantaleo for murder.
"The promise of equal justice is a New York promise and it is an American promise. We are currently in the midst of a national problem where people are questioning our justice system," Mr. Cuomo, a Democrat, told the Albany audience, alluding to similar controversies like the one surrounding the death of black teenager Michael Brown in Ferguson, Mo. "And they're questioning whether the justice system really is fairness for all. And whether the justice system really is colorblind. And that's not just New York, it's a problem all across the country."
As a solution, Mr. Cuomo proposed a statewide commission on police and community relations, which would bring together minority leaders and law enforcement. Mayor Bill de Blasio's City Hall has been at odds with police unions over a variety of controversies, including his tolerance of anti-police brutality protesters and the subsequent assassination of two officers in December.
"The community can talk to the police and the police can talk to the community in a safe situation and in a safe setting, with frankness and candor to work through issues," he said.
The governor also called for efforts to assist all police departments in the state to hire more minorities, and to fund more police equipment—which Mr. Cuomo said would include not just flak jackets and bulletproof windows on cruisers, but also body cameras to record cops' interactions with civilians.
Mr. Cuomo unveiled a series of measures to banish clouds of doubt and distrust surrounding grand jury proceedings, which in New York are sealed by law. The governor's reforms would allow district attorneys like Mr. Donovan to issue a report or letter of fact outlining what occurred in closed grand jury room in cases of police killings, without having to beseech a judge to release that information.
He also proposed a governor-appointed independent monitor who would have full access to all records in such cases, and who could recommend the appointment of a special prosecutor should the local district attorney fail to secure an indictment. Attorney General Eric Schneiderman said in December he should be that appointed monitor.
"I think these seven points will go a long way toward restoring trust, restoring respect, both ways, from the police to the communities, and from the community to the police. Let's start now," Mr. Cuomo said, adding that he would be meeting with various interested groups in the coming months.
The governor said he would seek to block 16 and 17-year-olds found guilty of a crime from going into state prisons, and would instead attempt to create a separate system for those youth. He argued that entering a state prison at such a young age can create lifetime scars.
"State prisons are no place for a 16-year old," he said to applause. "Any expectation that you're going to put a 16-year-old or 17-year-old in a state prison and you're going to rehabilitate them or you're going to teach them, or they're going to come out better than they went in is wholly unrealistic."
Many of these proposals would have to pass muster with the Republican-control Senate. The more conservative lawmakers in the body have resisted at least some of the reforms proposed.