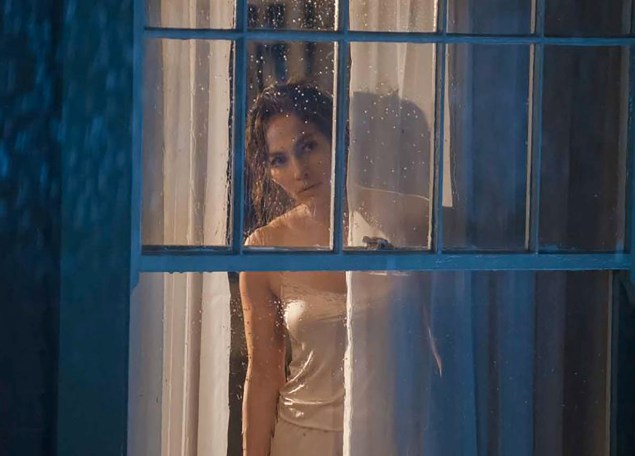 In January you get a lot of throwaways. One of them is The Boy Next Door, starring the indefatigable Jennifer Lopez, who has never been anybody's idea of the girl next door, regardless of the neighborhood.
---

THE BOY NEXT DOOR ★
(1/4 stars)

Written by: Barbara Curry
Directed by: Rob Cohen
Starring: Jennifer Lopez, Ryan Guzman and Kristin Chenoweth
Running time: 91 min.

---
She is Claire, a high school professor of classical literature separated from her adulterous husband for nine months, with a nerdy teenage son to raise, and living next door to an old man awaiting a bone marrow transplant who shares his house with his nephew Noah, a buffed stud muffin played by Step Up dancer Ryan Guzman. At 19, Noah is too old for high school, so what is he doing in Claire's classroom in the first place? But after he repairs her garage door, she starts staring at him naked in his upstairs bedroom window while she unwisely slinks around in tight silk lingerie and dresses in a tight skirt slit up the thigh, exposing as much skin as the censors allow.
The silly screenplay by Barbara Curry is a setup for a rape scene, but it would have you believe their Fatal Attraction sex reversal is fueled by a mutual admiration for The Iliad, The Odyssey and the Trojan War. (Watching them wax ecstatic over Agamemnon is a riot.) In her first leap across the yard to help Noah defrost a chicken, Claire's black lace panties hit the floor and forget about dessert. After one night of hot sex with J.Lo, Noah becomes an obsessed lunatic, following her car, hacking her computer, insinuating himself into her son's life and poisoning his mind against both of his parents, and punching out her best friend (Kristin Chenoweth), who is also the vice principal. Even after he's expelled, Noah wages a campaign of full-scale revenge that threatens Claire's home and career, and eventually leads to murder. No boiling pets on the stove, but you get the picture.
B-movie director Rob Cohen (The Fast and the Furious) hasn't got a clue what to do with so much preposterous pulp fiction, so he wafts between sexy potboiler and psychological thriller with an uneasy lack of grace that brings out the worst in everybody. The result is a variation on a theme tackled many times before, not only by Glenn Close, stalking Michael Douglas in Fatal Attraction, but by Mark Wahlberg, stalking Reese Witherspoon in Fear, and many others. The audience at the preview I attended was rolling in the aisles with laughter. Secretly videotaping J.Lo's every move and storing everything on computer files, The Boy Next Door brings the gotcha theme into the Information Age, but does nothing to enhance, expand or elevate the genre.