On the morning of October 30, 2014, I woke up in a particularly bad mood and published on this website a screed against the Capital of the United States of America. It went like this:
There is very little about Washington, D.C. that is cutting edge, avant-garde, culturally trenchant, cool, hip, or forward thinking. I can say that—I'm from there. It's a city built on a swamp, dotted with monuments to the nation's past, the home to governing bodies so deadlocked they prevent change from happening in the future. The bars suck. Punk is dead. Sure, the subways are clean, but isn't there something suspect about that? Anyway, Melissa Chiu, the new director of the Hirshhorn Museum and Sculpture Garden in my lovely hometown where a new high-hops microbrew is the peak of creative vision, has decided to introduce D.C. to something we like to call "contemporary art." How is she going to do this? She's created the position of curator at large, who will be based in New York City.
My family, who are still based in that city, eventually saw it, and they were less than pleased.
"I am shocked and outraged at Nate's frontal assault on our hometown of DC—which contrary to his mischaracterization is a mecca of art and culture," wrote my father.
"Dead to us," wrote my brother.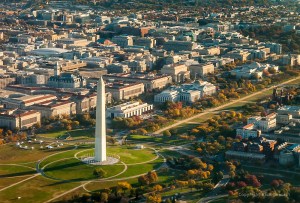 "So weird to only have three brothers," said my sister.
And so, upon my inevitable Christmastime return to the city I apparently loath so, I decided to go do some quick museum hopping on an unseasonably warm December day to see what this dearth of culture really looks like. First there was the question of who would guide me through the world-class museums buried in this hellish land of frat boy lobbyists and filibustering Republican junior congressmen and demonic military operatives and fat cat checked-out consultants and blithering cable news talking heads. Who, I thought, could be the Virgil to my Dante, guiding me through each successive circle of the this underworld? I decided to call up Aydin Hamami, one of my oldest friends, who happens to be a wonderful painter and a professor at the University of Maryland.
We were sitting in a Turkish restaurant to have a Raki and a beer and some schwarma before heading to The Phillips Collection, where I had been told there was art, and Mr. Hamami had just unspooled a rather disturbing tale about witnessing a fox fall from the sky as he walked to the Metro stop that morning, which I thought was a hell of an omen on a day where I was faced with coming to terms with the city of my upbringing, the Bethlehem that gave me a manger. Perhaps we should scotch the whole outing and sit here getting loaded with these nice Turkish people, I offered. No such luck. It was time for some art. We paid and walked across Dupont Circle to The Phillips Collection.
I don't think I ever went to The Phillips Collection in my 18 years of growing up in Washington, D.C. My mother insists that she took me at some point, but who knows if she actually did, and in any case I don't seem to remember. It's not like I avoided high cultural concerns, but I was a bit tied up with a steady schedule of punk shows and high school newspaper closes. Anyway, The Phillips Collection is the oldest museum of modern art in the country, as it opened eight years before MoMA, and among its many treasures is The Rothko Room—which is, along with the Rothko Chapel in Houston, one of the holiest temples to the towering modern master.
The streets of D.C. on Boxing Day were nearly empty, but the Phillips lobby was packed as all hell, so we waited in line, bought tickets, and proceeded into the first galleries, an addition to the late 19th Century Georgian revival house that housed the original collection.  There was a quite stunning De Kooning (Asheville, 1948) and a Pollock before we reached a room full of Kenneth Noland, Morris Louis, Gene Davis—all members of the Washington Color School, the defiantly local crew of like-minded painters.  Mr. Hamami pointed this out to me and repeated it a few times after that.
Then we went upstairs where more gems awaited. Henri Matisse, Interior With Egyptian Curtain, 1948—a work that directly presaged the cut-outs that are so gloriously up at MoMA, a painting flecked with such evocative cerulean and draped by the thrillingly exotic curtain of the title. There was Joan Miró, The Red Sun, 1948, which was just stunning. And then a Kurt Schwitters, which I thought was excellent, slashed with dark purple.
"Don't you wish it were, like, a big fucking juicy black?" Mr. Hamami said, about the slashes in the Schwitters. Perhaps he's more critical than I am.
Then we made our way to the Rothko Room, a space that Mark Rothko himself had designed with Duncan Phillips as a showcase for four of his works. The room was a little magic church, bright. I looked at the four Rothkos for what felt like forever.
At some point someone brought a baby into the Rothko Room.
"Why do you bring a baby in there?" Aydin said, once we were back our way, moseying on upstairs. "That kind of ruined it for me."
Upstairs was the big exhibition "Neo-Impressionism and the Dream of Realities," and The Phillips Collection had the hilarious idea of encouraging a hashtag—#neoimpressed—via a note on a wall near the entrance. We quickly breezed through to get to Luncheon of the Boating Party, easily the best-known painting in the building (if not the city? Who really knows in this town). Duncan Phillips was particularly proud of it. Albert Barnes laughed when Phillips told him it's his only Renoir—Barnes had 181 Renoirs up in Philly—but Phillips said, simply, "It's the only one I need."
In person, it is stunning and endlessly fun, all of Renoir's society buddies getting smashed on wine by the water and playing with cute puppies. I was very #neoimpressed.
But time was short, so we drove to the National Mall and walked by the Capitol Building, which was being even more ineffectual than usual, with Congress recessed and all. And then, ah, the Hirshhorn, that wonderful metal donut on the Mall. We had to circle the thing almost all the way around to find the door, and once we did I found it to be a little jarring to go down the escalator into the very loud wall-to-wall Barbara Kruger installation Belief+Doubt. "BELIEF+DOUBT=SANITY" roared the text on the walls. Maybe, Barbara. Or maybe "BELIEF+DOUBT=GIFT SHOP"—the Hirschhorn shop is full of pretty pricey wares, including something called "post-industrial folk wear" that looks like something you'd see at a party in Bushwick and is made out of Tyvek and costs $600.
"Well that's one of the douchiest things I've ever seen," said Mr. Hamami, intelligently.
Thankfully things were classed up significantly when we got away from the one-two punch of Ms. Kruger's anti-capitalist rage and the overpriced tchotchkes in the gift shop. An exhibition of works in the Hirshhorn's permanent stash, "At The Hub Of Things: New Views of the Collection," curated with the museum's 40th anniversary in mind, seemed like a nice Greatest Hits LP to spin upon my first visit in some time. The building's brutal circular design actually became the Gober and Nauman installations, and a giant Lawrence Weiner text piece took over a windowed sun room with views of all those big monuments tourists come to see. Brice Marden's Cold Mountain 2 (1989-1991) was an obvious highlight, as were a few Claes Oldenburg 7-Up cans. A big Ernesto Neto puffy ameoba-like installation that took over basically a whole wing, not so much.
"This is like the RGIII of installations," said Mr. Hamami, making a very locally informed reference to the quarterback of Washington's football team.
And then it ended with Yoko Ono's Sky TV for Washington, on loan from the artist, made with this city in mind, a video work that would explain it all to me, some loving paean to my place of birth.
But I never actually got to see it.
"This video work is temporarily out of order," it said.