TRENTON — A ranking Republican member of the New Jersey senate is calling Gov. Chris Christie a "failed" governor after the incumbent gave a State of the State Address Tuesday that he says pandered to a national audience and promoted his own personal political ambitions.
State Sen. Mike Doherty (R-23), a 14 year veteran of the legislature who sits on the Senate Education and Judiciary Committees, excoriated Christie following the hour-long speech yesterday, condemning the Republican leader for straying from true conservative values in his policy-making and using his position to advance his own career at the expense of some New Jersey residents.
Doherty — who has vocally opposed the governor before, though likely not to this extent — said Christie's address yesterday confirmed for him the notion that the Republican leader has thrown away an opportunity to "truly make a great mark on the state of New Jersey."
"I think from the early days of his governorship, the idea of him running for president took him away from his calling, to be a great man and great governor," Doherty, audibly frustrated, told PolitickerNJ in a phone interview hours after the address yesterday. "And his true calling in life, at least what he sold to all of us and the people of New Jersey, was that he was going to fight the corruption and break up the status quo. And unfortunately, I just don't see the results.
"I think he's missed his opportunity to truly make a great mark of the state of New Jersey," he added.
The governor's address yesterday, given in front of a packed audience of New Jersey lawmakers and political observers on the Assembly floor, is receiving mixed reviews from lawmakers in the state a day after its delivery. Democratic leaders in the legislature have blasted the Republican governor for glossing over many of the challenges the state faces and playing up his own accomplishments, while Republican have offered mostly positive reviews, standing as a caucus numerous times during the speech to applaud the governors comments on committing to lower taxes and keeping business in the state.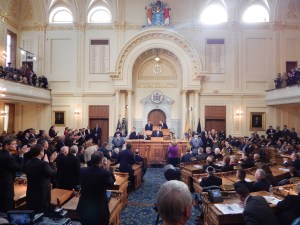 Most, however, took the sweeping rhetoric regarding American ideals and a national climate — including feelings of "anxiety" among votes across the country — that Christie also snuck into the speech as another sign that he's serious about a presidential campaign in 2016. Christie, a leading figure of the GOP right now, is widely expected to announce a run for the Republican nomination sometime in the next few months.
But Doherty, speaking in opposition to many others in his caucus, argued certain aspects of the governor's address revealed the shortcomings of his leadership at the helm. That was especially true, he said, when it came to Christie's praise for the progress a long-embattled Camden has made under his direction, during which the governor touted the dismantling of the police union in favor of a county-run department and the purported drop in violent crime that followed.
A main part of Christie's speech focused on Camden's climb from economic and social plight, as well as the state of other major cities in New Jersey, like Jersey City and Newark.
"We're constantly told– you know, we've been doing this for four years, the non-stop bailouts of the cities, the breaks, the urban enterprise zones. And to that I would ask: How's it working out?," Doherty asked. "In many areas New Jersey trails most of the rest of the country in economic activity, our taxes, our regulatory burden, and so my people are constantly told 'oh, it's just around the corner, it's just around the corner.' You know, one of the first things we did when I got into the legislature back in 2002 was do a big bail out for Camden. And here we are, 14 years later, and we're talking about continuing to bail out Camden and the great work the Camden government's doing — which many who look at their operation would say that there's a lot of waste and a lot of corruption in the Camden County government. What happens in New Jersey?"
Doherty bemoaned what he called an unfair prioritizing of urban centers over suburban and rural ones when it comes to dishing out state aid, saying cities like Jersey City and Hoboken have been kept on life support long after they've pulled themselves out of poverty and urban decay. He said residents in his own district, which includes Somerset, Hunterdon and Warren counties, are "struggling tremendously," yet have not received the same attention.
"I've gotta ask myself, when will it ever end? Because when these cities do come back, like Jersey City and Hoboken, they're still on the dole. I went over to the Secretary of Education and asked why is Hoboken still an Abbott district? Why is it still getting additional school aid? And he tells me well there's provisions in the law," Doherty said. "And even though they've come back, even though their per capita income is much higher than any of your towns, they're still going to be getting all of this additional school aid."
"We're struggling here in northwest New Jersey. And Governor Christie is either tone deaf or he doesn't care about what's going on in northwest New Jersey," Doherty added.
Doherty said a number of factors have contributed to the hardships suburban and rural areas like his face, including a slow economic recovery, the effect the Highlands Act has had on development, and their proximity to Pennsylvania, which offers lower taxes and a better economic climate.
"And we're told 'open your wallet, keep sending your money, and even when they get back on their feet they're still going to be on the dole,'" Doherty, who supported Texas Congressman Ron Paul during his 2008 and 2012 runs for the Republican presidential nomination, said. "And this from a Republican governor. It's just very disheartening and discouraging, and he apparently doesn't care about out economic plight here. He continues to focus on other areas of the state, and I have brought this to the governor and his people, and they simply don't seem to care."
But Doherty — who said he's "reaching the end of his shelf life," and so is more willing than others to speak out against the state's top Republican — said that's not the only reason he's fed up with Christie. For him, the incumbent — who came into office in 2010 a former U.S. Attorney eager to bring order to Trenton — hasn't made good on his promises, and his tenure has marked a disappointing continuation of the kind of politics that have gone on under previous executives, including former Democratic Govs. John Corzine and Jim McGreevey.
Christie has long been scrutinized for the backdoor relationships he's built with political power brokers in certain parts of the state, most notably with South Jersey's Democratic boss, George Norcross III. Many observers believe that relationship in particular explains Christie's fixation with Camden, a politically convenient target given his connection to Norcross, and one he's used to boost his credentials on crime-busting and urban development.
For Doherty — and, he said, many Republicans who might share the same misgivings — Christie was the "last great hope" for the NJGOP, but that he has since "failed to bring real, systemic change" to some of these problems.
"Look, we all have a calling in life. What makes you great, what makes you distinctive. Every person does. Governor Christie's opportunity to be a genius, to be a great man, in my opinion was when he was elected by the people of New Jersey and sold people on the idea that's he's a corruption fighter, that he would break up the status quo," Doherty repeated. "And that was his calling in life, he did that as U.S. attorney, and so New Jersey hired him to do that as the governor. But there have been too many instances where instead of breaking it up, he's facilitated it, he's fortified it. He needed to break up some of these party bosses in these urban areas, that needed to be broken up, and instead he has done some of his most comprehensive work with some of these same folks."
"And it's problematic, because we're probably not going to have another Republican governor next time around, and he's put in place a structure that will lead to a continuation of this," he added. "For him to say today that the Camden County government is a sterling example of what we should be — gimme a break."