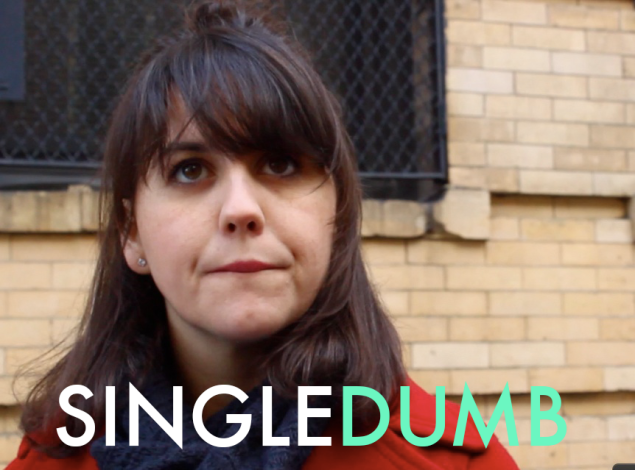 I love all things Lena Dunham. I love Tiny Furniture, I love her Twitter feed, and I love her casting savvy. Most of all, I love Girls. I love the bad behavior and the faux-casual nudity and the uncomfortable arguments and the terrible sex and Adam Driver. What I don't love is that Girls is an unavailable boyfriend: Each episode runs only half an hour. And we've been waiting nearly ten months for a new season to drop. During this torturous silence, I've watched the Season 4 trailer three times, listened to Zosia Mamet and her step-sister sing, and admired Jemima Kirke's paintings. But, weary of my beloved's absence, I've also had affairs—with three beautiful web series, each written by and starring a smart and funny woman.
If you love Girls, you'll love and lust after: 
[youtube https://www.youtube.com/watch?v=nIVa9lxkbus]
 While I'd like to pretend that I unearthed this list by digging behind the couch cushions of the Internet, the truth is, Awkward Black Girl won a Shorty Award and Issa Rae is now working with Daily Show correspondent Larry Wilmore on an HBO series. (Of course, Rae, playing the role of an awkward black girl, will star in it.) Rae also has a book coming out in February titled, of all things, The Misadventures of Awkward Black Girl. In other words, I'm not edgy: Everyone falls in love with this series.
Awkward Black Girl is a comedy, about…well…an awkward black girl named J. The humor is absurdist, the characters and situations over-the-top (the name of J's love interest, for example, is Jay), but uncomfortable subjects, including race relations, roil just beneath the silliness. "I think absurdist humor is the most effective way to show how generally ridiculous racism and prejudices are," Rae says. "I don't really like to be didactic, or preachy, but I love satire, and I love to make people aware that other people's stupid opinions, actions, and judgments exist, and we should all be pointing and laughing at them."
In one of the most enjoyable episodes, The Date, J's best friend CeCe (Sujata Day), frequent giver of terrible advice, declares herself "an interracial expert" and convinces J that her first "white date" with "White Jay" (Lyman Johnson—my celebrity crush, if we're speaking frankly), is going to include sushi and an art museum and "a nightcap at Yogurt Land with unlimited organic fruit toppings." Instead, White Jay takes J out for fried chicken and to see an insufferable (though for the viewer, amazing) Spoken Word show. "Rap and poetry had a baby named Spoken Word. I wish I could abort that baby," J thinks in a voice-over.
After the show, J accuses White Jay of being racist. In turn, because J is wearing her gym clothes ("white guys love casual," CeCe insisted while J was getting ready for her date), White Jay accuses J of making no effort to impress him. But in the world of Awkward Black Girl, darkness and anger never prevail—and that's one thing that makes the series so enchanting.
J and White Jay laugh. "I was trying so hard to make this the perfect white date," J says. They realize that, in fact, they both really like sushi and salad and each other. And so they fall in love.
[youtube https://www.youtube.com/watch?v=Dqr1ZD-5N2s&w=560&h=315]
I lump Ann Carr in with Kristin Wiig and Parker Posey—funny, subversive actresses I could watch all day and never tire of. In The Actress, Carr delivers that squirmy brand of dark comedy: The protagonist, aspiring actress Hannah Kennon, endures untold humiliations—her best friend's new husband chewing her out at the wedding, relentless sexual harassment, an obnoxious child actor vomiting at her feet. She speaks up when she shouldn't and stays silent when she shouldn't, has poorly timed meltdowns, and can't mask her jealousy of other actors and friends. She deals with trying people, from a hostile stage mom to a lecherous head-shot photographer to a scene partner who drops dead right in front of her. Disturbing and dramatized though the episodes are, you can't help but feel while watching The Actress that you're seeing something true. "The funny thing about the truth," Carr says, "is that we are so used to glossing it over or polishing it up that when you just show it in its raw form, unflinchingly, people laugh. They're not used to someone calling bullshit on the world."
The Actress, which Carr co-writes with her husband, comedian Warren Holstein, explores the plight of being a woman: In one episode, inspired by Carr's real-life experience, Hannah sees a dermatologist (Michael Kostroff) to get some moles on her leg checked out. The doctor barely looks at the moles before he starts trying to sell Hannah on Botox. When she repeatedly declines his offer, he tells her, "I understand, I understand. A lot of girls get testy about foreign things injected into them." He laughs heartily. "Loosen up, honey," he says, "it's just a joke."
The series also pokes fun at our society's belief in the power of positive thinking: "Good things are happening for you, Hannah," Hannah assures her reflection in the mirror one night. Earlier in the evening, she learned of an actor friend's big break and got so drunk, she made a racist comment to a black bartender (Jason Tottenham), who sent her packing. She looks at herself for another moment. "Bullshit," she says.
• Alex Kern's SingleDumb
[youtube https://www.youtube.com/watch?v=2BuEcUnFXYc&w=560&h=315]
Actress Alex Kern deserves the award for Best Facial Expressions. They're all priceless—her "I can't believe this shit" look, her "What did I just do?" look, her "I don't know if I should be flattered or terrified" look—and they come in handy in SingleDumb: Each episode portrays a bad date (or some other missed romantic opportunity), based on Kern's own experiences as a twenty-something single in New York. Humorous though it is, the series captures the pain of dating—that inkling that no one in the world will ever understand you, and that you won't understand any of them, either. "After going on so many disastrous dates in this city,
Kern says, "I really had two choices: therapy or comedy. Creating SingleDumb allowed me to have a little bit of both.
Each "date" concludes with an unexpected punchline. In Charlie, one of the most well-crafted episodes, Alex (Kern's character, who shares her name) sits on a bench at an outdoor train station beside a handsome stranger (Charlie Gorrilla). Neither of them speaks. Alex puts her hair up, takes it down, applies lipstick. She and the stranger keep glancing at each other. The desire between them mounts palpably. Surely, someone is going to break the silence at any second. She's going to say something sweet! He's going to ask her out! Alex looks directly at Charlie. He smiles.
"What are you looking at?!" she snaps.
"Oh. Sorry," he says, getting up and running away.
Once he's gone, Alex silently reconsiders the situation. He seemed pretty great, didn't he? And now she's alone, still waiting, both literally and metaphorically, for her train to come. "Fuck!" she says to herself.
Part of what makes the episode interesting is the tension between the desire for romance and the fear for one's safety—a tension women on the dating scene experience all too often. Kern's eye for tense dynamics lends SingleDumb its charm and depth.
Each episode runs under two minutes, so be prepared to binge-watch the whole first season in one gulp. In fact, you'll binge-watch all three of these series, and even though they are my mistresses, I can't help it: I'm jealous of you.