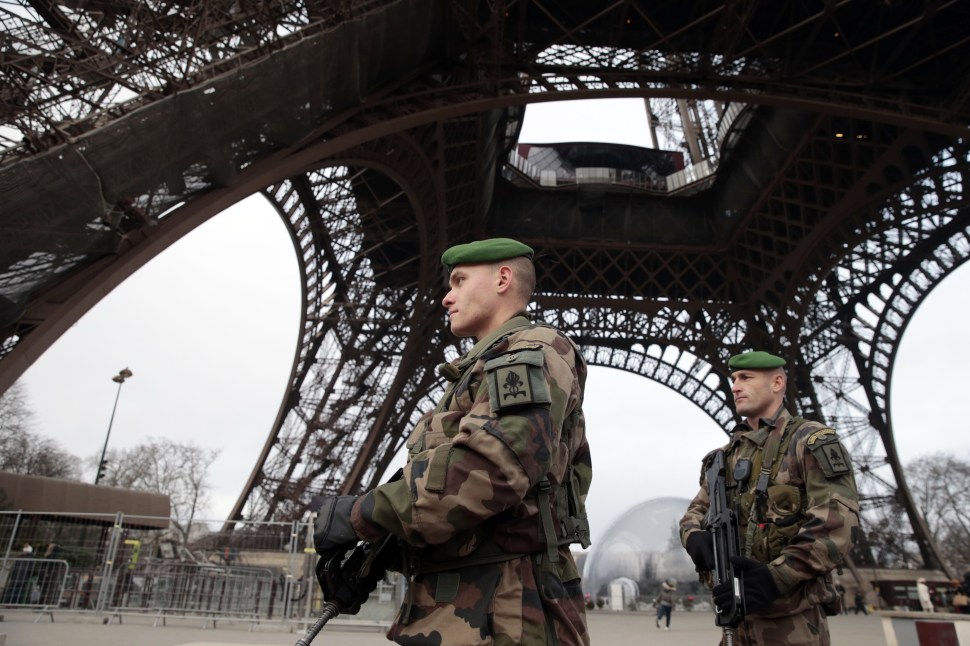 Support for the Paris terror attacks victims, for freedom of speech and against terrorism was strong: 1.5 million or more gathered in the City of Lights on Sunday, more than when the American army liberated it in 1944. A reported 45 heads of state joined the largest march in the history of France, if not of the Western World. Additional support included lights off on the Eiffel Tower, a 'Paris Est Charlie' ('Paris Is Charlie') banner on the Arc de Triomphe, giant French flags displayed in London's Trafalgar Square, and rallies all over the world, including in New York's Washington Square Park.
France seems united—rare to see so many tricolor flags being brandished in a country where most still do not now the lyrics to "La Marseillaise," the French national anthem. Rarer even to witness well-deserved accolades and standing ovations granted to the police force, too often criticized if not vilified, even more so than in other European nations.
Hence the reaction to last week's shocking events is strong and intelligent, and perhaps goes beyond expectations. The French public is riled up. Democratic spirit seems well alive and well anchored within many French of all ethnicities and religions, and across the West. Nevertheless, there is urgency.
Prime Minister Manuel Valls declared France at war with terrorism. Yet, the question remains: how did we get there? Part of the answer lies in negligence and French arrogance. For decades, the political class has ignored the deteriorating and explosive situation of hundreds of thousands in the suburban areas from which the perpetrators of the terror attacks emanated.
French-born descendants of Northern and Sub-Saharan African immigrants do not feel French and reject the very nation in which they are citizens. These suburbs feature high crime and unemployment rates of 30-50%, on par with developing countries. Thinking the lack of integration would not backfire was short-sighted and a very deep social problem is now creating candidates for Islamic radicalization. This is only acerbated by France's current weak economy.
As is becoming more and more obvious, there was also a major security mishap. Surveillance was diminished on the Charlie Hebdo killers, the Kouachi brothers, as their file was transferred to a lower, regional surveillance office in 2013—after they came back from Yemen in 2011, a hotbed of international jihadism, and after Washington gave Paris a warning on the high likelihood of them training for terrorist actions. Also concerning—and underreported this week—is that Amedy Coulibaly, the Porte de Vincennes gunman, met in 2009 with then-president Nicolas Sarkozy at the Elysées presidential palace during a youth initiative, even while he had spent time in prison in 2002 for an armed bank robbery conviction.
In light of the severity of the situation, there is no need to dwell on past mistakes; all efforts must be focused on the future. Indeed, it is worrisome. Last week was France's 9/11. After the emotion, the swiftest emergency policy decisions must be taken. Even if the Hexagon has a budget deficit above that allowed by the European Union, it must rapidly find the resources to beef up security dramatically in order to protect its law-abiding and productive citizens.
If democracy is under threat, then the European Union should prioritize the pushback above all. Upon gathering to march in Paris, Western nations leaders should increase their surveillance collaboration another notch, and hold each other to higher standards. And for all of the French's love of both human rights and privacy, the status quo cannot be maintained. Police forces must be empowered to do their best. That includes increasing their numbers and empowering them to properly patrol sensitive suburban areas and housing projects which are at-risk of falling into lawlessness and increasingly becoming a breeding ground for extremism.
Nevertheless, for all the swiftness and broken-windows measures needed, Paris' answer to radicalism must be well-thought. The Hexagon is home to 5 million Muslims and must be careful not to create further terrorists. Equal economic opportunity and social measures are necessary, too, simultaneously with security responses. The United States is the most successful multicultural nation in the history of the world. One option for its oldest ally, France, could be to look across the Atlantic for inspiration and ideas. From now on, either France becomes stronger, or risks breaking apart. The wake-up call should be on par with the harm inflicted last week.
Rémy Raisner is a French-American real estate investor and CEO of Proteus Capital Management, and is based in New York City. His articles have been featured in Forbes, the Philadelphia Inquirer and Le Monde.