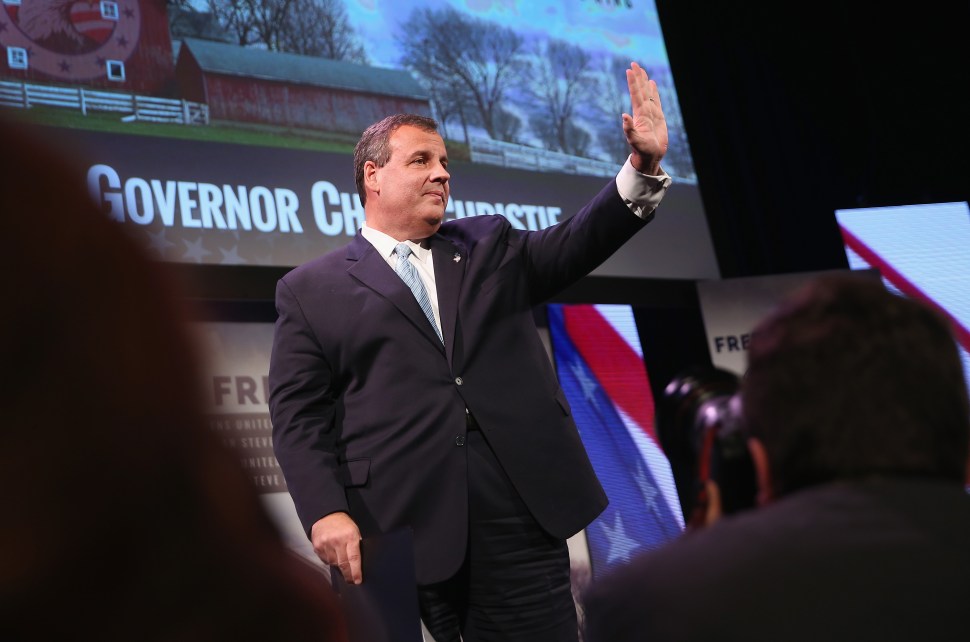 For those looking to see all the recent polling data showing Gov. Chris Christie floundering at home — due in some measure to his political movements abroad — put to good use in one revealing graph, check out this piece yesterday by FiveThirtyEight's DataLab, a little speciously titled "Everybody Hates Chris Christie."
Of course, everyone doesn't hate Chris Christie. The man is a YouTube star, and undeniably adored in many political circles (much of New Jersey's own Republican Party comes to mind). Nevertheless, using a little statistical legwork — specifically by comparing the net favorability and name recognition of potential GOP primary candidates currently mulling a bid for the 2016 nomination, as well as candidates in years past who won it — the author is able to show that Christie, despite being widely known, is not very well liked compared with some of his Republican counterparts.
From FiveThirtyEight:
"Some nominees, such as Democrats Michael Dukakis and Bill Clinton, weren't well known at this point in the campaign. Some, such as Republicans Bob Dole and Ronald Reagan, were very well known and popular. There was George W. Bush in 1999, who was particularly well liked, even if he wasn't universally known. But no prior nominee had a net favorability rating more than 10 percentage points below where you'd expect given his name recognition.

Christie is 25 percentage points off the pace. His net favorable rating among Republicans in an average of YouGov polls so far this year, a December Monmouth University poll and a late NovemberQuinnipiac University poll is just +19 percentage points. That was despite 77 percent of Republicans being able to form an opinion of him. Given his high name recognition, you would expect him to have a net favorable rating of +45 percentage points."
Whether Christie — a unique a politician as the party's ever seen, many argue — will succumb to the trend is yet to be determined, the author notes, but the brazenfaced Republican outlier sure looks to be facing some uphill odds.