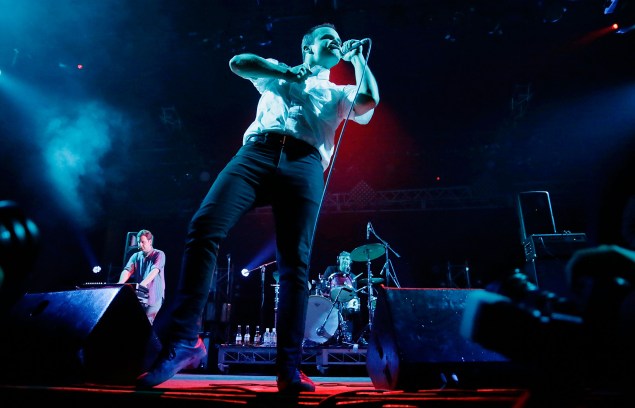 In the short film Road Dawgs, released on YouTube last month about the recent rise of indie rock band Future Islands, the members of the band discuss the grueling nature of touring and the threat of change. For the Baltimore-based band, change has been inevitable in the past year, from their star-making turn on the Late Show with David Letterman, (from where their powerful, weird performance went viral), to the success of the the track they performed on the show, "Seasons (Waiting On You)," which landed at the top of various "Best Songs of 2014" lists from outlets like Pitchfork and Spin.
It seems as if Future Islands was the break-out band of 2014 and as a result, their victory lap consists of two sold-out shows at Terminal 5, the second of which is tonight. However, as with all "overnight" success stories in the music industry, the rise of Future Islands happened anything but quickly; it's just that the bulk of the listening public didn't start paying attention until last year. The band, consisting of Samuel T. Herring (singer), William Cashion (guitars), and Gerrit Wilmers (keyboards), actually formed back in 2006 and had been met with middling success since.
That all changed with their curiously titled album Singles in March 2014. Recorded at Dreamland Studios in upstate New York (not far from Woodstock), Singles netted the band critical acclaim and an invitation to appear on Letterman, which was actually their television debut. In the currently flooded late-night talk show landscape, performances rarely raise the profile of musical acts, but thanks to Mr. Herring's manic style, which combined elements of '80s pop, Elvis Presley and a screamo rocker, Future Islands catapulted into the limelight and became an an instant online meme. Suddenly, the band found itself being lauded by everyone from Coldplay's Chris Martin to Mr. Letterman himself, who continued playing clips of Mr. Herring's performance in the nights that followed.
The hype from the Letterman performance carried over into hype for the album, which was produced by Chris Coady, perhaps best known for his work with fellow indie darlings Beach House, Yeah Yeah Yeahs and TV on the Radio. "Singles is risky, but the strength of the songwriting carries it over," explained Pitchfork's Jeremy D. Larson in his review of the album, which noted that the point of Future Islands was to "invite this impulsive and unfettered behavior into the lives of listeners, both at home and at their shows."
Mr. Larson's point is valid, especially after a sequence in Road Dawgs in which Mr. Herring explains how he often breaks down and cries on stage. "It's not fake," he explains concerning how aspects of his lyrics continue to touch on him emotionally. "It's really from those initial moments of living those things and feeling them again through the music."
Mr. Herring better have tissues on hand for Future Island's busy 2015, which finds the band everywhere from Australia in February to Governor's Ball in June. "Future Islands is what I want it to be, and there's a fear in it growing too big," Mr. Herring says in Road Dawgs. "I'm prepared to be playing on those big stages, that doesn't scare me at all and I accept it, but I also don't want to lose touch with who I am as a person, who Gerrit and William are as people, and who our fans are as people."
[youtube https://www.youtube.com/watch?v=1Ee4bfu_t3c&w=560&h=315]