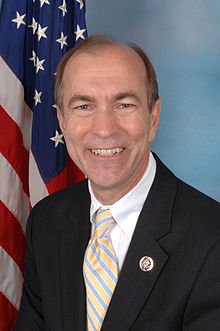 New Jersey's "most conservative" congressman was among a handful of dissenting Republicans that voted against U.S. Rep. John Boehner (R-OH) for House Speaker today.
U.S. Rep. Scott Garrett (R-5), of North Jersey hinterlands, cast a no vote on the floor of the House this afternoon where Boehner, who's held the position since Republicans won their majority in 2011, was up for re-appointment to the post. Both he and Minority Speaker Nancy Pelosi (D-CA) were delivered back to their post by members of the 114th congress.
Garrett, however, voted against many of his fellow conservatives, throwing his support instead behind Rep. Daniel Webster (R-FL).
Before the vote, the Republican — who stayed a Democratic challenge by Roy Cho last year — defended the position in a statement.
"With a new Republican majority in the Senate, a large number of my constituents have called on me to demand new leadership in the House," Garrett said. "I hear you, and I agree."