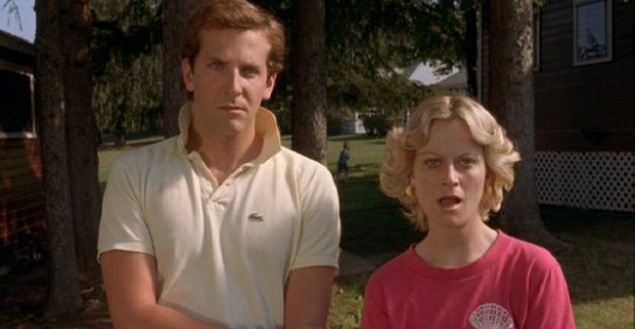 It's been four days since Deadline reported that the eight episode Netflix reboot of Wet Hot American Summer began filming. Four days of glee, of excitement that the near-genius 2001 movie that bombed so hard in its initial run would not only be introduced to a new audience, but we were getting basically the entire brilliant cast back together again for a whole new go-around. And, and, David Wain and Michael Showalter were writing the darn thing. This is amazing. This is great. What could go wrong?
Well, what could go wrong is my hopes, dreams and general happiness could be crushed, like they have been crushed before.
[youtube https://www.youtube.com/watch?v=4jV97XezhdU]
Let's hop in a time machine, shall we, all the way back to a far away time called 2013. Arrested Development's fourth season debuted on Netflix, that wonderful streaming savior of all things loved and cult-followed yet cancelled before their time. The whole cast was back, that amazing ensemble that played off each other quick as a whip. And the creators were back, as well. Ron effing Howard was back to executive produce and narrate, just like we all remembered.
Some people feel just fine about that fourth season of Arrested Development. Some people hated it. Whatever you're feelings, it is hard to say season 4 wasn't…different. Different is always bad. I just happen to think *this* different was really, really bad. It didn't flow the way original Arrested Development did. Characters didn't play off each other, they just sort of played each other off stage, like a reunion tour on which a band only plays its greatest hits. There was so much narration from Ron Howard. So much. Like 90% of the Arrested Development season 4 plot was driven forward by the voice of Richie Cunningham.
And I could tell why. Between 2006 and 2013, most of the cast had done something called "become super famous and find other work." It was very noble of them. But when someone becomes super famous, as a person who deals with publicists for a living can attest to, that person is incredibly hard to pin down in one place for any amount of time. As has been documented before, the cast of Arrested Development's schedules were so hectic, it was almost impossible to get them all together. This resulted in a set amount of cast members being able to interact in any scene at any time. And it was this interaction in the original show that gave the show its heart in the first place.
Now, Wet Hot American Summer and Arrested Development aren't the same thing. Not exactly. For one, the original WHAS was an hour and a half film compared to Arrested's three seasons. But the two share a certain sensibility, a certain heart and soul that lies in the uniqueness of its humor and the genuine chemistry in its cast. And what a cast it was: Amy Poehler, Paul Rudd, Bradley Cooper, H. Jon Benjamin, David Hyde Pierce, Elizabeth Banks, Christopher Meloni, Molly Shannon, Michael Ian Black. Most of those people weren't even close to the house hold names they are today. But for a lot of them, their WHAS performance was them at their least Hollywood, at peak strange, at maximum fun. Then some of them went on to become mega-stars. The first three names I listed alone would be hard to get together for anything other than an award show.
So is that really the problem? The difference between great and bland? Scheduling?
Well, not entirely. It's just trying to put a modern sheen on something that was unique. The scheduling is just part of that problem because back on 28 rainy days in May & June 2000 in Wayne County Pennsylvania people that weren't quite famous yet were able to make that movie their entire schedule. When you watch Wet Hot American Summer you get a sense of that. Is the sense we will get from the Netflix show that the people in this particular scene were able to fly in for the day, and that was the basis for the scene?
And for what? Is that worth it? Ten years from now, will it all be worth it for Taylor Schilling, Uzo Aduba, Natasha Lyonne, Samira Wiley and Yael Stone to get together for one last romp through Litchfield? Maybe sometimes it's just best to leave the original be. When does something complete and whole get sacrificed for moments of nostalgia?
God, I hope I'm wrong. Wet Hot American Summer is one of my favorite movies, and I'd really like for it to be one of my favorite shows, too. Just like Arrested Development…seasons 1-3.