We would like to implore Frank and Mary Skillern, the owners of a 4,250-square-foot townhouse at 127 East 62nd Street, not to sell.
The property is listed with with Douglas Elliman's Sabrina Saltiel for $9.45 million, but who other than the Skillerns, he the former CEO of American Express Centurion Bank, she an interior decorator—both avid patrons of the arts—would maintain an array of ceramic dioramas depicting Shakespearean scenes on the lighted glass shelves in the dining room? Who would keep the subterranean "cabaret room," dark and shiny with marble floors—outfitted with a PA system and a baby grand—cozy with guests tapping to the tunes of Patti Lupone and Michael Feinstein, who've both performed here? Who else would hang the hallways of upper floors with original, whimsical Miros and sly Hirschfeld caricatures?
The answer is practically no one.
When we visited recently with Susan Bands, a family friend of Ms. Skillern and a broker with Marcus and Millichap who is helping with the listing, Ms. Bands shared the Observer's hope that the home, whose asking price was reduced in November by $1 million, find a buyer that appreciates its current charms. For it is not just the Skillerns' cultured collectibles that give the place character, and it would be a shame, we agreed, to strip away its aristocratic flourishes—even if they are a touch old-fashioned.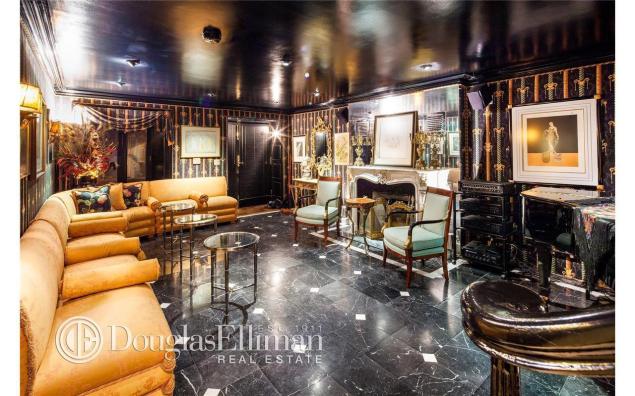 The stately five-story with five fireplaces, four bedrooms and a skylighted media room that opens on a cedar-plank roof deck, went up in the late 1800s. Its ornate motifs recall the wedding cake interiors—and ballgowns—of Disney's Beauty and the Beast.
Made in Neo-Grec style, the home sports intricate wallpaper with repeating floral patterns, massive fluted pillars and great quantities of baroque molding and trim. There are heavy, gold-framed mirrors and hefty chandeliers. There's a library done in red and currently lined with volumes of American history interspersed with small busts of Abraham Lincoln. One imagines the home as an ideal locale for games of hide-and-seek among a certain class of precocious, studious youngster.
None was present during our brief stay, however, but for a well-groomed, small white dog that yapped at the Observer with the shrill admixture of pride and fear peculiar to toy breeds.
"That's enough, Gracie," Ms. Skillern told the dog, betraying a soft hint of her Southern lineage. "You only need to comment."