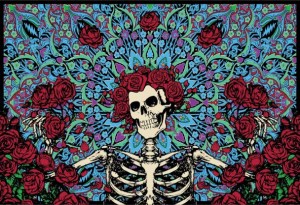 The four remaining members of the Grateful Dead, along with Phish's Trey Anastasio, will reunite for what band members are saying will be the last series of concerts, and a 50th-anniversary celebration, over July 4 weekend in Chicago.
The Dead have not performed as such since the August 9, 1996 death of guitarist Jerry Garcia, but have occasionally reunited in various combinations under other band names.
They began playing in San Francisco five decades ago and were part of the Ken Kesey "Merry Pranksters" scene, and, famously, played at both Woodstock and Altamont.
Rhythm guitarist Bobby Weir, now 67, and the youngest of the Dead musicians, told Billboard magazine, "These will be the last shows with the four of us together." Phil Lesh, 74; Mickey Hart, 71; and Bill Kreutzmann, 68 will be joined by keyboardist Bruce Hornsby.
Tickets will be available through a variety of methods, but, for those who mail order, a contest will be help for best envelope art.
Closing something of a loop, the Dead's last performance with Jerry Garcia was at Soldier Field in Chicago.