Harold Holzer wants his weekends back.
The Metropolitan Museum of Art announced last week that Mr. Holzer, senior vice president for public affairs and a well-liked, high-profile member of the Met's staff in various roles for more than 20 years, will retire this summer. In addition to his day job, Mr. Holzer is also a renowned expert on Abraham Lincoln and the Civil War era.
In October, The New York Times Book Review called his most recent of more than three-dozen books, Lincoln and the Power of the Press: The War for Public Opinion, "a monumental, richly detailed portrait of the world of 19th-century journalism and Lincoln's relation to it." Mr. Holzer is also a frequent lecturer and guest on TV specials about Lincoln and the Civil War.
"I've been living a double life," Mr. Holzer told the Observer in an interview. After a long career at the Met, now it's time to focus on his scholarly pursuits, he said.
"I think the way I want to live the rest of my life is to focus my time on that," he said. "Instead of doing it on weekends, I would like to do it on weekdays—and see what other people do on weekends."
There were a few other considerations in Mr. Holzer's retirement, he said. He is 65; he has shoulder surgery coming up, his fourth in nine months; and the Met's president, Emily Rafferty, is retiring in March. The two have worked together for almost 23 years, so he said that factored in. "It's just perfect timing," he said.
He'll also have more time to spend with friends like Tony Bennett. An accomplished artist under the name Anthony Benedetto (seriously), Mr. Bennett and Mr. Holzer became friends when Mr. Bennett walked into the Met 15 years ago.
"Harold Holzer was one of the Metropolitan Museum's greatest treasures and I know he will be sorely missed," Mr. Bennett told the Observer in an email. "Harold is a true Renaissance man."
A City University of New York grad, Mr. Holzer has been a reporter, editor (of the Manhattan Tribune) and speechwriter but hit his stride as political campaign press secretary for Congresswoman Bella S. Abzug (in her campaigns for the U.S. Senate and mayor) and future Gov. Mario Cuomo, then worked as public affairs director for the PBS flagship station WNET. He was hired at the Met in 1992, held various roles, including overseeing communications, and Mr. Holzer eventually was sufficiently senior at the institution that his compensation was disclosed in its tax return. ($476,336 in 2012).
As he left for a short vacation in Florida, Mr. Holzer reminisced about the Met: "There was the time Emily Rafferty brought the Empress and Emperor of Japan down from the galleries for dinner to find that the German Shepherd security dogs had left a large greeting for them at the foot of his chair … There was the thrill of being embraced as a professional by the formidable [former director of the museum] Philippe de Montebello—of the travels with him all over the world, from Taiwan to London to Paris to Madrid to Rome and Lake Como… There was the thrill and covert operation of Tom Campbell's selection as director seven years ago."  Also, "I've loved the lobbying trips to see elected officials in Washington, Albany and City Hall—watching people I've known for decades, some since they were teenagers or younger, blossom into leadership roles—Scott Stringer, Gale Brewer, and of course Gov. Cuomo."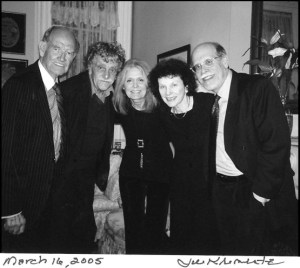 Mr. de Montebello, reached by phone, said of his colleague, "He was totally committed to the institution. He balanced, remarkably well, his interests, his outside writing and his work at the Met. Now this opens the horizons for him to really be able to do all the things he's probably put on hold." Tom Campbell, in a memo to staff, said "Harold's contributions to the Met will be as enduring as they have been wide-ranging. We will miss his quick wit, wry humor, felicitous prose and savvy advice."
What's next for Mr. Holzer? He'll do more lectures, maybe some consulting to other museums; perhaps teach at the college level. He chose to quote his late friend Mr. Cuomo: "I have no plans and I have no plans to make plans." He agreed to stay on with the Met to continue to plan annual Lincoln performance programs for its Concerts & Lectures department. The next performance is "The Unknown 'Lincoln-Douglass' Debate" on Friday, February 13 at 6 p.m.
As for what Mr. Holzer will miss most, it's the museum's staff, he said. And, while he doesn't have a favorite painting ("It's like choosing between my children" )—he'll miss easy access to the world-class art at the Met.
"There's nothing like standing in front of an original work of art," he said. "To have that opportunity, to do it any time I want to, is so precious."
He closed with one particularly happy memory: "I met Bill Clinton for the first time here. My then-boss Bill Luers tried to give him my latest Lincoln book at a pre-greeting—the plan was that I was to offer to sign it to him. The President said 'I already have this book in my presidential library'—and instead autographed it to me!"