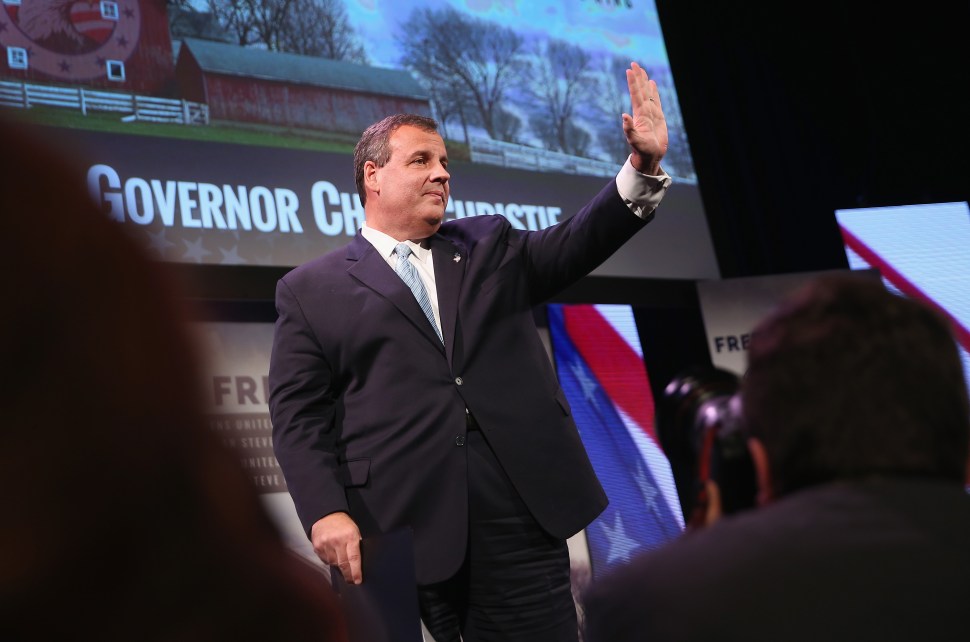 Conservative voters got an early glimpse of what 2016's Republican presidential primary races might look like this weekend when leading GOP figures from across the county flocked to Des Moines, Iowa for U.S. Rep. Steven King's annual "Iowa Freedom Summit." The first major gathering of the party ahead of the 2016 cycle — and the unofficial "kickoff" of the Republican primaries — the event was attended by a handful of the dozen prospective presidential candidates currently said to be weighing bids for the nomination.
That handful included Gov. Chris Christie, the enterprising moderate from New Jersey who some consider a frontrunner for the nomination. Like the rest of the GOP hopefuls in attendance, Christie used the summit as an opportunity to make initial appeals to a national caucus, and, by extension, distinguish himself in a field of contenders that is already turning out to be one of the most crowded in Republican primary history. In a speech at the end of the day-long event, the incumbent governor presented himself as an honest conservative from the Garden State, smacked at "some imperial president" Barack Obama, and outlined a panoramic pro-life agenda that concerns itself as much with drug rehab as it does with life at conception.
For close followers of the incumbent governor, it was a slightly unfamiliar rendition of the Christie they've come to know — who during his own tenure as governor has shown himself to be a pragmatic politician not beyond entering into a physical embrace of that "imperial president" on his home turf, or shifting his stance on abortion when politically convenient. But that makes sense. The summit, experts say, was a classic cattle call, featuring nominees competing over a devout Republican audience with carefully-crafted conservative rhetoric that often times puts them further right on the ideological spectrum that their actual records indicate. And that was especially true for Christie, an establishment candidate who finds himself, along with former Govs. Jeb Bush and Mitt Romney, one of a few token moderates in the crowd.
That Christie's comparatively moderate position might turn out a liability for the candidate in a Republican primary was made even more clear on Saturday, when the summit's more doggedly conservative headliners used Christie, Bush, and Romney as punching bags in their speeches, all to raucous applause.
But where does Christie actually fall on that conservative ideological spectrum? Out of more than a dozen potential candidates whose political orientations run the conservative gamut, from Texas Sen. Ted Cruz's Tea Party principles to Kentucky Sen. Rand Paul's libertarian leanings, Christie is carving out his niche somewhere in the middle, if not towards the left. Now with a better look at the competition, here's how Christie stacks up politically.
1. Ted Cruz
If Christie and Bush head up the establishment end of the Republican Party, Cruz heads up its movement conservative end. A Tea Party standard-bearer and self-proclaimed "constitutionalist," Cruz has worked hard to cultivate his image as a rock-ribbed Republican. During his own turn at the mic Saturday Cruz told the crowd that "talk is cheap" and that voters next year need to force Republican candidates to prove they're conservatives, while just last week he announced a plan to introduce a federal amendment that would prohibit judges from overturning state same-sex marriage bans.
Cruz's staunch conservatism might put him at an advantage next to Christie in deep-red primary state like Iowa, but it's less clear whether he'll fare as well in a general election, where moderation could translate into a positive asset. But Cruz has other strengths to fall back on, as well: he's a Cuban-American with a strong record on immigration reform, an issue that could play a central role in policy debates next year.
2. Mike Huckabee
Appealing to the same social conservative crowd as candidates like Cruz and former Pennsylvania Gov. Rick Santorum, Mike Huckabee asserted himself back on the presidential stage Saturday with a speech that, among other things, mocked climate change activism and Obama's foreign policy work. A former Gov. of Arkansas who actually won Iowa during the 2008 Republican primaries, Huckabee only recently announced renewed interest in another presidential run, after leaving his job as Fox News host to gauge support for a campaign.
But Huckabee might have a harder time achieving the same success he did the first time around, experts say, as candidates today face a part that has changed in composition over the last several years. Much of Huckabees success in 2008 came from his ability to unite large blocks of those social conservatives that today occupy a more marginalized seat in the GOP — and its unclear whether Huckabee and his political positions, which include strong opposition to abortion, same-sex marriage, and reduced military spending, will resonate with of enough voters to make him a real player in 2016.
3. Scott Walker
The two term governor of Wisconsin has kept relatively quiet on his presidential aspirations over the last few months, but exploded onto the scene in Des Moines with one of the most highly praised speeches of the weekend. Experts say Walker, a rust-belt conservative who's built a solid reputation battling union power and pension problems in his home state, did the most on Saturday to improve his political standing in the party, advocating for a "common sense conservative agenda" that seemed to hit a sweet spot between pleasing the party's conservative base and appealing to its more moderate members.
It's a development that could be particularly worrisome for Christie, who's already battling two popular candidates in Bush and Romney. Christie and Walker are authors of political careers that, in many ways, resemble one another: both are popular conservative governors in historically Democratic states, both have been scorched by scandals that have threatened their political aspirations, and both tout the same signature legislative achievements: namely, pension and benefit reform. Unfortunately for Christie, though, Walker has had a bit more success in keeping blow back from his own scandal at a minimum, as well as handling his pension reforms in a way that hasn't resulted in serious financial crises and poor home-state publicity.
4. Rick Perry
Until last year the longest serving governor in the country, Perry joins Christie as an experienced executive — something both will try and play up as they compete against other GOP hopefuls, many with little governing chops. Perry's record as governor of Texas is elevated by the success of the economic policies that he helped implement, experts also say, resulting in the Lone Star state boasting some of the highest job growth numbers in the country. Again, Christie comes up short there: New Jersey's own fiscal and economic climate is hurting, which could make it harder for him to really own the "executive for president" image.
But the two have another thing in common: Both were heckled at Saturday's summit by protesters over their stances on immigration reform. Perry has struggled with the issue in his own state, blaming the federal government for poor border patrol policies that he said have allowed thousands of undocumented immigrants to flood Texas, while Christie has been criticized for dragging his feet on similar immigration-related legislation, like providing instate tuition for undocumented students (though he signed legislation to the effect in 2013).
5. Jeb Bush
It's at this end of the political spectrum where Christie likely gets surpassed by the most moderate players in the party. Along with Mitt Romney, Bush — who was not at Saturday's summit, but received considerable attention anyway — might be the strongest challenger to a Christie primary run out of the dozen or so Republican candidates in the mix, as both are ideologically similar. Both, also, strongly appeal to the establishment core of the party, which could result in some heated competition when it comes to fundraising and landing donors over the next few months. (Christie just today formally entered that game, announcing the launch of leadership PAC called "Leadership Matters" that he'll co-chair himself).
But on other fronts, Bush might out-compete Christie for the top moderate title. One of Bush's strengths/weaknesses — strengths, some say, in a general election, and weakness in a primary — include his stances on issues like education, where he's championed support for Common Core standards that establish a set of recommendations for what students should know in kindergarten through high school. The most conservative speakers at Saturday's summit made easy targets of that position, with millionaire Donald Trump calling the former Florida Gov's support for Common Core "a disaster."