Make way for the next big deal on Manhattan's beauty block. Cousin collaborators Jataon and Teychenne Whitley are bringing the kiddie salon concept to the Upper East Side. Combining toothsome edibles, creative play and abundant style, Milk & Cookies Spa and Salon hopes to be the haircut destination of choice for young New Yorkers. After all, what kid could resist a cookie crunch hair cut, a slimy booger manicure, or their very own chance to walk the fashion runway?
The 1,100-square-foot salon, which opens February 1, caters to the under-16 set and offers a range of innovative salon and party packages designed to fit every child's needs. From banana milk baths to yummy facials, the Whitleys have invented tailor-made packages for a fuss-free spa experience. The establishment, with its four hair and three nail styling stations, will have all the trappings of a full-service adult salon but with some additional childproof perks. These include a complimentary Cookie Café, an Open Play Area and an Imagination Station.
Milk & Cookies plans to open on the Upper East Side just as the spa industry targets their newest clientele of kids and tots, some barely out of diapers (New York Times). However, in a new edible twist, the Whitleys plan to appeal to kids' sweet teeth, serving a complimentary glass of soothing milk and freshly baked cookies to every customer (Yum!). In addition, all of the products, treatments and packages will be dessert themed.
Each spa treatment includes an edible-flavored soak, soufflé, and polish or buff. Children have the option of a Basic Milk Bath, with choice of four flavored milks (chocolate, strawberry, vanilla or banana), and a simple manicure, $10, or pedicure, $12. Special spa packages, such as the M&M Cookie, Strawberry Fetti or Banana Split include the chance to create-your-own body lotion, bubble bath or scrub at the Imagination Station.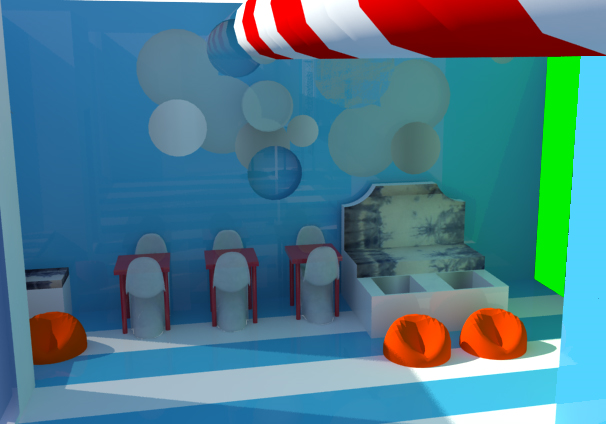 The salon also offers the full range of haircutting, styling, beading, braiding, and hair topping using glam strands and feathers, all at affordable prices. The inspired party packages, starting at $600, give Glamour Girls the chance to walk the fashion runway and Tough Cookies the opportunity to play air hockey or basketball with eight party guests. While kids wait to be pampered, the Open Play Area provides complimentary video games and encourages scribbling on the white board with dry erase markers. Meanwhile, a parent's lounge will offer mom and dad a place to relax while taking in the aroma of freshly baking cookies— that is, if they can resist jumping up to snap photos of their stylish kiddies.
In case you were wondering, the salon will also offer services to adult customers who may be inclined to get in on the fun. A particular highpoint is the bonding packages the salon offers to build special memorable moments between parents and their children. For example, the Daddy & Me package, $164, includes a haircut, manicure, yummy facial and temporary tattoos.
The concept of the salon was inspired by Jataon's two children, Kyle, 8, and Maileya, 5. As a parent of children of opposite sexes, Jataon felt overwhelmed with the inconvenience of having to arrange two separate, bi-weekly appointments for her children's beautification needs. While her daughter, Maileya, is eager to be styled at the salon to look just like mommy, Kyle dreads going to the "boring" barbershop. Realizing how much her son appreciates looking good, Jataon set out to re-envision the traditional adult-oriented salon and barbershop experience.
"Both my daughter and son, like many children, need a unisex spa and salon where the children can interact in a fun environment. So why not make the salon an experience kids will never forget!" says Jataon. "I shared my idea and interest in opening a kids spa and salon with my cousin, Teychenne. From that moment, we began brainstorming ideas for the Milk & Cookies Kids Spa and Salon. Now we are currently watching our dream become a reality!"
The duo had always planned to launch a family business together, but until recently hadn't thought of an idea to fit both of their interests. The salon quickly became a launching pad for their creative endeavors, and they have been actively planning the delicious details over the past two years. As a graduate of the Fashion Institute of Technology, Teychenne Whitley has a background in designing for kids having previously developed her own children's clothing line, Tiny Pants Kids. At FIT, Teychenne also grew her business acumen, earning a Bachelor of Science in Advertising & Marketing Communications and an Associate of Applied Science in Fashion Merchandising Management.
While Teychenne has the industry training, Jataon Whitley is a licensed educator and behavioral therapist currently employed as a school inspector by the State of New York. Jataon's training in education helped the cousins to create an interactive salon design that encourages hands-on learning and play. "I believe children learn by doing," says Jataon. "Children need some type of hands-on experience. The salon helps them to be independent, confident and develop their self-esteem."
The Whitleys have since partnered with two baking chemists to create their own products for the salon's retail shop, including fun cookie soaps, flavored washes and create-your-own scrubs. Parents who book an appointment prior to the grand opening will receive an extra 10-percent-off promotional discount. Other top-secret events are planned for opening week, so be sure to check out the details below. If the salon turns out to be as delectable as it sounds, kids in the Big Apple will soon have a favorite new hotspot for all of their glitz and glamour needs.
Salon hours are Tuesday thru Thursday, 10 a.m. to 6 p.m., Friday, 10 a.m. to 7 p.m., Saturday 9 a.m. to 7 p.m., and Sunday 11 a.m. to 5 p.m.
For more information or to book an appointment, call 646.850.4032 or visit milkandcookieskidsspa.com
Milk & Cookies Kids Spa & Salon
1196 First Ave.
NY, NY