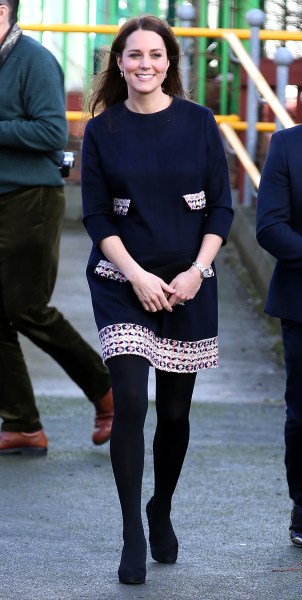 At a certain time in her life, a woman must take stock of her sartorial strengths and weaknesses and decide which Kate she is: Moss or Middleton.
Kate Moss, of course, embodies tough, sexy, boho-glam, rock-and-roll style. Fellow Mosses of Britain include Cara Delevingne, Lady Mary Charteris, Tali Lennox and Cressida Bonas.
Meanwhile, the Duchess of Cambridge, formerly known as Kate Middleton, has always stood for smart, upper-crusty elegance in the vein of a classic movie star or the late Diana, Princess of Wales. At a time when few women are embracing classic, clean-cut clothing, the Duchess looks especially timeless.
Lately, though, it seems that the Duchess has been trying to dress in more edgy, less elegant styles, resulting in a few looks that have style-watchers puzzled. Rumor has it that she has hired Natasha Archer as a stylist, but Ms. Archer doesn't seem to be the problem. The former Kensington Palace assistant is credited with the Duchess's shorter hemlines and glamorous Jenny Packham and Alice Temperley gowns, which never fail to hit the mark.
Curiously, some of Catherine's recent looks have been aesthetically similar to the style favored by her sister, Pippa Middleton, who perpetually misses the mark style-wise.
Plenty has been written about the younger Middleton's just-slightly-off fashion sense. The Daily Mail has even cattily suggested, "Pippa's sole reason for existing seems to be to show us how the world would look if Primark [basically, the British Target] were suddenly awarded a Royal Warrant." Despite the evidence that Pips is no style expert, could Catherine be taking advice from her sister?
Throughout her ongoing second pregnancy, the Duchess has appeared in sheer, black lace dresses several times. The effect can be jarring; in one of her first appearances after announcing her pregnancy, her bouncy, wavy hair clashed loudly with the severe sheer striping on a black A-line dress. In November, she looked like the heroine of a paperback romance novel in a floor-length lace dress. Her hair, again, clashed angrily.
Her sister, Ms. Middleton, has also been known to favor lace looks, with varying degrees of success. Here she is looking nearly naked in a saloon-worthy gown: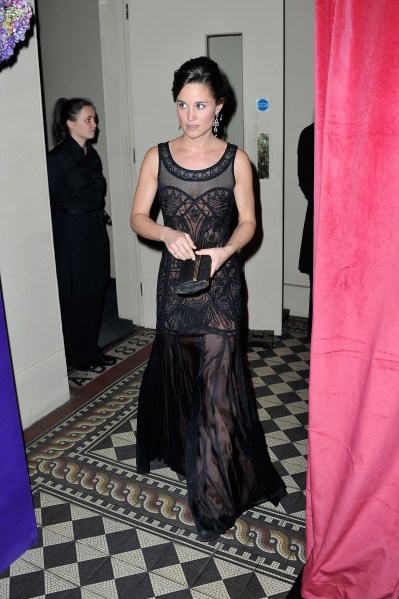 The black lace dresses seem like an attempt at high-fashion edginess, but they don't work because the women wearing them are so squeaky-clean. Black lace works when paired with bedhead, fur and platforms — not ladylike pumps, beauty queen waves, and sensible clutch bags. See Ms. Moss in fur and lace for proof.
Most perplexing of all was the Duchess's recent decision to wear a shiny royal blue A-line skirt with a sheer-topped black peplum blouse, and a bulky belt around the shirt. This outfit consists of three garments that should never meet under any circumstances, converging into one very misguided attempt at trendiness.
We wondered what could have possibly inspired the Duchess to throw a menswear-inspired belt around a peplum shirt (and why she'd then pair the peplum shirt with a similarly flared skirt), and then we remembered: the younger Ms. Middleton has always had a proclivity for oddly placed, mismatched and unnecessary belts. Perhaps the Duchess was taking fashion advice from her sister again.
Here is a photo of Ms. Moss pulling off the belt-around-the-waist look. It works because of the artfully disheveled vibe to her entire outfit. If you don't look like a little bit of a mess (in a good way), as Ms. Moss usually does, it's hard to work a random, loop-less belt into your look.
Just this morning, the Duchess wore the Madderson frock pictured above. Without the garish pink-and-gold details, which are totally Pippa, this look could have been a home run.
Some have postulated that the Duchess's recent missteps indicate an effort to appear more approachable and less like an untouchable royal. Her wardrobe on her recent trip to New York City was "surprisingly affordable," and her shine-embellished coats from Seraphine and Tory Burch would have looked at home on any suburban housewife having a fancy night out and trying to take a fashion risk. Sadly, the effect is not one of girl-next-door relatability, but of a straight-laced middle school teacher attempting to branch out so her students will think she's cool. It makes us wonder what happened to the elegant, streamlined dresses she wore during her first pregnancy.
It is commendable, perhaps, that the Duchess wants to seem more like one of the people. But she isn't one of the people. She is a wealthy, titled aristocrat with flawless bone structure and a lovely figure, who has given birth to a future King of England. Where's the fun in a princess who wears a sparkly, sorority-sister-approved Tory Burch coat with J. Crew jeans?
Let's take a look at some of the Duchess's best recent looks and take note of how few trendy items are involved: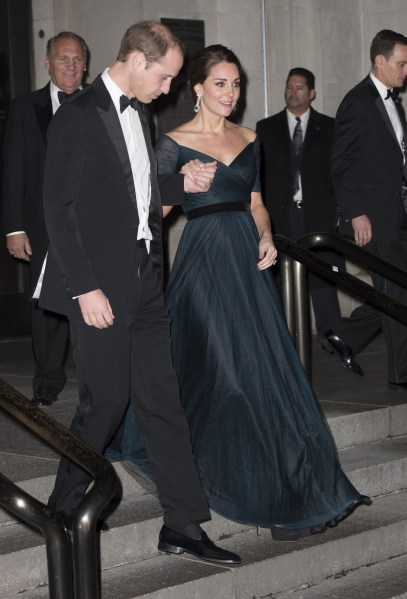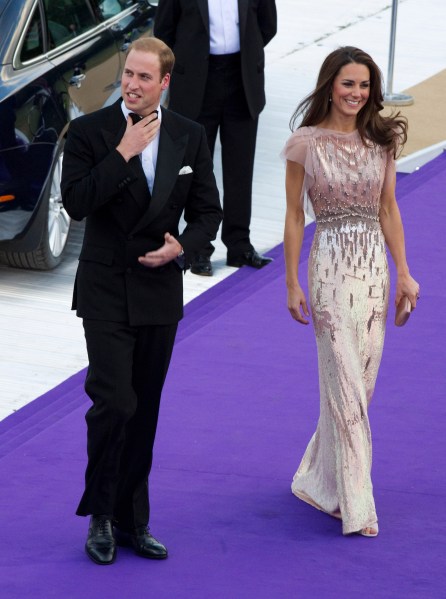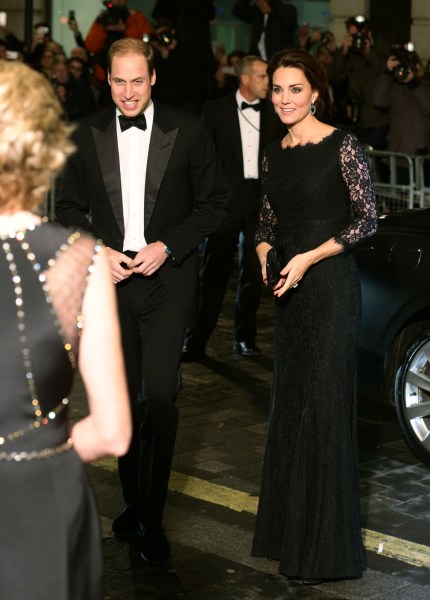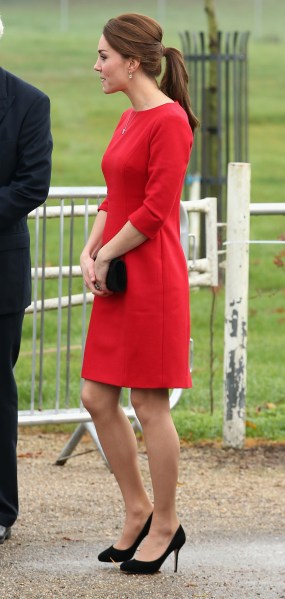 The moral of the story: the Duchess of Cambridge is not, and never will be, edgy — nor can she plausibly pull off the "girl next door" look. Sophisticated elegance is what works best on her. She is one of the only people in the world who can pull off fashion's most regal and opulent looks. She should take advantage of her vaunted position in life by embracing elegance and shunning the trends that clearly don't work for her. There's nothing wrong with leaving the edginess to Kate Moss, and the fashion failures to Catherine's fun-loving younger sister.