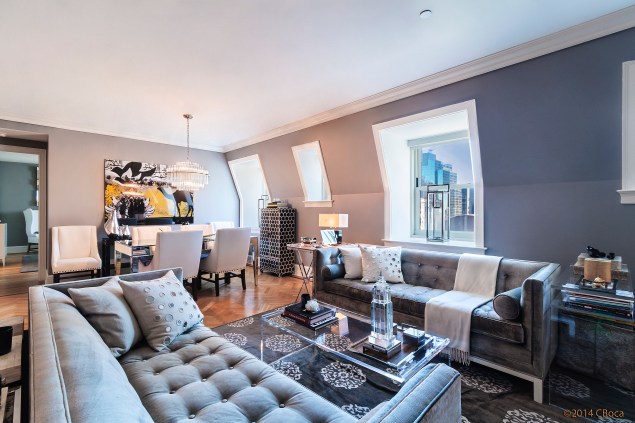 Dusk was gathering as we entered the cozy confines of No. 1811, a one-bedroom condo tucked away in the upper reaches of the storied Plaza, whose soft gray palette matched the sky outside that afternoon. It looked like it might snow later, but inside the apartment, it seemed that it already had, the many silver and Lucite accents nestled among the white linen furnishings evoking a far prettier winter than the dowdy browns of Central Park below.
Alas, the unit, which is available at $13,000 a month with Corcoran broker Jason Kay, does not boast that most desirable of views. But its East-facing windows still offer a lively scene, looking out over the also-iconic Fifth Avenue, where fur-coated women laden with Bergdorf shopping bags whiled away a winter's afternoon.
Also iconic is 1811's neighbor down the very hushed—the Plaza being a great favorite of pied-a-terre seekers— hall: Tommy Hilfiger, whose duplex penthouse was last listed for $80 million. And, of course, the Plaza itself, whose double P insignia pops up throughout the building: on door handles, elevator floors and many mosaics.
More modest than Mr. Hilfiger's unit, with canted walls that follow the roofline of the building, 1811 nonetheless provides an excellent toehold for a tenant who's always dreamed of taking tea more regularly at the Palm Court or wants to get as many horse carriage rides in as possible before they're banned. Good, too, for more indefinite stays: The unit is available for sale at $3.8 million.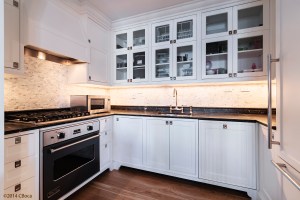 The rooms are large though not plentiful, as it is a one-bedroom, 1.5-bath. But the closets are abundant, inviting the temptation to give in at the many nearby stores. There are also floors of pale herringbone and on most days, good light, Mr. Kay assured us, current gloominess notwithstanding. The kitchen, in an alcove off the living room, is a tasteful affair of white cabinetry, Calacatta marble and of course, Viking and Miele.
"I'm not sure anyone cooks at the Plaza," said Mr. Kay as we appraised the kitchen's features. Not with room service available from the Oak Room, he explained, and the many offerings of the basement food court, which he termed "like Eataly, but better." There was not much visible evidence of food prep besides a Vitamix and high-tech baby-food maker.
But they're there just in case, along with a washer and dryer, which we suspect if not the future tenants, then at least their maid, will appreciate.