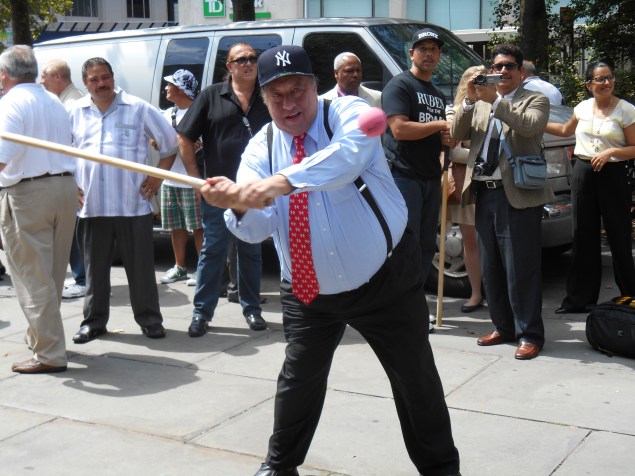 Is the Cats out of the bag?
John Catsimatidis, the Republican billionaire who ran a flamboyant and unorthodox campaign for mayor in 2013, is not ruling out another shot at Gracie Mansion in 2017.
"Am I thinking about running for mayor again? I hope Bill de Blasio does a good job next year so I don't have to think about running," Mr. Catsimatidis said today when contacted by the Observer. "Look, I'm interested in our city, I love our city and maybe Bill de Blasio runs for president and there will be an opening."
Mr. Catsimatidis added, not in jest, that he thought Rev. Al Sharpton, a close Mayor Bill de Blasio ally, is trying to convince President Barack Obama to draw Mr. de Blasio into the 2016 presidential race to replace him. "I think Al is trying to influence Obama to run de Blasio," he said. (There's no evidence this is the case.)
Though sources say Mr. Catsimatidis has been telling associates that he would potentially be a strong candidate against Mr. de Blasio, a liberal Democrat, in a one-on-one match-up, Mr. Catsimatidis had mostly praise for the mayor today. Mr. Catsimatidis also contributed his own cash toward Mr. de Blasio's failed effort to put the Democrats in the State Senate majority.
"I think Bill de Blasio has his own ideas about things and is trying to govern according to his own ideas," he said. "There's only one very, very large item that me and Bill de Blasio disagree on: I'm a New York Yankee fan and I think he's still a Boston Red Sox fan."
Mr. Catsimatidis, who self-funded his 2013 campaign, lost the Republican primary to Joseph Lhota, a deputy mayor in the Giuliani administration. The race produced several memorable moments: Mr. Catsimatidis claimed in a debate he had a "love factor" with minorities, proposed building monorails in the five boroughs and suggested creating deputy mayors for ethnic groups like Koreans.
Despite his wealth, the rumpled founder of the Gristides supermarket chain and the Red Apple Group, a real estate company, pitched himself as an everyman on the campaign trail. He held "friendraisers" for close associates and enjoyed the trappings of campaigns like parades and visits to small businesses, unlike Michael Bloomberg, the billionaire mayor for 12 years.
Mr. Catsimatidis, if he chose to run against Mr. de Blasio, would face long odds, even as a rift between police unions and City Hall tarnishes Mr. de Blasio's image. Democrats greatly outnumber Republicans and demographics are not favorable to the GOP.
Incumbent mayors, with few exceptions, also rarely lose elections. The last incumbent to lose was Mr. de Blasio's old boss, Democrat David Dinkins, in 1993.