Jonathan Chait takes on "political correctness" in the latest issue of New York magazine. He charges that pc leftists are threatening the very foundations of liberalism by rejecting free speech as a universal value.
Mr. Chait opens with the story of Omar Mahmood, a junior at the University of Michigan, who published a tepid satirical essay  in the campus conservative paper mocking the fashionable concepts of microaggressions and trigger warnings. To make a long story short, Mahmood was suspended from another student paper on a bureaucratic pretext and later fired for taking his story to the media. To add insult to injury, a group of hooded figures were recorded by security cameras depositing whole eggs and hot dogs at Mahmood's doorstep and taping nasty notes to his door. To make sure Mahmood got the message, the vandals left a copy of his column at the scene.
Mr. Chait's second example of illiberalism on campus comes from 1992 when feminist activists unilaterally removed a tape of documentaries about sex work from an art exhibit at the University of Michigan law school, on the grounds that the tape somehow compromised the safety of anti-porn speakers who had been invited to campus. Chait makes it sound like leftists and feminists reflexively backed the tape-confiscators, but the New York Times account of the controversy makes it clear that the incident sparked controversy among feminists at UMich and in the campus community at large.
Mr. Chait's leading examples involve vandalism and theft. Neither of these offenses is protected by free speech nor defended by the left. Chait is pulling a bait-and-switch. His marquee examples of political correctness run amok are of petty crimes perpetrated in the name of activism. From here, he attempts to show that political correctness is threatening to overrun all political discourse. In fact, most of the things he objects to in his lengthy essay are examples of free speech, not repression.
"Political correctness is a style of politics in which the more radical members of the left attempt to regulate political discourse by defining opposing views as bigoted and illegitimate," Mr. Chait writes.
Well, some views are bigoted and illegitimate. It is wrong to prevent those views from being aired but there's nothing illiberal about pointing them out for what they are. Of course, different people have different ideas about what's bigoted and what's not, and thankfully, we have free speech that permits debate about these questions.
Activists and intellectuals have been skirmishing about the boundaries of socially acceptable behavior since approximately forever. It is not a violation of free speech to criticize our current social norms and suggest that they be changed.
It is no longer socially acceptable to say that women should be the chattel of their husbands, nor to propose slavery as a policy program. Racial slurs and overt anti-semitism are no longer accepted in polite company. Such behavior was once considered uncontroversial, but through the efforts of previous generations of reformers, those kinds of remarks have been rendered socially unacceptable.
It's a good thing that overt racism is no longer socially acceptable and I'm sure Mr. Chait would agree.
Free speech is not a guarantee that any view will be well-received. Free speech protects your legal right to say socially unacceptable things if you wish, but it also protects the rights of those who wish to express their disgust and disapproval.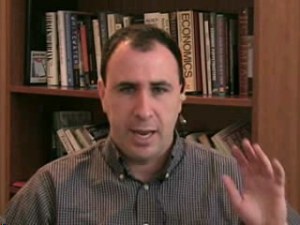 By chastising the pc left for "defining opposing views as bigoted," Mr. Chait is unilaterally demanding an end to a discussion that is central to liberalism itself. Liberals cherish the possibility of moral progress. We like to think that we can discover social ills and biases that we never noticed before, so that we can fix them. Mr. Chait is implicitly arguing that everything that is acceptable today should be acceptable forever, that there are no further refinements to be made. By that logic, anyone who identifies widely accepted ideas as bigoted or illegitimate must be fussing over trivia because Jon Chait already knows what really matters.
Mr. Chait insists that recent interest in microaggressions—small slights that hint at unconscious discrimination—proves that political correctness treats every minor infraction as a major affront. The fact that these behaviors are labelled as microaggressions by the very people who are raising awareness about them undercuts Mr. Chait's argument. The whole idea of microaggressions is that slights that are individually too small to merit a reaction can become demoralizing in aggregate.
Mr. Chait disapproves of a media project in which Fordham students posed for portraits holding cards inscribed with things people say to them that they consider to be microaggressions, such as "You're really pretty for a dark-skin girl."
It offends Mr. Chait that Buzzfeed published some of the photos and that the gallery has been viewed over 2 million times. This is odd position for a self-proclaimed champion of free speech to take. These students are peacefully arguing that some seemingly benign cliches are racist putdowns in disguise. Mr. Chait counters that some of the phrases on the cards aren't obviously offensive, and he cites some examples of cards that don't strike him as aggressive, like the card about someone asking an Asian student if they can read a Japanese character. Are some of these microaggressions valid? Are they all? As viewers, we're free to make up our own minds.
Mr. Chait is disturbed that politically correct lefties criticize journalists on twitter and facebook. You would think the unedited, uncensored world of online commentary would constitute a textbook example of the free-wheeling discourse that Mr.  Chait seeks to encourage.
Chait objects to the twitter hashtag "#RIPpatriarchy," which was used by feminists on twitter to mock Hanna Rosin's thesis that women have already surpassed men in the social hierarchy. Slate ran a modified excerpt from Ms. Rosin's book under the trolling headline, "The Patriarchy Is Dead: Feminists, Accept It." So, feminists started finding blatant examples of sexism and tweeting about them with the hashtag ironically appended. Lampooning Ms. Rosin's thesis by presenting counter-evidence? The horror.
Mr. Chait is correct that social media has become a venue for a lot of fruitless intra-left bickering and bullying. Last year, Michelle Goldberg astutely diagnosed the toxic dynamics of feminist twitter wars in the Nation. The potential for negative response in social media is not in itself a threat to free speech. Think of twitter as cut-throat competition in the free market of ideas.
Political correctness, according to Mr. Chait, is nothing less than "a system of left-wing ideological repression," an "undemocratic creed" that threatens the philosophical foundations of liberalism. That's a very bold claim. You would think he'd have more to back it up than a handful of on-campus excesses and jeers from the social media peanut gallery.
Lindsay Beyerstein is an investigative journalist in Brooklyn, NY who writes about criminal justice and women's health.