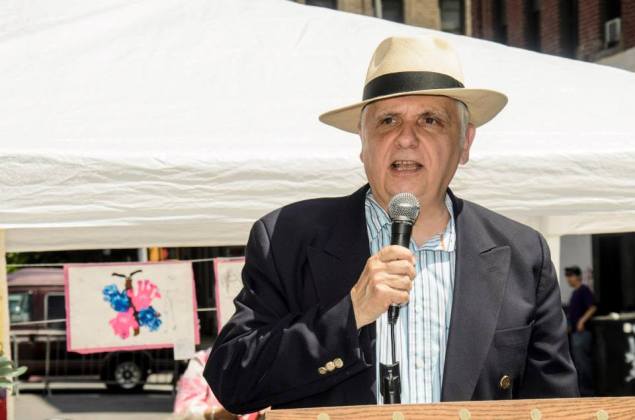 Assemblyman Joseph Lentol, a Brooklyn Democrat, withdrew from the contest to succeed Assembly Speaker Sheldon Silver today and endorsed Bronx Assemblyman Carl Heastie—only hours after Mr. Lentol sent reporters a release claiming he had the backing of his borough's 20-member delegation.
Mr. Lentol reiterated his vows to the body's liberal "reform" caucus that he would push to change the body's rigid power structure—even as he endorsed Mr. Heastie, about whom the reformers have expressed unease. The veteran lawmaker, who was first elected in 1972, said he decided to withdraw his name from contention for the top post on realizing he did not have enough votes.
"I believe in the democratic process. I know our house will move forward in a positive way," he said. "I believe we will succeed in making the New York State Assembly stronger, more responsive and ultimately more accountable to all of us as members, which will then translate to better representation for the residents of the great State of New York."
Mr. Lentol's county Democratic organization is backing Mr. Heastie, and the long-serving legislator has reportedly been under pressure to pull out of the race. Mr. Lentol is well-liked among his colleagues, and commanded the loyalty of at least some of the Brooklyn delegation, but his age, 72, has been considered a drawback.
Mr. Heastie, the chair of the Bronx Democratic Party, appears to be gradually building momentum in his effort to succeed Mr. Silver, despite resistance from the reformers and from supporters of Queens Assemblywoman Catherine Nolan and Rochester Assemblyman Joseph Morelle. Yesterday, Harlem Assemblyman Keith Wright, another candidate for the speakership, dropped out of the race and endorsed his Bronx colleague.
Ms. Nolan is the only other declared candidate for the speakership, which Mr. Silver is set to vacate on Monday due to his arrest last week on corruption charges. But Mr. Morelle, who serves as the Democratic majority leader, is viewed as an outside contender for the powerful position.
Mr. Morelle will serve as interim speaker up until the February 10 vote for Mr. Silver's replacement.