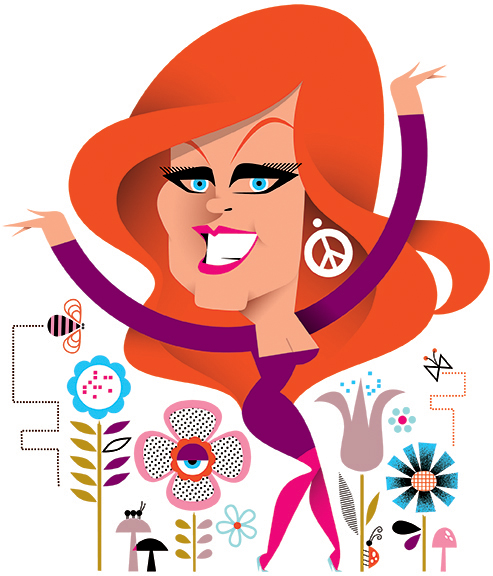 Though famous for her big burgundy hairdo and wild on-stage antics, Kate Pierson is petite and calm in person. Dressed in a velvet top embroidered with flowers and port-colored leggings, her speaking voice—after several interviews to promote her debut solo album, Guitars and Microphones—is a touch raspy. But when Ms. Pierson, without warning, punctuates a point with high-pitched scatting, sounding like an alien from the original Star Trek, a startled visitor is reminded that he is in the presence of a very big deal.
Before "Rock Lobster" hit, you worked in paste-up at the Athens Banner-Herald. Could journalism have been your alternate existence? I got disillusioned with journalism there. I would have loved to have been a broadcast journalist. I'd even love to be the weather girl. I have to watch the weather every night; I'm just obsessed.
Describe your early days in New York when you and the B-52s moved here from Athens, Ga. In 1979, our manager said, "Move to New York!" We said, "Why?" And he said, "Well, you gotta live near the airport," or some crazy thing like that. I guess we were up for the adventure. We moved up to a house in Mahopac, which was like The Shining. And the band shouldn't all live together.
Any tips to maintaining harmonious bandmate relationships? We have a family dynamic—more like brothers and sisters than friends. So there can be a bit of competition, but there's also love and respect. But there's a thing to not push each other's buttons. You know what the buttons are so don't push them. We have taken time off, and that's another reason we've been able to stay together. When someone says, "I don't want to do this." We say, "O.K." and stop for a while.
Do you have apprehension about going out on your own? All these years, I've wanted to do the solo record and I felt like I couldn't. I remember Michael Stipe asked me if I wanted to do some writing with [R.E.M.], and I didn't say no, but I didn't really answer because I was afraid—afraid to collaborate with anyone other than [the B-52s]. In the late '90s, we kind of took a sabbatical, and I got an invitation to play with a Japanese band and formed a supergroup called NiNa. It was Yuki from Judy and Mary and Masahide Sakuma from The Plastics, a Japanese equivalent of the B-52s. It went to No. 1 in Japan. And when I collaborated with Yuki, and we didn't even speak the same language, I realized, I can collaborate with anyone.
Before Double Fantasy, Yoko Ono and John Lennon were apparently inspired by "Rock Lobster." We used to listen to Yoko Ono in Athens. It was really Fred [Schneider] who turned me on to Yoko. When we did "Rock Lobster," Cindy [Wilson] and I added the fish sounds and all the harmonies. And Cindy really did that kind of Yoko wailing, and John Lennon heard that and thought, "Wow, it's time now, this is back." We were just blown away that he knew us, heard us at all. Her music is awesome! "Walking on Thin Ice" is something I love.
When you reflect upon your career, can you remember lyrics that matter to you most? "Deadbeat Club" means a lot to me. After Ricky [Wilson] died, we took a break and came back together as sort of a healing process. We really didn't care if it was a commercial success. And in some ways, it brought Ricky's presence back.
Let's go crash that party down
In Normaltown tonight
Then we'll go skinny-dippin'
In the moonlight
We're wild girls walkin' down the street
Wild girls and boys going out for a big time
Anyway we can
We're gonna find something
We'll dance in the garden
In torn sheets in the rain
We're the deadbeat club
It summed up the way we were in Athens. We would crash parties. We were such free spirits.
***
Kate Pierson will perform at City Winery on February 25th.