Like many Brooklyn neighborhoods, Flatbush's renaissance has often felt more rumored than real—though whether the narrative of neighborhood transformation, in which an unglamorous working class enclave becomes a stylish destination of the upper middle classes, is at all desirable is another matter. Still, stylish it is not, even if Uma Thurman's brother did buy a house there after being priced out of Bed-Stuy. As one denizen recently told The Times, the neighborhood's primary virtue was price: "You don't know what a place is like until you live there, and at that price, we didn't care. But after moving in, we really liked it."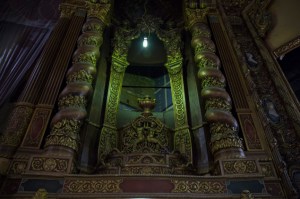 Perhaps the newly-restored King's Theater, which is slated to open Jan. 27, can help to make the neighborhood more of a destination, even if it's unlikely to kick off a widescale cultural renaissance. Its lobby, whose design was inspired by the Paris Opera House and the Palace of Versailles, will, at least least, make a pretty place to warm up these coming months on a pizza slice and 99-cent-store-laden stretch of Flatbush Avenue.
The vaudeville and movie house, which shuttered in 1977, has undergone a $94 million renovation, $51.5 million of which came from public sources to restore it to its former gilded flory and transform it into a performing arts venue. The Observer took a tour of the mostly-restored theater in September, which with 3,200 seats, is the largest theater in Brooklyn. It will be managed by ACE Theatrical Group, which also oversaw its restoration through a consortium.
And now the theater has announced its line-up for 2015, which involves a mix of big-time musical acts of yesteryear and family-friendly theater. The season opens with a Diana Ross performance on Feb. 3 (a free performance by local groups including the Brooklyn Ballet nad Youth Chorus will christen the stage) and an open house tour will be held on Feb. 7. Schedule highlights are below.
An Evening with Diana Ross
February 3, 2015 – 8:00 p.m.
Sarah McLachlan
March 14, 2015 – 8:00 p.m.
Frankie Valli and the Four Seasons
March 21, 2015 – 8:00 p.m.
Disney Live! presents Three Classic Fairy Tales
April 2 – 5, 2015 – full performance schedule listed at KingsTheatre.com
Dancehall Rising, starring Mavado and Capleton
April 10, 2015 – 8:00 p.m.
Widespread Panic
April 24-25, 2015 – 8:00 p.m.
Crosby, Stills & Nash
May 15-16, 2015 – 8:00 p.m.
 Gladys Knight
June 6, 2015 – 8:00 p.m.
Tales from the Silk Cotton Tree
June 20, 2015 – 7:00 p.m.
Moscow Ballet's Great Russian Nutcracker
December 5, 2015 – 7:00 p.m.
Annie
December 15 – 27, 2015