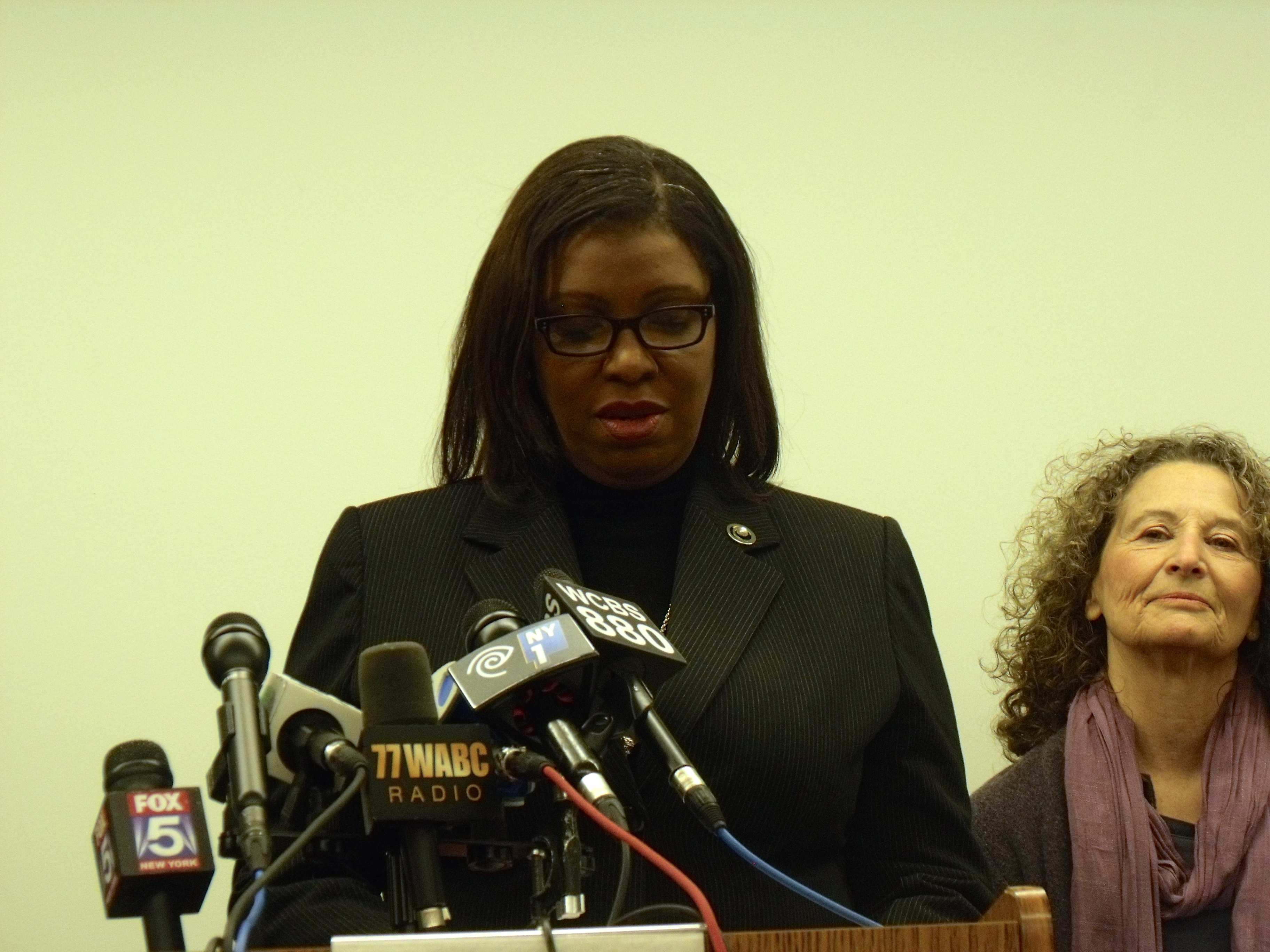 Public Advocate Letitia James said today she is "somewhat confident" a judge will agree to release more information about the grand jury investigation into the death of Eric Garner—and said if her office and advocates are not successful in a Staten Island courtroom, the fight won't end there.
"The Garner family has the right to understand why there was no indictment, and the rest of us have the right to see what happened so we can propose reforms, not only in the city but on the state level," Ms. James said today at a Manhattan press conference.
Garner died in July as police tried to arrest him for selling untaxed cigarettes on a Staten Island street, and a video recording of his death ignited tensions between police and the community of color. In December, a Staten Island grand jury convened by District Attorney Daniel Donovan declined to indict Police Officer Daniel Pantaleo, who was seen in the video placing his arm around Garner's neck to bring him to the ground. Garner's death was ruled a homicide by the medical examiner's office.
Ms. James' office, the Legal Aid Society and the New York Civil Liberties Union among others have petitioned Supreme Court Justice William E. Garnett to unseal the minutes of a Staten Island grand jury. Mr. Donovan, who is also running for Congress, has opposed the motion.
"The debate over the unsealing of the grand jury minutes is not about one incident. It's not about one death, or one police officer. In fact, it's not even about one borough. Our request to unseal the minutes is really about our faith in transparency, our faith in the system, and our belief in justice for all," Ms. James said today.
Under state law the proceedings of that grand jury—including who testified, what charges the jury was instructed about, who may have received immunity and what evidence was presented, as well as the testimony itself—are secret.
Donna Lieberman, executive director of the New York Civil Liberties Union, argued there was "absolutely no conceivable reason on earth" for the information be shielded from the public, saying information about the charges presented or who testified would shed light on whether the proceeding was fair or "rigged from the get-go."
"What went on behind those closed doors? What was the evidence? Who was given immunity, and for what? What was the role of the DA?" she asked.
Matthew Brinckerhoff, the attorney representing Ms. James' office in court, said grand jury minutes are subject to unsealing when "there is a compelling and particularized need to do so." He and others argued there were two things that set this case apart—the first being the widely seen video of Garner's death.
The tape and surrounding media reports have already clearly laid out the events of Garners' death, leading to tremendous speculation—and the video also identified Mr. Patanelo as the subject of the grand jury's investigation, Mr. Brinckerhoff said. Keeping the minutes secret would not do anything to protect his identity.
Secondly, Mr. Brinckerhoff argued that Mr. Donovan himself recognized the case merited more public scrutiny than usual, asking in a sealed motion for a judge to release some limited information—though it is unclear how much, exactly, Mr. Donovan requested to be released.
"He's argued and won that this case is extraordinary, that it requires deeper exposure," Mr. Brinckerhoff said.
But the identity of testifying witnesses has not been made public so far, and Mr. Donovan has argued in court that those witnesses were induced to testify under the belief that their identities, and what they said, would remain secret. (He has also argued the Public Advocate doesn't have standing and has not met legal thresholds to unseal the documents.)
Mr. Brinckerhoff argued that it is a "complete fantasy" to believe that witness grand jury testimony is never disclosed—noting that when a person is indicted by a grand jury, they are entitled records of the proceedings which can be used in open court at trial.
Even as advocates pointed to ways the Garner case is different as evidence that an exception should be made to the grand jury's secrecy, they also argued the entire grand jury system was ripe for reform.
Tina Luongo, who heads the Legal Aid Society's criminal practice, pointed to the 22,000 New Yorkers the society represents as the city's main public defenders—and how quickly they are typically indicted on little evidence.
"It is time that we take a look, a serious look at why that process seems to be very different," she said, for police and civilians. "In this case we had a video. In this case we had the medical examiner's finding that a homicide took place due to a chokehold. And yet, there were no charges."
A hearing in the case was scheduled for tomorrow but has been delayed to next week.