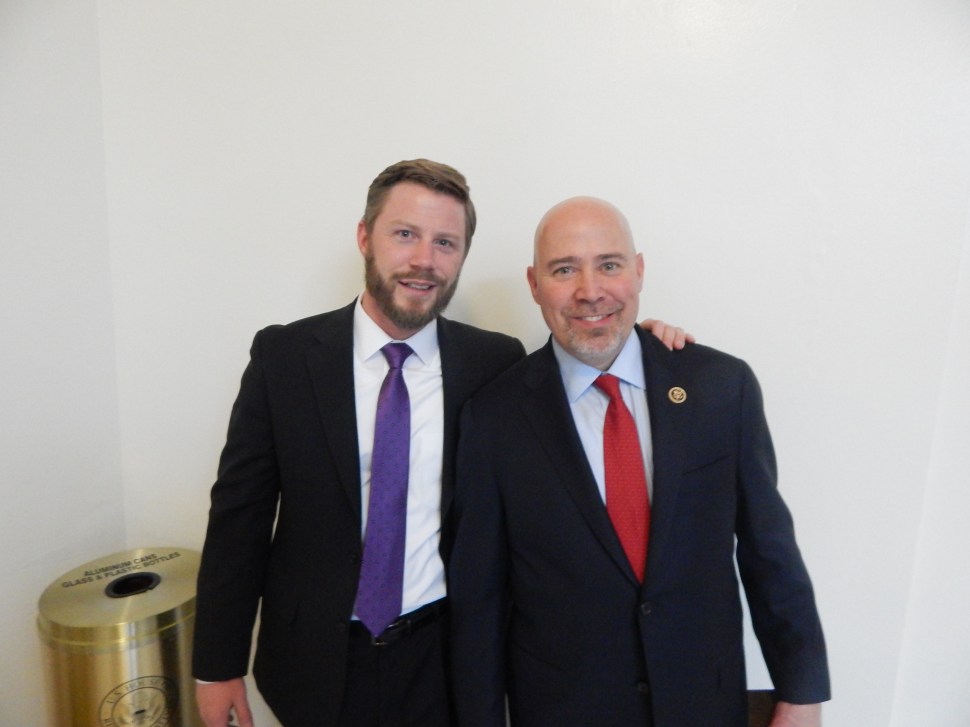 WASHINGTON DC — Not three hours into his first term as a freshman congressman, and New Jersey's U.S. Rep. Tom MacArthur (R-3) already has a jobs bill under his belt.
"The first thing I'm looking forward to is at 6 o'clock I will vote on the Hire More Heroes Act, which I co-sponsored," MacArthur said, just hours before the bill passed the House during one of it's first legislative votes with a newly-inducted congressional class. "So first day of congress, we will pass legislation that encourages job creation among veterans."
MacArthur, who was officially sworn-in to the 114th this afternoon, is entering congress both with a bill already under his belt and with positions on two powerful House committees, the Armed Services and Natural Resources. It's a fitting beginning for the freshman Republican congressman, a former North Jersey insurance CEO whose hard fought congressional race against Democratic opponent Aimee Belgard in South Jersey's third congressional district last year garnered national attention.
During that race, MacArthur, in a military veteran heavy CD3, campaigned hard for job creation in general, but particularly for jobs to support New Jersey troops. The third congressional district includes Joint Base McGuire-Dix-Lakehurst, the largest joint base on the east coast and the second largest employer in the state.
"I'll be honored to cast a vote on the very first day of congress for something I believe will land on the president's desk, and hopefully be signed into law," he added.
Additionally, MacArthur enters Capitol Hill with a brand new, 71 member freshman class in the House — but also a new majority and increased majority in the House and Senate, respectively. He said both Republican and Democrats will have to work hard across party lines to get the work they need to done.
"Look, one person, to make change, has to pay attention to what's going on around them. For me, it's developing relationships, it's learning and listening — and reverse order, it's listening and learning, and just understanding how I can begin to change the way the place works," MacArthur said.
"I don't see [people] as a party labels, I see them as a persons with values and convictions and hopes," he added. "It's a very human business, like everything else."
MacArthur said for starters, it's about trying to get to know people — like newly-re-instated House Speaker John Boehner (R-OH), who MacArthur joined following this interview for a swearing-in portrait in the basement of the Cannon Office Building. Boehner was returned to his seat at the head of the House this afternoon, along with Minority Leader Nancy Pelosi (D-CA).
MacArthur joined his Republican colleagues in voting yea for the GOP figure, and added after that he sees Boehner as a bi-partisan leader who can get things done.
"I think he's the best one to accomplish what I'm saying," MacArthur said. "There's no perfect person, and you can throw darts at anyone. But the reality is, we have to have leaders that will work with Democrats and different parts of our own party."
Those comments contrast with those of one of MacArthur's own New Jersey colleagues, U.S. Rep. Scott Garrett (R-5), who joined a dissenting group of Republicans in voting against Boehner's return to the seat.
"That's his business," MacArthur said.