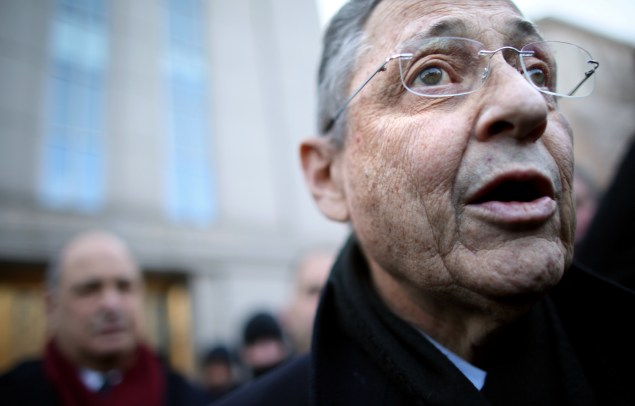 Joseph Morelle. Joseph Lentol. Carl Heastie. Catherine Nolan. Keith Wright.
The names are mostly unknown to the almost 20 million residents in New York who will have no say over who one of the most powerful elected officials in the state will be. But come February 10, when the Assembly will vote to replace Sheldon Silver, the once-dominant speaker arrested on corruption charges last week, one of those five names will start to appear in many more newspapers, websites and telecasts.
The race to replace Mr. Silver will be conducted largely out of view, as all speaker's races are. This one, compared to the recent contest for City Council speaker, may end up being far more complex. 150 members—divided among geographical, racial and ideological lines—in the Democrat-controlled body will select the next speaker. A majority, 76 votes, is needed to crown a winner.
The last time the Assembly voted on a new speaker was in 1994, when Mario Cuomo was governor and Bill Clinton was in the White House. For 21 years, Mr. Silver was the state's preeminent power broker, negotiating budgets with five different governors and keeping a tight leash on his diverse, and plenty pliant, Assembly.
Who will the next speaker be? How much like Mr. Silver, as brilliant as he was allegedly corrupt, will his successor govern? Below, the Observer will introduce you, in no particular order, to the five Democrats vying to replace Mr. Silver and show why they are most likely to win the backroom contest—or fail miserably.
Joseph Morelle
Strengths: Mr. Morelle, the majority leader, is set to become the temporary speaker until the February 10 election. The affable Rochester Democrat has a head start over his rivals because he will already be an acting speaker, giving him a chance to lobby colleagues and show what he can do during his brief time in the spotlight. Mr. Morelle, 57, is well-liked in the chamber and is regarded as more business-friendly than Mr. Silver, a liberal stalwart on most issues. He is a prodigious fund-raiser and boasts a strong working relationship with Gov. Andrew Cuomo.
Weaknesses: Some of Mr. Morelle's strengths, ironically, are also his weaknesses. His closeness to Mr. Cuomo is not a selling point to the more liberal members of the body angry at the governor over his fiscal centrism and alliance with Wall Street. More importantly, Mr. Morelle is not from New York City, where just about every single speaker over the last four decades has hailed from. City members, in sheer number, dominate the body, and a host of outside forces, from Mayor Bill de Blasio to influential labor unions, are going to do all they can to ensure the next speaker comes from the five boroughs. Mr. Morelle's candidacy, for this reason alone, could be dead on arrival. And for members craving diversity in their leadership, another white male speaker (yes, they've all been white men) may be hard to swallow.
Catherine Nolan
Strengths: Ms. Nolan, 56, was first elected 1984 and is the only woman in the race. A veteran lawmaker close to the city and state teachers' unions and Mr. de Blasio, Ms. Nolan is the shrewd Cuomo antagonist the liberals in the body would want. Ms. Nolan chairs the Committee on Education, a crucial conduit for state aid to public schools, and represents a slice of western Queens. The Queens Democratic Party, as of last week, was pushing Ms. Nolan's candidacy and if their chair, Congressman Joseph Crowley, falls behind Ms. Nolan, all 18 of Queens' sizable delegation may vote for her. Ms. Nolan is the only woman in the race and could cull together a bloc of female legislators hungry to change the culture of sexual harassment that has plagued Albany.
Weaknesses: Moderate lawmakers may not see a devotion to the teachers' unions as a plus. Ms. Nolan has bucked the Queens machine before and Mr. Crowley works closely with Carl Heastie, the chair of the Bronx Democratic Party and another top contender to succeed Mr. Silver, giving the Queens chairman another palatable contender to support. If Mr. Crowley is in league with Mr. Heastie, Ms. Nolan's candidacy is dead.
Carl Heastie 
Strengths: Many news outlets have pegged the soft-spoken Mr. Heastie, 47, as a front-runner to replace Mr. Silver. Long seen as a top rival to Mr. Wright, Mr. Heastie commands unity from his bloc of 10 Bronx lawmakers (11 including himself) and can credibly grow his support among the black and Latino members in the five boroughs since he is African-American. After Mr. de Blasio burned him during the City Council speaker's race by supporting Melissa Mark-Viverito, the mayor owes him a favor and could use his clout to push members in Mr. Heastie's direction. Old enough to have some seniority (he was elected in 2000) and young enough to promise years of stability if elected, Mr. Heastie may just check all of the boxes needed to become the next speaker.
Weaknesses: Mr. Heastie doesn't have the taint of corruption, but his name did show up in Moreland Commission documents released last year. The anti-corruption commission analyzed approximately $25,000 in unitemized credit card expenditures his campaign made over the years, most of which had no explanation or purpose. Mr. Heastie defended the expenditures as perfectly legal and there is no evidence that federal prosecutors, who seized the commission's work after Mr. Cuomo unceremoniously ended it, are now investigating Mr. Heastie. But it was the Moreland Commission's initial investigation that led U.S. Attorney Preet Bharara to arrest Mr. Silver, one fact alone that could make some members shy away from Mr. Heastie.
Joseph Lentol
Strengths: First elected when John Lindsay was the mayor of New York City, Mr. Lentol, 72, is the oldest and most seasoned contender in the race by far. Having chaired the influential Committee on Codes since the early 1990s, Mr. Lentol has had decades to cement bonds with the veteran lawmakers in the Assembly and could pitch himself as the experienced hand required to guide the legislature through one of the more pivotal sessions in years (rent laws and the mayoral control of city public schools are both set to expire.) Mr. Lentol, like everyone in the race except Mr. Morelle, is from New York City, representing Williamsburg and Greenpoint.
Weaknesses: His age is a drawback. The Assembly craves stability and it's not clear how long Mr. Lentol would remain in office if he is elected; Mr. Silver, for example, was only 50 when he became speaker. Mr. Lentol was also a proud Silver loyalist until the very end, stipulating he would only run for the post if Mr. Silver stepped down. Among the many members weary of Mr. Silver's near-authoritarian control of the body and the devastating headlines of the last week, an allegiance to Mr. Silver is no longer a good thing. For young members resentful of the seniority system Mr. Silver cultivated—for those with 20 or 40-year tenures, life was good, while the newly-elected had little clout—Mr. Lentol could represent more of the same.
Keith Wright
Strengths: Mr. Wright, 60, has been a long-rumored Silver successor. Chairing one of the most coveted committees in the Assembly, housing, has allowed him to cultivate ties with organized labor and the real estate community. A former chair of the State Democratic Party and current chair of the Manhattan Democratic Party, Mr. Wright boasts a decent relationship with the governor and significant ties to the city's progressive base. He is black, a selling point to downstate minority members, and would make history if elected. Sources say some Brooklyn lawmakers are already trying to whip votes for Mr. Wright. To boot, he was one of the first prominent voices to call for Mr. Silver to resign, which will be a significant selling point to the body's growing reform caucus.
Weaknesses: Mr. Wright recently opened an exploratory committee to run for Congress in 2016, when Harlem Congressman Charles Rangel has said he will retire. Members could view Mr. Wright as an opportunist, hunting out the best and quickest way to empower himself. Mr. Wright has not shown yet he can consolidate support in the city like Mr. Heastie, and leads a fairly meager county organization that will do him few favors in February. Mr. Heastie begins the contest with a bloc of Bronx lawmakers loyal to him. Manhattan's power base is wholly diffuse and Democrats there are unlikely to fall quickly–or blindly–behind anyone.