I first got to know Mario Cuomo, who died today at age 82, when I was working as a freelance writer in May of 1977. He had just announced he was running for New York City's mayor in the Democratic primary, partly at the urging of his friend, Gov. Hugh Carey, who had made him his Secretary of State. I decided to write a profile of him for a New York publication. Cuomo was widely-known for settling a housing dispute in Corona, Queens, representing home-owners threatened with displacement by the construction of a new high school. Later, he backed a group of Kew Gardens-Forest Hills residents who sought to stop a housing development next to Willow Lake in Queens. And, because of the successes in resolving these wrangles, Mayor John Lindsay persuaded him to mediate a dispute over low-income housing in an upper-middle class neighborhood of Forest Hills.
In addition, Cuomo had a reputation for unusual eloquence and directness. I had only seen him in photos. When I finally got to interview him, what struck me almost immediately about him was how much larger and taller he was than in his pictures—and how massive his hands were, perfect for playing the outfield which he once did on a Pittsburgh Pirates minor league club. He had a genuine presence and a warm, bantering personality, a sense of camaraderie and fun. I remember he also had a lawyer's way of arguing fine points with visitors. He casually shined his shoes while we chatted.
I was taken by the man. Somehow, I ended up not finishing the piece. Instead, Cuomo seduced me into joining his campaign as a speechwriter. For the final three bumpy months of his race, I worked with him, first, as he lost the Democratic mayoralty run-off to Ed Koch and then, in the face of internal party resistance, fought Koch to the finish on the Liberal Party line, once again going down to defeat. But, though he fell short, it was by a respectable margin, leaving his honor intact, despite overcoming the effects of a chaotic, disorganized and fractious political operation for which he was largely responsible. He learned valuable lessons from this imbroglio, and emerged as a formidable political figure with a "future." Sometime later, Carey recruited him to be his lieutenant-governor candidate for his re-election race in 1979.
By 1982, though, Lieutenant Governor Cuomo had launched his own campaign for the state's top job (and deftly elbowed his pal Carey aside). I volunteered to help. This undertaking turned out to be a far smoother cruise than his bid for mayor. Cuomo faced Koch once again in the gubernatorial face-off. This time, he outshone and outclassed Koch, who famously insulted Albany residents as rubes. He stood out as the authentic liberal in the contest—a "pragmatic progressive" as he called himself. Among other issues, Cuomo forcefully opposed the death penalty, which Koch favored. Cuomo's principled stands on this and on other liberal concerns elevated him above his opponents. He also brought a brio and confidence to the race that voters liked. He defeated Koch and went on to narrowly beat his wealthy Republican competitor, Lewis Lehrman, who had poured much of his own money into the contest, 50.91 percent to 47.48 percent.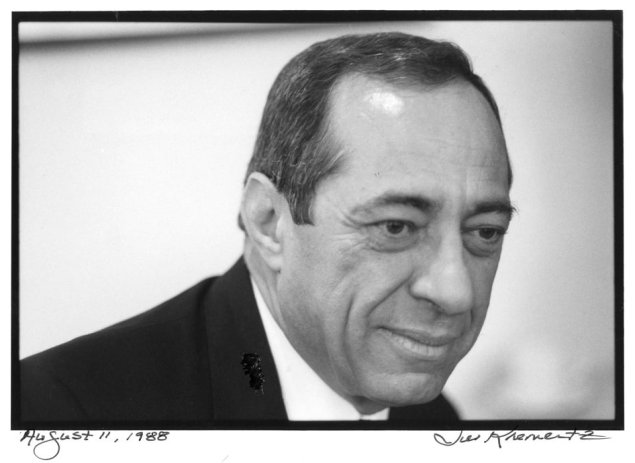 I remember early on talking to him about international issues. He disclaimed any interest in them. "Listen, Steve, I don't know foreign policy. I only know New York issues. I can tell you everything you'd want to know about the state, from its economy, to its minority populations to its power needs, whatever. But I can't go any further than that." I was surprised at such a candid admission that he wouldn't, or couldn't, deal with global matters. This was my first hint about his reluctance to touch on matters which were beyond his scope of knowledge.
Once in office, he proved to be a redoubtable governor. He delivered a well-received inaugural address. He kept on many of his predecessor's appointees and brought in many of his own, including me, as one of his speechwriters. However, I soon found that he was not easy to write for. He really wanted to be his own draftsman though he had little time for it. He was a wondrous craftsman with words—he had authored articles, written a book or two, regularly tossed out thoughtful remarks extemporaneously. But, under the pressures of his new job, he sought help from his staff. Fortunately, he received help from Peter Quinn, a marvelous wordsmith whom he inherited from Carey. Mr. Quinn was an unheralded architect behind some of his most memorable speeches, including his 1984 Keynote Address to the Democratic Convention in San Francisco, and later his Notre Dame address endorsing a woman's right to choose. Cuomo, though, it must be said, compulsively rewrote all speech drafts we gave him, marking them up incessantly until they read exactly like he wanted them to read. As a back-up to Mr. Quinn, I saw my own offerings turned upside down and inside out by Cuomo's able hand. Meanwhile, Cuomo preferred that people not know about his private scribes. He was supremely proud of his own language and wanted his speeches to be seen as exclusively his own.
---

Cuomo used to call me at home to recite his drafts to me over the phone. He was always figuring out new phrases,
fine-tuning some of his own thoughts. It was a fascinating experience to see how rigorously he labored with the communicative materials of his livelihood.

---
He used to call me at home to recite his drafts to me over the phone. He was always figuring out new phrases, fine-tuning some of his own thoughts, making sure of the logic of his arguments, moving sections around. It was a fascinating experience and a somewhat peculiar compliment to me to see how rigorously he labored with the raw communicative materials of his livelihood. He encouraged criticism of his work and did not get annoyed if you disagreed with him. Sometimes, though, when he wanted to end the conversation, he simply hung up the phone.
When writing his big speeches, he took the time to rehearse in front of a larger circle. For the 1984 Keynote Address at the Democratic Convention, he convened a number of rehearsals in an Albany state room and carefully reviewed the speech in its entirety, making changes up to the last minute. His words ended up thrilling the nation and made him instantly famous. His prose is still stirring:
"President Reagan admitted that although some people in this country seemed to be doing well nowadays, others were unhappy, and even worried, about themselves, their families and their futures. The President said he didn't understand that fear. He said, 'Why, this country is a shining city on a hill.' A shining city is perhaps all the President sees from the portico of the White House and the verandah of his ranch, where everyone seems to be doing well. But there's another part of the city, the part where some people can't pay their mortgages and most young people can't afford one, where students can't afford the education they need and middle-class parents watch the dreams they hold for their children evaporate. In this part of the city there are more poor than ever, more families in trouble. More and more people who need help but can't find it. There are ghettos where thousands of young people, without an education or a job, give their lives away to drug dealers every day. There is despair, Mr. President, in faces you never see, in the places you never visit in your shining city."
He liked to argue as a lawyer, but with charm and delight. One time he asked me what religion I was. I told him Unitarian. "Ah," he joshed, "that's a failed Jew." He once cautioned my wife about our move up to Morningside Heights in Manhattan because it was "dangerous." (He was a suburban guy from Queens.) He never yelled at me, indeed I never heard him yell at anybody. We debated in good spirits—for example, over a bill to ban flag-burning. He favored it; I opposed it. He kept coming back at me again and again to re-make his points and would not leave the issue alone. Later I wondered if he really supported the legislation or was just trying out arguments to see what the main points at issue were to sort them out in his own mind. We had other amicable disputes, one time over whether then-Gov. Bill Clinton could win the 1992 Democratic presidential primary in New York. He averred that Mr. Clinton would win by seven points. I contended that Gov. Jerry Brown's late entry as a candidate might sway the vote against Mr. Clinton. "Let's make a bet," he shot back. I answered: "How about $5?" He replied: "No, a summer hat." I asked what he meant by a summer hat. He said: "A summer hat is, if you win, a cheap hat, but, if I win, it's an expensive hat."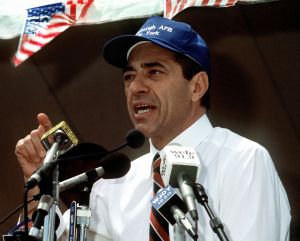 In due course, my job morphed from speechwriter to that of a more generalist on staff, handling outreach to liberal groups in New York, advising on issues, directing special projects and increasingly dealing with global matters affecting the state. Over time, indeed, I became his unofficial foreign policy advisor. For example, Cuomo asked me to brief him on the trip he was planning in 1987 to the Soviet Union, and later I accompanied him on his visit to Moscow. I also supplied preparatory materials for a trip he took to Japan. Still, in all matters beyond the boundaries of his own state, he continued to show a considered ambivalence. At times, he tried to educate himself further on problems abroad, but fundamentally he did not like occupying himself with overseas agendas. I remember in 1992 trying to convince him to meet with the President of China who was then visiting the state, and later the head of German's Social Democratic Party. He was disinterested. He made one exception—he agreed to see a delegation from the Algerian-based Polasario movement, which had been trying to reclaim land from Morocco. This was as a courtesy to his future daughter-in-law, Kerry Kennedy, who was concerned about how Morocco was violating that group's human rights. He had me sit in on the meeting and handle the follow-up. The group later invited me to travel to its headquarters in the Sahara desert in western Algeria to keep their contacts with Cuomo going. Some months later, I made the visit. Cuomo never asked me about the movement again.
He charmed a coterie of New York journalists—much as Robert Kennedy had done in his own time. I am thinking of people like the Village Voice's chief political correspondent, Jack Newfield, street-savvy reporters like Jimmy Breslin and Pete Hamill, magazine columnists like Joe Klein and Jon Alter, TV interviewers like Charlie Rose. He could be direct, devious, exasperating, funny, but fundamentally a New York mensch. They understood that he was at one with them in their politics and that he echoed their sympathies toward life's struggles. Mr. Newfield once told me: "You could argue with him and still like and admire him. He has the mentality of a problem solver. He will give all sides a fair hearing. Intelligence and character are the two central themes which stand out. He is a healing conciliator who is non-ideological in his approach. He has a kind of novelistic intelligence and street smarts."
After serving three terms in office, Cuomo could claim an impressive list of accomplishments. Of course, he fulfilled his constitutional obligations annually to balance the budget, but through carefully crafted measures, he garnered the highest credit rating for the state over a single decade. He challenged Ronald Reagan over the President's effort to end the federal income tax-deductibility of state, local and property taxes, and won. He enacted ethics measures for his government. He pursued a "Decade of the Child" by expanding health care coverage and educational opportunities. He constructed more prisons and increased law enforcement assistance to local communities. He got voters to agree to a "Rebuild NY" Transportation Bond Act to upgrade the state's infrastructure. He oversaw the enactment of the country's first seat belt law. He made prescription medicines more affordable for senior citizens and directly tackled the AIDS epidemic. He appointed progressive judges to the New York State Court of Appeals, including its first two female judges, as well as both its first African-American and Hispanic judges. But most importantly, as a national recession hit the state in the late 1980s, he safeguarded the state's precious social safety net against Republican efforts to slash it, insuring that thousands of low-income and impoverished New Yorkers could continue to receive the state assistance they counted on.
Many people today have no idea what a dominant figure he became in American politics after his 1984 Keynote Address. In many ways, he was the virtual master of the country's political universe. Commentators, political analysts, foreign observers, editorial boards, hung on his every word, parsed his statements for hidden meaning, plumbed his views, followed his every movement, all looking for clues as to whether he would run for the presidency—first, in 1988, and then in 1992. But he hesitated—and drove the country and his staff batty with his doubts and equivocations. He could not seem to make up his mind about the presidency. He got the reputation, fairly or unfairly, as being the "Hamlet on the Hudson," an impression that seriously damaged his stature. In my view, though, he never really felt he could be president. I believe he felt a genuine irresolution about it, questioning whether it was truly for him—but not because of possible skeletons in his closet or because of his Italian first and last name, but for the very reasons that he was not at ease talking about American foreign policy. It was just not a place he was comfortable going to—it was beyond his aspirations. So, instead he sought a fourth term for governor and lost, bringing a bittersweet ending to his political career.
He will long be remembered for his eloquence, his San Francisco address, his electric presence, his humor and his warmth, his progressive ideals, his intellectual heft, his concerns for the disenfranchised, his toughness, his pride in his Italian heritage. His legacy includes his opposition to the death penalty and his willingness to take on the Catholic Church over the issue of abortion–and, as well, a future governor. He left his state in a better place than it had been. He was the man who should have been president, the man who might have been on the Supreme Court, but all he ever truly wanted to be was the governor of New York State.
Stephen Schlesinger is a senior fellow at the Century Foundation in New York City. For twelve years, he served as New York State Governor Mario Cuomo's speechwriter and foreign policy advisor.