Mayor Bill de Blasio warned the press this afternoon of a "furious hoarfrost bearing down upon us"—reading aloud from an Onion article lampooning his blizzard warnings.
The mayor made a rare trip into Room 9, home to the City Hall press corps, to take questions—but first said he wanted to read from a prepared statement.
"I'm going to do a dramatic reading from The Onion," Mr. de Blasio said, holding a print-out of an article from the popular satirical newspaper.
The article, which went online yesterday and is the The Onion's first significant spoof of Mr. de Blasio since he took office, was headlined: "NYC Mayor: 'Reconcile Yourselves With Your God, For All Will Perish In The Tempest.'"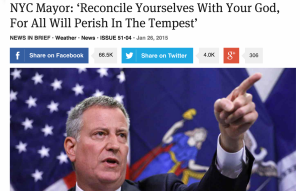 "The furious hoarfrost bearing down upon us knows neither mercy nor reason, and all within the five boroughs will perish, cowering in their brittle dwellings," Mr. de Blasio read aloud a quote attributed to him in the Onion piece.
Mr. de Blasio read the entire 150-word mock news brief, including instructions to "clutch your babes close to your breast" before "death becalms them forever."
He seemed to get a particular kick out of the the story's last line: "De Blasio added that, barring an unexpected intensification in the storm, normal subway and bus service would resume Wednesday."
The real-life New York City turned out a bit better than the Onion's projections—subways were back up and running this morning after Gov. Andrew Cuomo's short-notice decision to shut the system down.
Listen to audio of the mayor's reading below:
[protected-iframe id="7f97ed9f6a2a33827a2190436668ce75-35584880-67241311″ info="https://w.soundcloud.com/player/?url=https%3A//api.soundcloud.com/tracks/188214848&auto_play=false&hide_related=false&show_comments=true&show_user=true&show_reposts=false&visual=true" width="100%" height="450″ scrolling="no"]