JERSEY CITY – Gov. Chris Christie came to bury the ARC Tunnel not to praise it, and now with Caesar seemingly clumsy-footed on another issue, the purveyors of Hudson politics came to praise PATH and with that, presumably politically bury Christie.
It's that report prepared by a Port Authority of New York and New Jersey panel, which suggests the privatization of PATH train service to and from the city that never sleeps.
Apparently in the name of bipartisanship, Christie and New York Governor Andrew Cuomo championed the report while eschewing bipartisan legislative reforms.
Tramping in from out of frigid weather beside the Grove Street PATH Station, a military tent-sized collection of Democratic Party politicians joined Jersey City Mayor Steven Fulop to denounce the proposed scheme.
The political undercurrent carried repeated evocations of "North Jersey" amid proud hurrahs.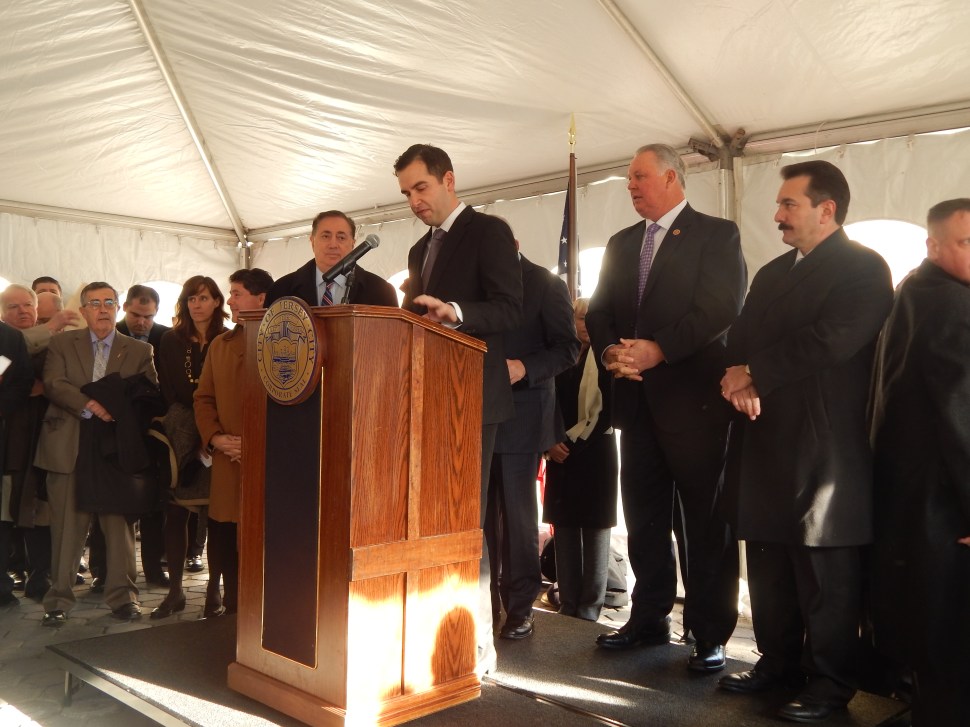 Fulop, of course, is a fledgling candidate for governor in 2017 and today's exercise looked like a rev up of those erector set pieces that he will need to craft a northern Democratic Primary fortress.
U.S. Senator Bob Menendez (D-N.J.) led the way, heaping praise on Fulop for organizing the show of force.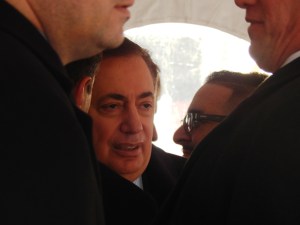 "I applaud the mayor's leadership to join together a coalition to speak out against a travesty," said New Jersey's senior senator, who slammed the Port Authority, traditionally a nest for political patronage, some of which got blasted and exposed during last year's Bridgegate crisis.
"I still think we need an independent audit," Menendez said to hand claps.
He suggested changing the existing compact between New York and New Jersey to make the Port more accountable, bottom line, to the people.
"They forgot their core mission," said Hudson County Executive Tom DeGise, amplifying what Menendez identified early as public transportation.
In order to help get a bloated agency under control, a 100-page plan released over the Christmas holiday weekend and championed by the bi-state governors would save $10 million by privatizing portions of PATH train service.
Menendez argued that it's a lunatic way for an agency with a $2.9 billion operating budget to throw the burden of its so-called reform onto the shoulders of the citizens of Hudson County.
The mayor estimated that 390,000 would be unfairly impacted by the proposed loss of PATH service from 1 a.m. to 5 a.m. on weeknights.
"That's despicable," said state Senator Nick Sacco (D-32). "They are out of control."
"We want the governor and the chairman [of the Port, John Degnan] to say this is off the table," said Fulop, doubling down on a point made earlier in the program by Hoboken Mayor Dawn Zimmer.
"No one consulted us," Zimmer said, a loose elbow at the front office.
Others in attendance included U.S. Rep. Albio Sires (D-8), Speaker Vincent Prieto (D-32), state senators Sandy Cunningham and Ronald L. Rice, Assemblyman Raj Mukherji, Newark Mayor Ras Baraka, and numerous mayors and Hudson County officials.
A reporter pointed out that Degnan has argued for bus service to duplicate those PATH train lanes now serving residents.
"It's safe to assume that Chairman Degnan has never been on the PATH late at night," said Fulop to claps.
The mayor said many of his constituents in Jersey City moved here with the precise purpose of taking advantage of train service. It's a quality of life issue.
Asked if Degnan – a former attorney general who replaced the Bridgegate-disgraced Port Authority Chairman David Samson – could honestly live up to the title of robust face of change, Fulop said, "The jury's still out. He has a great opportunity to retract that statement [about PATH}."