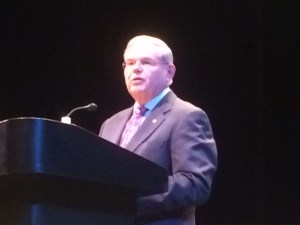 PARAMUS – U.S. Sen. Bob Menendez (D-NJ) continued to speak out against the recent changes in American policy towards Cuba, with America's most prominent Cuban-American politician stating that he would not travel to the Caribbean country to negotiate with the current Communist regime, headed by brothers Raul and Fidel Castro.
"I don't envision myself going to Cuba, certainly while the Castro brothers are there. They have blood on their hands," Menendez told PolitickerNJ on his way into Bergen County Executive Jim Tedesco's ceremonial swearing-in event on Sunday in Paramus. "They are despotic. There is a difference between people's romanticism with Cuba and the Castros versus the reality of life every day inside of Cuba. I listen to the people who risk their lives for liberty every day versus those who ultimately have this romanticism."
President Barack Obama announced a major policy shift last month toward Cuba that will lead to the restoration of regular diplomatic relations after more than 50 years of hostility. Obama's move drew new light and heat to the decades-long question of how to deal with Cuba, with some observers indicating that warming relations with Cuba will lead to an eventual meltdown of the regime. Yet the concept of the policy shift acting as a slow-acting change agent in Cuba left Menendez cold.
"I don't think that time in and of itself in going to change the regime. If that were so, then the involvement for decades of Europe, Latin America and Canada among other countries would have changed the regime. That hasn't created one iota of an opening and space for political freedoms inside of Cuba," Menendez, the ranking Democrat on the Senate Foreign Relations Committee, said, noting the suppression last week of a demonstration in Havana supporting free speech. "So if millions of European, Latin American and Canadian visitors that have gone to Cuba have not created any change, the suggestion that just our engagement with a regime that oppresses its people, without any commitment to civil liberties and individual rights, doesn't indicate to me that time alone is going to change the course of events inside of Cuba."