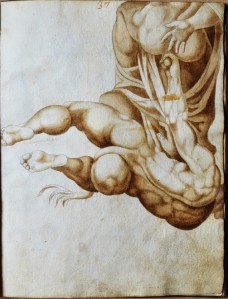 The vividly anatomical seventy drawings in deep bistre, sepia, violet, and sanguine inks and later bound together were executed by an unknown artist, likely all in one hand, sometime in the twenty years after Michelangelo Buonarotti finished the massive altarpiece of the Second Coming of Christ in the Sistine Chapel and before the order came to cover up the naughty bits and pieces, perhaps from Pope Pius V himself, after the Counter Reformation inspired by The Council of Trent in 1563.
Formerly in the art history library of 19th century uber-collector Conte Gioseppe Cacherano, Vicar of Turin, it is being offered by PRPH Rare Books, an East 64th Street collaborative effort of Italians Umberto Pregliasco and Filippo Rotundo, each of whom own rare book stores in Turin and Rome, respectively.
Seth Fagen, the Director at PRPH notes that "the church had a problem with what they would have called the "Paganism" of works of the High Renaissance in which there was a rediscovery of antiquity, incredible admiration for the Classical nude statuary, and a certain tendency towards eroticism."
Not that all the musclebound guys and grapefruit-breasted gals were "dirty pictures," at least not from Michelangelo's perspective. The drawings certainly are a detailed record of the master's celebration of physicality in the human form.
The artist tasked with covering up the genatalia, Daniele da Volterra, was known as "il Braghettone" or "the breeches maker" for his efforts.
The album is being offered for $130,000. Master Drawings New York shows work at twenty galleries around town, as well as at the Morgan Library and the Metropolitan Museum of Art.
PRPH will also be exhibiting a set of the so-called "Mantegna Tarocchi" printed c. 1465 and as such from the very beginning of Italian engraving. The fifty Tarot card set represents an early state of printing, and is extremely rare complete. The only complete set in the U.S. is held by the Cleveland Museum of Art. Figures include the seven muses and the seven virtures as well as the "Conditions of Man" like The Beggar, The Merchant, The Doge and The Pope.
They were used for fortune telling but instead like flashcards for the educating the children of the well-to-do. You can provide your kid with this set for $1,000,000.