You probably don't know photographer Rich Hardcastle, but the UK certainly does. The photographer is renowned. He shoots iconic people who we all know—think Michael Sheen, Ricky Gervais, Rupert Grint—from a very dark and sometimes morbid point of view, yet the work still comes across as beautiful. The aforementioned Gervais (photographed unforgettably on a toilet in a vivid red clown costume, holding a gun) said of Mr. Hardcastle: "Rich has a way of making even a rainy day spent standing in a muddy field look glamorous and important."
Mr. Hardcastle is about to debut his second show January 6 in London at the Dover Street gallery Mead Carney. For "Mr. Detective Man," the artist chose to center on one individual in particular: David Gandy, aka Mr. Dolce and Gabbana and one of the biggest male models in the world. (Vogue UK named him No. 2 in its "Top Male Models of All Time" feature.) Supported by a high-profile cast including Jacob Anderson, Grey Worm from Game of Thrones, Paul Anderson, and Adam Hills, Mr. Hardcastle has created a comedic yet dark narrative with scenes set in everything from a morgue to an interrogation room, and always with a hint of the sinister.
"I just liked the idea of bringing the type of cops and robbers games I played as a kid to life, in the context of an adult TV cop show," Mr. Hardcastle explained. "It seems to be becoming a recurring theme in my work," he said. "The idea of those childhood games becoming a nightmarish reality in adulthood."
The photographer talked with the Observer about working on the unusual exhibition.
Why did you opt to go with David Gandy, one of the more photographed men in the world, as your subject matter for this project?
The casting of the show was a nod to the type of cop shows I love, where the leads are always way too good looking to be a believable detective. I needed to cast someone who was the best-looking person I could think of… I usually work with actors and we end up encapsulating a whole performance in a still image. This sort of reversed it. David is used to projecting a whole "story" in a still image, and I relied a lot on his natural presence and latent "heroic" look. I think he makes a pretty convincing lead detective.
Your personal work is always really dark—why?
I honestly don't really know. I can only think that it's because I've had such a lovely safe life that I can live in a dark place just through my imagination. If I'm following a band or movie star around (with camera obviously) I get to experience the madness, the cool hotels, the parties, the gigs, the fan adoration and the backstage shenanigans. But then I get to go home to normality. Whereas the movie star is still living out of hotels, can't go down the street without being hassled, etc.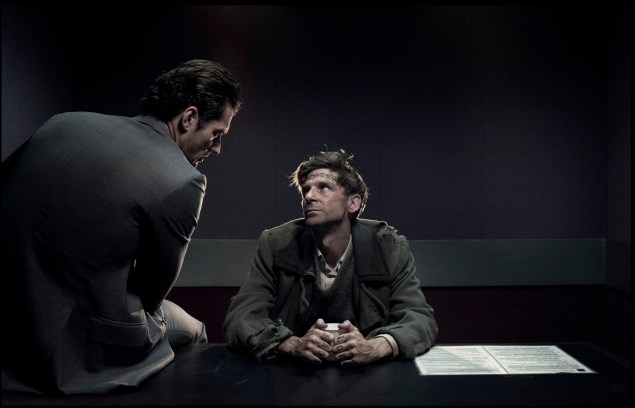 Do you have a favorite piece in this exhibition?
My favorites are always the last couple of images I shoot. It's like you just hit your stride and then—before you know it, the show has to go up. So apart from the one featuring my 6-year-old son, Cooper, I love the scarecrow image, which is an homage to a photo of Tom Waits that Matt Mahurin shot.
Give us an amusing event that happened during the shoot.
It's more theoretical than an actual event. Me and Jon, my assistant, were setting up lots of props preparing for David's arrival. We only had him for about 2 hours, so we were making sure everything was done and dusted preparation wise. I had just finished off some origami cranes and was attaching them to some long poles. Jon was making shark fins out of roofing felt. As I moved on to cutting the legs off a teddy bear, I looked around this derelict warehouse—the takeaway cups of coffee, the pile of dismembered soft toys. I said to Jon in that moment: "Can you imagine just how far this is from the scene that normally greets David Gandy as he arrives for a shoot?"
See photos from "Mr. Detective Man" below: