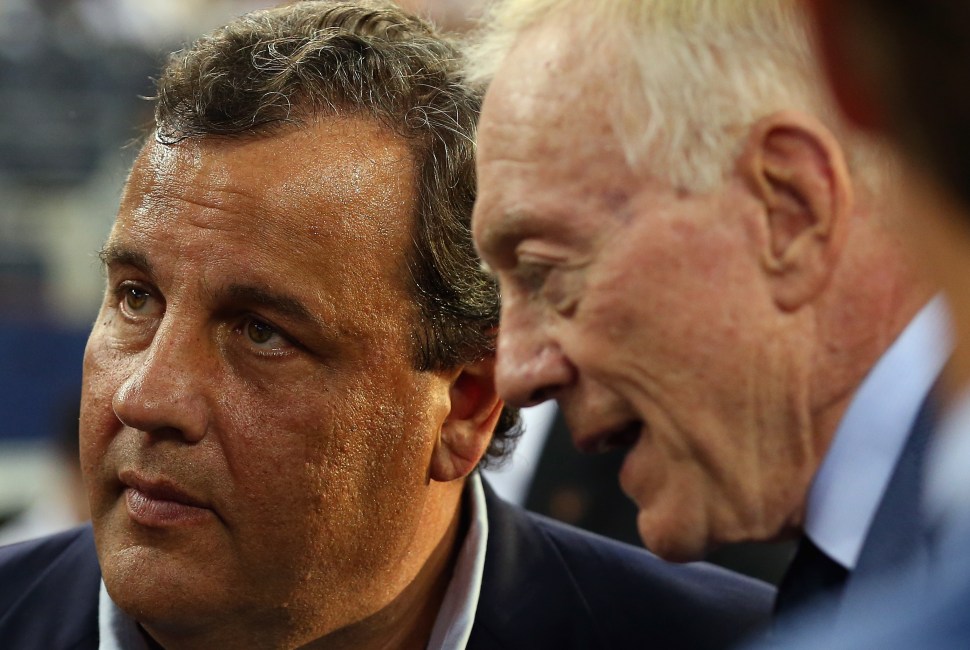 Winners and Losers
So here we are in the saddle again in the new year. Belatedly, we wish you and yours a happy and prosperous 2015! (PolitickerNJ Editor)
http://politickernj.com/2015/01/winners-and-losers-10/
Luck runs out for Chris Christie, Cowboys
GREEN BAY, Wis. — New Jersey Gov. Chris Christie took his orange sweater to Lambeau Field on Sunday to cheer his beloved Dallas Cowboys. But it did not go the governor's way with Green Bay winning 26-21.
Fellow Republican Rep. Paul Ryan, clad in Packers gear along with his family, needled Christie on Twitter.
"Do you need a hug now?" he tweeted, referencing Christie's much-mocked awkward hug last weekend with Cowboys owner Jerry Jones after Dallas beat Detroit. (Associated Press/Chicago Tribune)
http://www.chicagotribune.com/sports/football/chi-chris-christie-cowboys-packers-20150111-story.html
For Jeb Bush, Evolving Views Over 2 Decades
Jeb Bush once called for building prisons and emphasizing "punishment over therapy" for juvenile offenders. Today, he supports reforming the criminal justice system, arguing that incarceration can harden low-level lawbreakers into career criminals.
Policy adjustments big and small are routine in American politics. Mitt Romney, the former governor of Massachusetts, and Gov. Chris Christie of New Jersey once supported abortion rights. Now, both oppose them. President Obama and Hillary Rodham Clinton, a likely presidential contender in 2016, previously objected to same-sex marriage; today, they support it. In each case, cultural change seemed to alter personal beliefs to political advantage. (Barbaro/The New York Times)
http://www.nytimes.com/2015/01/11/us/politics/for-jeb-bush-evolving-views-over-2-decades.html?_r=0
Local Senator joins West Milford in Greenwood Lake request
The governing body has some familiar backup in its struggles to funnel state funding into Greenwood Lake.
Last month, state Sen. Joseph Pennacchio echoed the township's now common refrain by requesting dedicated funding for the preservation and sustainability of Greenwood Lake from the NJ Department of Environmental Protection (DEP). (Zimmer/Suburban Times)
http://www.northjersey.com/news/town-continues-to-seek-funds-for-greenwood-lake-1.1190832
More calls for reform of Port Authority; N.J. legislators criticize heavy overtime
Staggering amounts of overtime at the Port Authority, especially in the police ranks, underscore widespread mismanagement and the need for greater oversight of the bi-state agency, which has come under critical scrutiny since the George Washington Bridge lane-closings scandal last year, state lawmakers said Friday. (Reitmeyer/The Record)
http://www.northjersey.com/news/more-calls-for-reform-of-port-authority-n-j-legislators-criticize-heavy-overtime-1.1181973
Parts of New Jersey boom with incentives, others struggle
Last week, when Mercedes-Benz announced it was moving its U.S. headquarters from Montvale, New Jersey, to Atlanta, it added more evidence to the notion that when it comes to attracting and retaining business, New Jersey is on two different tracks.
Here is a look at the issue. (Mulvhill/SFGate)
http://www.sfgate.com/business/article/Parts-of-New-Jersey-boom-with-incentives-others-6007960.php
Lawmakers may mandate faster handling of New Jersey food aid
TRENTON, N.J. (AP) – New Jersey lawmakers are considering a bill that would require the state to expedite the handling of applications for food stamps.
State Sen. Raymond Lesniak, a Democrat who is sponsoring the bill, says it's a response to the slow processing of applications by the state administration. (NBC)
http://www.nbc40.net/story/27824039/lawmakers-may-mandate-faster-handling-of-new-jersey-food-aid
Report: Christie says he returned Staubach donation
Questioned at Sunday's playoff game following a PolitickerNJ report about a donation from Cowboys legend Roger Staubach, Gov. Chris Christie told The Daily News that he returned the money contributed by Staubach as soon as he heard of a conflict of interest stemming from a contract Staubach's real estate firm, Jones Lang LaSalle, landed with the Port Authority of New York and New Jersey. (PolitickerNJ)
Report: Christie says he returned Staubach donation | New Jersey News, Politics, Opinion, and Analysis
Rodgers for Christie's VP?
Forget about MVP.
Let's talk about VP.
By impaling the Dallas Cowboys, Green Bay Packer QB Aaron Rodgers may have unwittingly put Chris Christie's presidential bid back on track.
The only obvious question at this point is whether Rodgers, in salvaging Dallas Cowboys super fan Christie from unraveling utterly, might be available for the political payback of VP pick if Christie can get through the presidential primary. (PolitickerNJ)
Rodgers for VP? | New Jersey News, Politics, Opinion, and Analysis