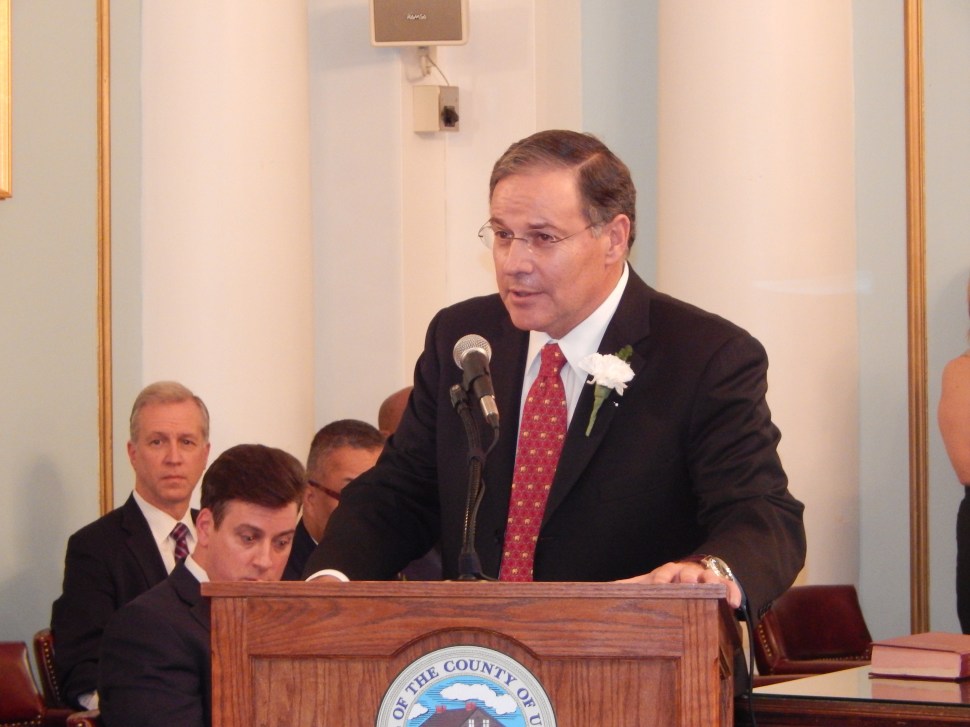 Cryan steps into sheriff role at Union County reorganization
ELIZABETH — An exclamation point was tagged onto the legacy of one New Jersey's oldest political families this morning, when one of Trenton's better known pols — following almost in lock-step with his father — formally departed his longtime seat in the Assembly and joined the world of criminal investigations, blue uniforms, and extraditions. (Brush/PolitickerNJ)
Cryan steps into sheriff role at Union County reorganization | New Jersey News, Politics, Opinion, and Analysis
Bergen Exec Tedesco swearing-in ceremony draws statewide power to N.J.'s bellwether county
PARAMUS – Bergen County Executive Jim Tedesco was ceremonially sworn in on Sunday, promising that his administration would be centered on decisiveness, not divisiveness.
"We're going to bring the people of Bergen County together this year," said Tedesco, 62, before an overflow crowd of more than 300 people at Bergen Community College in Paramus on Sunday, three days after he was officially sworn in to be the fifth chief executive of New Jersey's most populous county. "In my administration, there will not be Democratic or Republican ideas – just good ideas. I will pursue any policy, regardless of where it comes from, if it is in the best interest of Bergen County. The people of Bergen County demand it, and they will not accept government that sits idly by." (Bonamo/PolitickerNJ)
Bergen Exec Tedesco swearing-in ceremony draws statewide power to N.J.'s bellwether county | New Jersey News, Politics, Opinion, and Analysis
At Gloucester freeholder ceremony, Sweeney and Norcross help usher in 2015
WOODBURY — Armed with something of a dual purpose, one to ring in the new year but also — and mainly — to celebrate the successful re-election in November of three of its own members, an empowered Gloucester County freeholder board gathered with friends and family here tonight for its latest reorganization meeting, held in the big stone courthouse off North Broad Street. (Brush/PolitickerNJ)
At Gloucester freeholder ceremony, Sweeney and Norcross help usher in 2015 | New Jersey News, Politics, Opinion, and Analysis
Governor's brother to people ripping Chris Christie for being a Cowboys fan: GET A LIFE! (He slams Eagles fans, too!)
With his brother — Gov. Chris Christie — getting shredded on social media for (pick one) being a Dallas Cowboys fans, hanging with team owner Jerry Jones in his stadium suite, dancing and hugging Jones to celebrate the Cowboys' playoff victory over the Detroit Lions on Sunday, and for being overweight, Todd Christie had a message:
Grow up!
In a Facebook post on Sunday night, Todd Christie ripped those who had criticized his brother — taking particular aim at Eagles fans: (Shorr-Parks/NJ.com)
http://www.nj.com/eagles/index.ssf/2015/01/todd_christie_to_fans_ripping_chris_christie_about_being_a_cowboys_fan_get_a_life_he_rips_eagles_fan.html#incart_river
Coalitions of N.J organizations bringing attention to state's deteriorating roads and bridges
Forward New Jersey, a broad-based coalition of organizations from across the state, has a mission: fix New Jersey's deteriorating infrastructure before it is too late.
The coalition is drawing attention to this need by comparing the state's bridges to the 2007 collapse of the I-35 bridge over the Mississippi River in Minnesota. The collapse killed 13 people and injured 145. (NJ.com)
http://www.nj.com/meetyourmerchants2/2014/12/coalition_of_nj_organizations.html
Christie to attend inauguration or Maryland governor he helped elect against the odds
WASHINGTON — As chairman of the Republican Governors Association, Gov. Chris Christie made four trips to Maryland to campaign with GOP gubernatorial nominee Larry Hogan and the committee spent $1.2 million on his behalf.
Hogan upset the favorite in the race, Democratic Lt. Gov. Anthony Brown, to become just Maryland's second Republican governor since Spiro Agnew. (Salant/NJ.com)
http://www.nj.com/politics/index.ssf/2015/01/christie_to_attend_inauguration_of_maryland_governor_that_he_helped_elect.html#incart_river
Menendez says Senate likely won't confirm U.S. ambassador to Cuba
WASHINGTON — President Obama will find it "very difficult" to get an ambassador to Cuba confirmed, outgoing U.S. Senate Foreign Relations Committee Chairman Robert Menendez (D-N.J.) said today. (Salant/NJ.com)
http://www.nj.com/politics/index.ssf/2015/01/menendez_says_senate_likely_wont_confirm_us_ambassador_to_cuba.html#incart_river
Booker, Menendez help swear Joe DiVincenzo into fourth term as Essex County Exec
NEWARK — U.S. Sens. Robert Menendez and Cory Booker spent part of New Year's Day in Essex County to help swear County Executive Joseph DiVincenzo into his fourth term in office.
The senators (both D-N.J.) were just two of the speakers at a ceremony Thursday to swear in DiVincenzo and the nine freeholders elected to the board in November. Other speakers included U.S. Reo. Donald M. Payne, Jr. (D-10th Dist.), state Senate President Stephen Sweeney and state Assembly Speaker Vincent Prieto, the county said in a release about the event. (Mazzolla/NJ.com)
http://www.nj.com/essex/index.ssf/2015/01/booker_menendez_help_swear_joe_divincenzo_into_fourth_term_as_essex_county_exec.html#incart_river
Chris Christie to hit a string of inaugurations
New Jersey Gov. Chris Christie, looking to build off his work as chairman of the Republican Governors Association last year, will attend a string of governors' inaugurations this month — including in key early states like Iowa and South Carolina, an aide told POLITICO.
The trips are part of an effort by Christie to maintain relationships he developed last cycle, when he was at the helm of the GOP governors' committee. But it also allows him to visit critical early states at a time when he's seen as likely to announce a 2016 presidential campaign. (Haberman/Politico)
http://www.politico.com/story/2015/01/chris-christie-to-hit-string-of-inaugurations-113967.html#ixzz3Nx1qWmcq