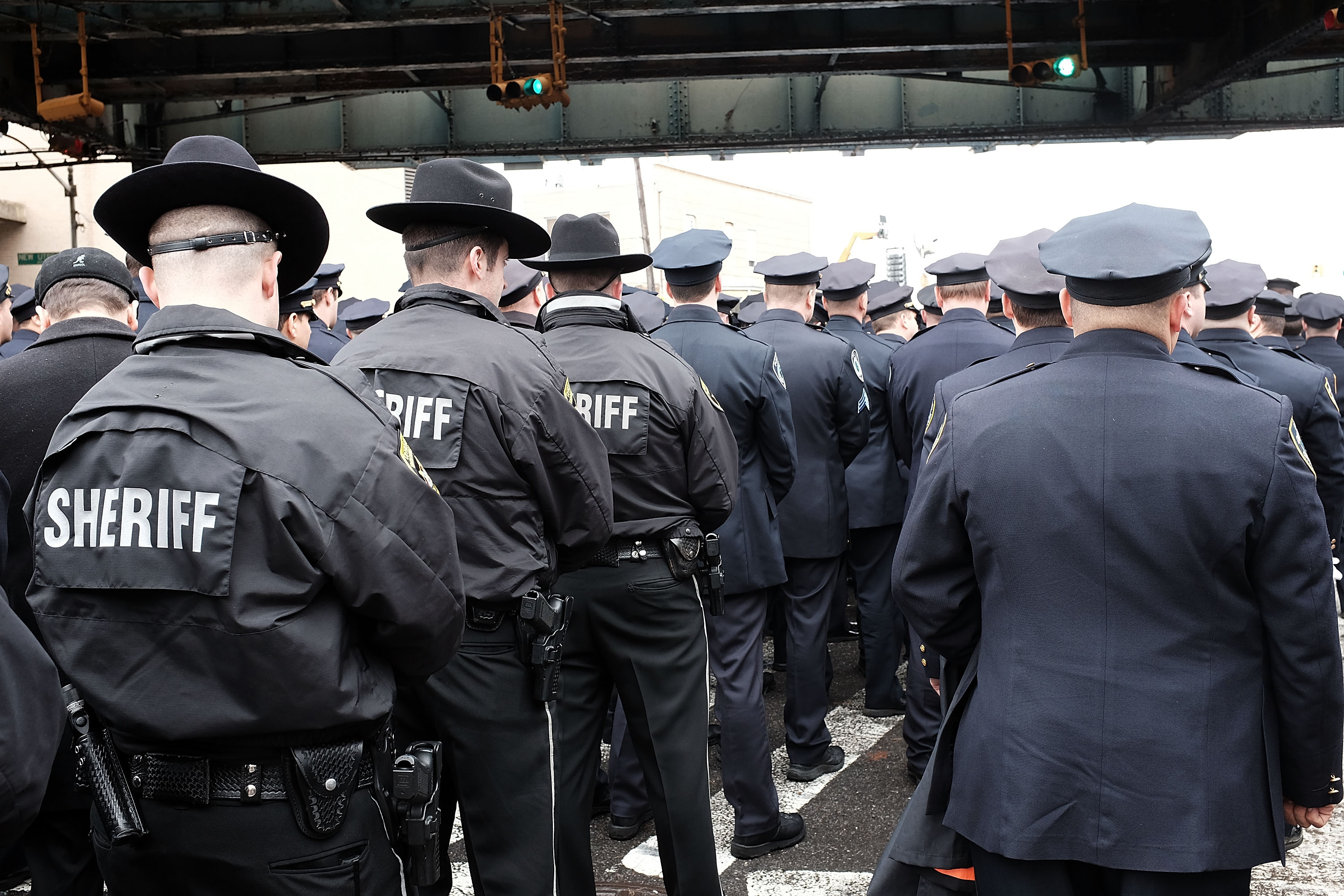 Most New Yorkers disapprove of police officers turning their backs to Mayor Bill de Blasio at two recent funerals for slain cops, according to a new Quinnipiac University poll released today.
The poll found 69 percent of New Yorkers—of all races and across the city—disapprove of police officers giving the mayor their backs, with just 27 percent approving of the protest.
"Cops turning their backs on their boss, Mayor Bill de Blasio, is unacceptable, New Yorkers say by large margins. Even cop-friendly Staten Island gives that rude gesture only a split decision," Quinnipiac University Poll Assistant Director Maurice Carroll said in a statement.
Voters also disagreed with Patrolmen's Benevolent Association President Patrick Lynch's remark that City Hall had "blood on its hands," with 77 percent of those polled saying the comment was "too extreme." No demographic group in the city found the comments appropriate.
In addition to disagreeing with his comments, voters aren't thrilled with Mr. Lynch himself. In his first appearance in a Quinnipiac poll, and the first time in memory the university has polled on a police union leader, he registered a dismal 18 percent favorability rating, with 39 percent of New Yorkers viewing him in an unfavorable light.
On the other end of the spectrum, New Yorkers also had an unfavorable view of Rev. Al Sharpton, often seen as an antagonist to police: just 29 percent of New Yorkers saw him favorable, with 53 percent having an unfavorable view. And New Yorkers think both men are "mostly negative" forces in the city, with 43 percent saying so about Lynch and 51 percent about Sharpton.
"He and Lynch well, they're the villains, the two bad guys in the poll," Mr. Carroll said in a brief interview. "The guy who really gains in this one is [Police Commissioner Bill] Bratton."
Mr. Bratton, who delivered moving eulogies for the two killed officers, Wenjian Liu and Rafael Ramos, saw his approval rating jumped to 56 percent, up from 44 percent December 17 and the highest it has been since June 12—before the death of Eric Garner in police custody. And while voters said the NYPD's discipline had "broken down," they also trusted Mr. Bratton to straighten it out.
Quinnipiac is set to release figures on the mayor's approval rating tomorrow. But today's poll showed the city is split along racial lines when it comes to whether Mr. de Blasio showed in his campaign and first year in office that he supports police. Black voters said the mayor does back cops, 69 percent to 19 percent. The margin was lower among Hispanic voters, who found the mayor supported cops 53 percent to 33 percent. It dropped below 50 percent for white voters, with just 49 percent saying the mayor supports police and 36 percent saying he does not.
Even as New Yorkers disagree with Mr. Lynch and the back-turning, they still support the job police are doing, the poll found, 56 to 37 percent.