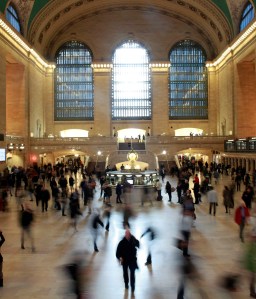 Protests involving lying or sitting down on the floor of Grand Central Terminal are now banned due to the occurrence of two separate physical attacks on police officers.
During a nightly "die-in" on Tuesday Jan. 6 at Grand Central, two protesters allegedly acted out physically toward Metropolitan Transportation Authority police commanders, resulting in immediate action to halt these type of protests.
MTA Spokesman Aaron Donovan told the Observer the confrontations started when protesters laid placards all over the floor of the terminal and MTA police officers had to be called in to ask for their removal.
In regard to the littered placards, Mr. Donovan stated that "we can't allow that kind of obstruction."
"We have been flexible since the protests began even though lying on the floor violates the rules on a matter of public concern," Mr. Donovan said. But when two protesters took to physical acts instead of cooperating, they were arrested–the first arrests made by the MTA since the protests began.
However, the MTA will continue to allow any protest as long as it does not involve lying on the floor of the terminal, an act which has always been against the law, but was overlooked before the assaults.
"We cannot and will not tolerate attacks on our police," emphasized Mr. Donovan.