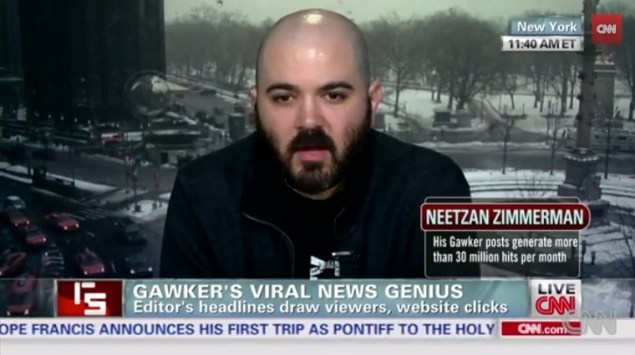 Neetzan Zimmerman has been hired by The Hill as senior director for audience and strategy, the politics website announced this afternoon.
"Neetzan understands the digital world like no one else," said Hill  editor in chief Bob Cusack. "His ability to use powerful content to build audiences and drive engagement will be a major asset to The Hill, especially with readers hungry for high-quality political reporting that can fuel conversations on their social platforms."
Mr. Zimmerman left Gawker last year, where he was known for his almost super-human ability to make stories go viral, to be the editor in chief of secret-sharing app Whisper. Earlier this week, Capital New York reported that Mr. Zimmerman had formally left Whisper. In October, he was put on probation after the fallout from a series in The Guardian that alleged that the app, which promised anonymity, wasn't really so anonymous.
Shortly before leaving Gawker, Mr. Zimmerman was the subject of a fawning profile by Farhad Manjoo in The Wall Street Journal  that detailed the humanity involved in understanding what makes humans click on Internet stories. In the piece, Mr. Zimmerman was referred to as "the most popular blogger working on the web today," a description that was referenced in The Hill's announcement today.
But remember that time Mr. Zimmerman made the news not for his viral prowess but for being an eyewitness to a bus crash and proved that even people who work on the web have to go outside sometimes.