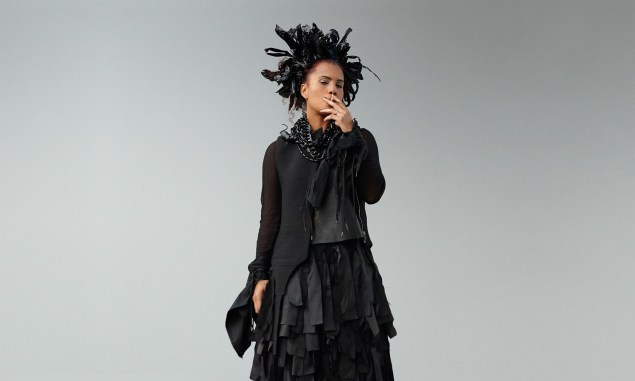 Surely Neneh Cherry's concert on Friday, January 9, at the Highline Ballroom can't be her first solo live appearance in New York. Her ties to this city are too strong. She spent a good deal of her youth here, after all, moving through the jazz-world circles of her stepfather, trumpeter Don Cherry. And the singles from Raw Like Sushi, her 1989 debut as a singer, songwriter and rapper—"Manchild," "Kisses on the Wind," and especially the sassy smash hit "Buffalo Stance" (all together now: "No money man can win my love/It's sweetness that I'm thinking of")—were so ubiquitous at the time that it seems downright impossible to believe she never played a solitary NYC show back then. But it's true.
Reasons for this are many. When Raw Like Sushi came out, Ms. Cherry was heavily pregnant. She also hadn't been a New York resident for almost a decade; her home base was England, as it continues to be. And from that point on, various health issues, raising three daughters and a stepson, and other family concerns took precedence over public performance. Eventually, they took precedence over making music for public consumption of any kind. Although Ms. Cherry has worked regularly with a wide range of artists over the past two decades, from Youssou N'Dour to Damon Albarn's Gorillaz, she didn't cut a single song under her own name for 17 years.
That long gap ended in 2014 with the release of Ms. Cherry's fourth album, Blank Project, a very different kettle of kippers from the late-'80s pop tracks that almost established her as a more multicultural version of Madonna. The death of Ms. Cherry's mother in 2009 was what initially prompted her return to writing and recording, so it's not surprising that the new material has a darker tone than any of her previous work. Album opener "Across the Water" lays things out plain as mud: "Since my mother's gone it always seems to rain."
But although it may not be as much fun as "Buffalo Stance," Blank Project is far from miserable. Collaborators RocketNumberNine and producer Four Tet construct a series of ominous yet irresistible grooves loaded with endearingly wacky little touches (like the recurring bell on the title song that evokes the carriage return on a vintage manual typewriter). Audibly buoyed by their backdrops, Ms. Cherry's singing taps into a richer vein of emotions than ever before on tracks like "Spit Three Times" and "Weightless." It's the most compelling music of her career. And something tells me the massed percussion parts that feel almost forbidding on disc will be a lot more celebratory on a New York stage—particularly given the history-making circumstances.
[youtube https://www.youtube.com/watch?v=3LesJtqP-x0&w=560&h=315]